The Ministry for Primary Industries is asking all dog owners to be vigilant after seven mature adult Brown Dog Ticks were discovered in Christchurch this month.
While the tick species – Rhipicephalus sanguineus – are present in many countries, it has not been previously established in New Zealand and therefore is unwanted and notifiable.

Seven mature Brown Dog Ticks – Rhipicephalus sanguineus – were discovered in a Christchurch home earlier this month. Photo: MPI.
The seven ticks were recovered from two New Zealand born-and-bred pet dogs belonging to a single household in Christchurch on January 4.
The species of tick can feed on a wide variety of animals including people, cats, horses, cattle, rodents and birds, but dogs are its preferred host.
It has the potential to carry a number of diseases of animal and human concern, none of which are known to be in New Zealand currently.
At this stage no obvious import pathway for the ticks is known, and the two pet dogs have been treated and confined.
This tick has been found in New Zealand on rare occasions in the past, with successful management and eradication.
The MPI advises that tick infestations on animals can be treated with over-the-counter flea and tick treatments available from veterinary surgeons.
It has now instigated an incident response structure and the Ministry of Health is participating in the governance team. Surveillance, organism management, liaison and public information management plans have been developed.
An investigation is currently underway to identify the source of incursion, define the extent of infestation, treat and confine infested animals, treat potential tick infestations and prevent further spread.
The risk to human health from this species of tick is very low, and is not known to transmit other diseases to humans.
But overseas R. sanguineus has been shown to transmit two of the spotted fever group rickettsial infections:
• Mediterranean Spotted Fever (otherwise known as Boutonneuse fever) in Southern Europe, Asia and Africa. Rickettsia conorii is the causative agent.

• Rocky Mountain Spotted Fever in the North, Central and Southern America. Rickettsia rickettsii is the causative agent.
Over the past 10 years, the MPI is aware of five notifications of Rickettsia conorii in New Zealand, all in returned travellers, and have had no notifications of Rickettsia rickettsii.
Should you discover any Brown Dog Ticks – Rhipicephalus sanguineus – the MPI is asking that you make contact with your local veterinarian as soon as possible.
The MPI can also be contacted via phone on: 0800 80 99 66.
For full information about the Brown Dog Tick visit the Biosecurity NZ website at: www.biosecurity.govt.nz/pests/brown-dog-tick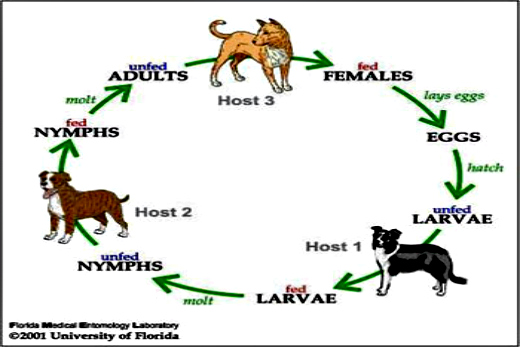 The Brown Dog Tick lifecycle. Photo: MPI/University of Florida.