Festive cheer is fast filling Downtown Tauranga with vacant store fronts being transformed into Christmas love notes to the city.
With less than 45 days until the big day, the large window murals began to take shape last week, filling the windows with Christmas slogans including the song 'Feliz Navidad'.
One of the finished Christmas artworks. Photo: Jimmy Fresh.

Mainstreet Tauranga co-ordinator Sally Cooke says the "Xmas bombing" project saw artists Jimmy Fresh, Katie Helem and Tara Fowler collaborate to create the white art.
Jimmy Fresh, or James Stanbridge, is a local artist working in many forms including finetip pens, chalk, photography and markers.
"We are just trying to help get in the spirit of Christmas and want to get some of the festive spirit into downtown Tauranga," he says.
"It's nice to get a local artist in with our artists here [Katie and Tara]."
Starting off with a few around the CBD, the creative trio will continue their efforts helping to deck the CBD in Christmas cheer and decorations.
Sally says there has been positive feedback flowing in on social media, in what is a creative love note to the city.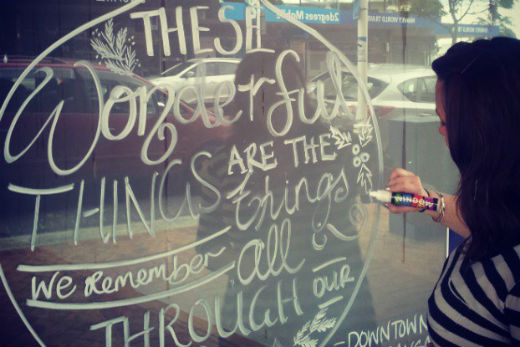 "It puts a smile on people's faces and makes them feel good about being in downtown Tauranga," she says.
"The objective was more to add to the spirit of Christmas and feel good about being in the city centre."
The artwork is alongside Mainstreet Tauranga's push to replace drab 'For Lease' signs scattered among empty buildings with vibrant window artwork and displays in the CBD.
The project is looking to encourage landlords to 'lease' their shop windows to businesses and retailers so they could mount attractive displays.
The initiative undertaken globally has seen shops in the United Kingdom and America transformed to imitate barber shops, butchers and corner dairies
"We are still working through this," adds Sally. "it's a work in progress.
"But in the meantime it made sense to get some Christmas decorations up."