AC/DC drummer Phil Rudd, who was charged with procuring murder and possession of methamphetamine, has been released on bail.
Rudd, 60, is also facing one count of possession of cannabis and threatening to kill.
AC/DC drummer Phil Rudd in court earlier this afternoon.
The thunder cracked across the sky when he appeared in Tauranga District Court this afternoon, dressed in streets clothes and minus his shoes.
The drummer and Tauranga businessman was arrested after police raided his Bureta home this morning following information from a member of the public.
According to court documents, Rudd is accused of procuring murder between September 25 and September 26.
The threatening charge relates to an incident on September 26 and the drugs charges relate to his arrest today.
Details of the complaints and the person Rudd is accused of procuring murder for has been suppressed by Judge Louis Bidois.
At the request of acting defence lawyer Tony Rickard-Simms, who was acting on behalf of Paul Mabey, QC, Rudd was remanded on bail until November 27 when he will appear in a Registrar's List.
His bail conditions are to reside at his Bureta home, not to contact any of the complainants on the court documents and not to enter Maleme Street or Riverton Road.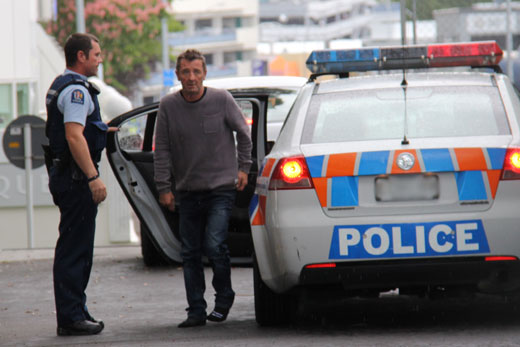 Rudd arriving at court in Tauranga today.