UPDATE 11AM: The iconic 120metre tall Radio Rhema mast at Papamoa East is being disassembled by Helicopter Services BOP today.
At least two contractors along with the helicopter crew are working to remove the mast from its location at the Golden Sands Drive sub-division.
Helicopters BOP are working to remove the radio transmitter at Papamoa East.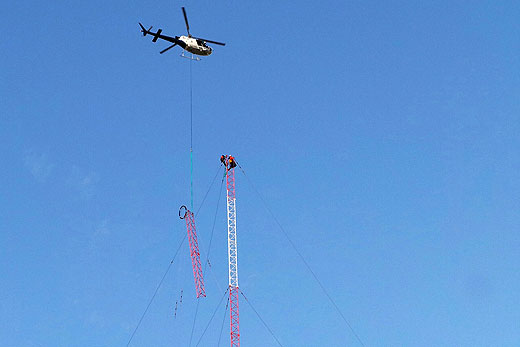 The radio mast at Papamoa is disassembled and removed. Photos; Bruce Barnard.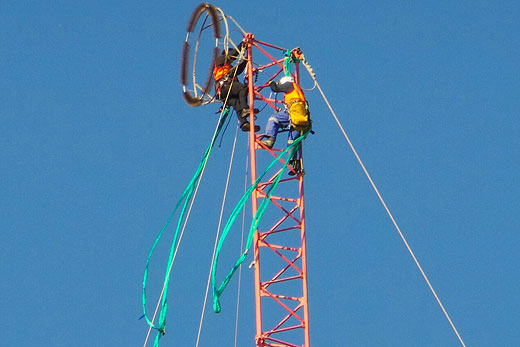 Contractors work to remove the radio mast at Papamoa.
The transmission mast, one of Radio Rhema's biggest, was originally constructed about 30 years ago by volunteers on what was then farmland, kilometres from local population centres.
The signal to move came about 15 years ago when the farmer sold his land to property developer Bluehaven Developments, says Rhema media general manager of operations Andrew Fraser.
Following the sale, Rhema had to locate a new site, negotiate with land owners, and obtain resource consent and building consent – a process Andrew says took about seven years.
"Then we built a new site, commissioned it last week, put the Rhema programme up on it last week, and this week we are taking the old mast down," says Andrew.
The new antenna is up and running in Maketu.
"It's been an interesting journey. Along the way we ended up for a couple of years now with a pre-school and a primary school right on our boundary," says Andrew.
"The most interesting thing for us is we used to go down there, used to have to drive down the Papamoa Road and then go up a dirt track and then up a driveway to get to our transmission hut, and then walk across a paddock, about 150 metres across a paddock to get to our antenna.
"Today you park on the road and walk across one side to the building and across the other side to the antenna."
The new antenna continues to broadcast Radio Rhema on 540AM. The Christian radio station's only FM broadcast is the Life FM programme out of Hamilton, which can be picked up in the Bay of Plenty, says Andrew.