A 94-year-old World War 2 veteran is heading out for a day on Tauranga Harbour today after his family surprised him with a yachting trip.
Ben Heffer and his wife Val were surprised this morning when their family picked them up for the outing.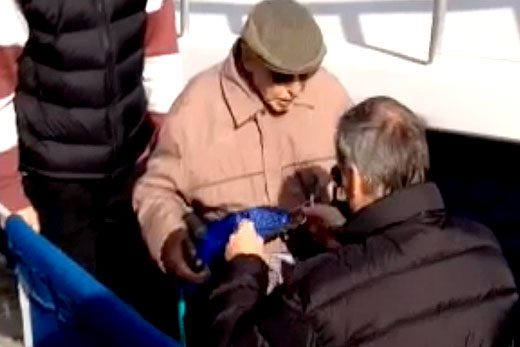 Ben Heffer getting ready to board the Limbo with the help of family. Photo: Supplied.
Speaking to SunLive on board Ben's son Graham's new yacht Limbo, Val says today is a chance for Ben to see his son's new yacht.
"Ben has always been interested in the water. It's such a fine day and he needs to get out."
Graham has owned the yacht for about a month and wanted to surprise his father with an outing on the harbour today.
"Ben owned a southerly himself about 35 years ago and he used it a lot.
"During the war he was in the navy and was in the Fleet Air Arm branch."
Ben served on HMS Illustrious during WWII.
During that time he flew corsairs off the deck of the Illustrious, says Val.
Ben was awarded a DSC [Distinguished Services Cross] for his actions during the war.
The 94-year-old has lived in the Western Bay of Plenty area for about 58 years and used to farm in Omokoroa.
Val says he was last on the water about a year ago.
"He now lives in long term care in Mount Maunganui.
"We're planning to do something like this again for his 95th birthday."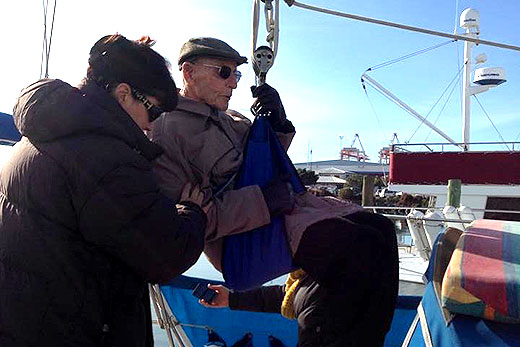 Ben in a bosun's chair being hoisted onto the yacht.