Thanks to his sponsors, Don Chapman is in the lead after the first day of the 600 kilometre 2014 Yamaha Melanoma Foundation Ski-nZ challenge was complete.
The well-known Morrinsville-based designer and builder of dairy parlours has raised $17,580 in sponsorship - the highest amount of any of the 25 competitors in the event to raise funds for melanoma research.
Don Chapman on ski Number 1 passing through a hole in the wall during yesterday's 2014 Yamaha Melanoma Foundation Ski-nZ challenge.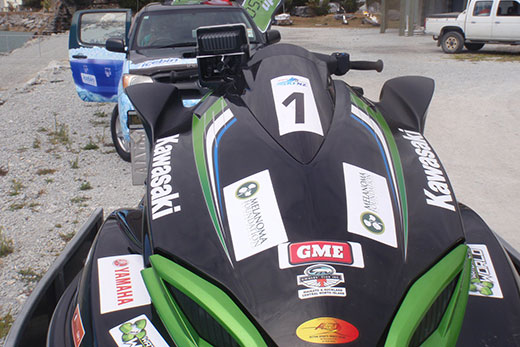 Don Champman's jet ski carried the number 1 because he has so far raised the most money in the 2014 Yamaha Melanoma Foundation Ski-nZ challenge.
"It was announced at the first briefing that I am highest fundraiser to date, so get to wear the number 1 on my ski for the duration of the run.
"So thanks to all of you who have supported the cause on my behalf, a whopping $17,580 has been donated by my supporters to date.
"Fundraising continues throughout the run, including a charity auction with proceeds being credited against the donors of goods, so it is possible I could yet be passed, but I am very proud of this achievement by provincial New Zealand," says Don whose wife Yvonne is part of his support crew.
Don and the other entrants had an early start yesterday from the Wanganui Inlet.
"Jet skis are not normally allowed in this area, but we have special permission granted by DOC.
It's a stunning harbour. Very shallow, bush to edge in places, marshlands in others," says Don.
"The 25 skis run as two separate groups. The weather was perfect and we were led out through the harbour by the harbour master. Safely across bar, we reassemble into groups for the ride up coast in an easy swell. Great landscape, big "holes in walls", steep cliffs, little bays.
"Reached Farewell Spit, and rode along it for about 30km. Once we reached the end we turned and headed back to Pohara in good conditions. This was a chance for some of us to give the skis their head, and hold on for a fast ride in."
Today the skis head for Nelson, via Kaiteriteri. They will cover around 100km each day, with the final leg across Cook Straight on Saturday.
On the way they will be taking in amazing sights and raising funds to help the Melanoma Foundation to "create excellence in the awareness, education, prevention, treatment and research of melanoma in New Zealand".
Travelling with the participants in the Ski-nZ is an experienced team, including medical support, mechanics and on-water recovery crews. In keeping with the high safety standards and given that this event is helping to promote awareness of melanoma, participants are required to wear a life jacket, full face helmet, eye protection, gloves, shoes, and a full length rash suit or wet suit for sun protection.
Coastguard boats from the Nelson, Picton and Wellington units will be providing 'support boat' services.
Don is taking part not only to raise funds for melanoma research, but also to raise awareness of cancer.
"Mine probably began when I was a young builder, working outside in a singlet, with no sunscreen. My message to everyone is to take care in the sun and have your doctor regularly check your own skin for melanoma and other skin cancers. A timely check may save your life."
Don already has a host of sponsors but he's keen to raise as much as he can for the Melanoma Foundation. To find out more email Don at donvon@xtra.co.nz or go to www.melanoma.org.nz