Two Western Bay contributors to an Irish BBC radio documentary on Katikati's Ulster immigrants are applauding the recording since its airing in Ireland this week.
Ulster immigrant descendant Debbie McCauley of Tauranga and Katikati historian Ellen McCormack, who both helped with the documentary, say it is "well-balanced" and the story has "credibility and authenticity".

Irish couple Kathleen Carragher, of BBC Northern Ireland, and freelance journalist husband John Deering interview Debbie McCauley, a descendant of Katikati Ulster immigrants.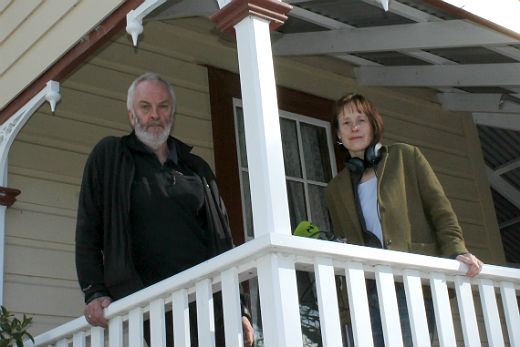 Irish journalist John Deering and his wife Kathleen Carragher's radio documentary of Katikati's Ulster immigrant history has aired in Ireland.
Belfast freelance journalist John Deering and wife Kathleen Carragher, who is head of news for BBC Northern Ireland, recorded the radio documentary of the Western Bay town's Ulster immigrants while in New Zealand on holiday last September.
This week 'Katikati - The Ulster Colony Down Under' has aired twice on BBC Radio in Ireland and is available online to listen to here. Its introduction begins by asking: "What persuaded a party of Ulster Scots pioneers to leave their homes in the 1870s, and travel halfway round the world to begin a new life? Mark Thompson tells the remarkable story".
"I think John has done a wonderful job of capturing the story of Katikati's early history," says Debbie, whose great great grandparents John and Rachel Hamilton were immigrants in the only planned Ulster settlement in the world, led by George Vesey Stewart.
"He [John] has interviewed key people, such as Ellen McCormack, Noel Mitchel, Brad Patterson, Julie Gray and Christine Clement. The wealth of knowledge held by these people gives the story credibility and authenticity."
Debbie, who took the Irish media couple on a five-day tour of Katikati landmarks, including Athenree Homestead, to record the documentary, says she loves that John decided to include the story of her Ulster descendants.
"I really enjoyed listening to narrator Mark Thompson, whose commentary pulled the story and the varying voices and accents together.
"The result is an enjoyable and memorable tribute to those families who travelled to the other side of the world in 1875 and to the father of Katikati, George Vesey Stewart.
Historian Ellen McCormack says she had three wonderful days in Katikati, "being wheel-chaired from place to place and seeing things that I had not seen for many years" for the documentary.
"I think the documentary is very well balanced and I hope it will enlighten people a little more regarding [George] Vesey Stewart."
Debbie, who also took the couple to Katikati'sthe cemetery, murals, Twickenham, the old flour mill site, George's homestead site, Captain Mervyn Stewart's Martray homestead location and Ongare Point, says it was a privilege to spend a week immersed in Katikati's history with John and Kathleen and Ellen McCormack.
"My hope is that these mutually beneficial links with Northern Ireland will continue into the future."