UPDATE 9AM: A section of State Highway 29 over the Kaimais is re-open after a truck and trailer fire near the Kaimai School earlier today.
At daybreak all that was left was the shell of the truck that caught fire about 3.30am, closing the highway for more than three hours.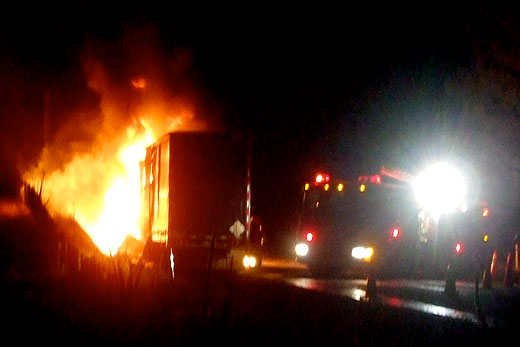 The truck on fire on SH29 near Kaimai School.


Greerton and Tauranga firefigthers were called to the blaze after the driver, who managed to escape uninjured, saw sparks coming from the rear axle of the truck.

Kaimai resident Amy Bennie was asleep on her partner's family farm when she heard the dogs barking about 3am.

"Then there were a few bangs and vehicles noises, my partner went out to have a look."

From the paddock outside their property, Amy and partner Terry Midson could see flames coming from the roadside.

"It looked pretty big. Fire were just arriving at the scene, and another fire truck arrived 20 minutes later and then a tanker turned up."

Amy believes the fire took about 50 minutes to put out and this morning all that was left when she drove to work in Tauranga was a "skeleton".

"Police were there this morning – the road was open but one lane was blocked."

New Zealand Traffic Agency reports traffic is now flowing without delays along SH29.

"Two lanes are open in both directions while workers remove the truck from the scene, which should not impact traffic," says media manager Glenda Dobbyn.

"Detours were put in place after this section of SH29 near Kaimai School was closed for a couple of hours."

The truck and its cargo axle units and alloy power cables were destroyed in the blaze. The damaged trailer unit was able to be towed away.

At daybreak Rowe Motors were awaiting a digger to remove a pool of melted and fused power cables to enable a crane to lift the remains of the truck onto a flat deck trailer.

Police advise the road may be closed again while the lift takes place.