The volunteer is perhaps the most valuable asset of many non-profit organizations. And in the case of the Village Radio, it is these committed and passionate people that keep the magic of Village Radio classic music alive.
But they need more volunteers.
"I listened to the station for quite a while but never saw myself volunteering," says Penny Vaughan. "Then my daughters make me realize how much I love the station and here I am."
She is now a volunteer announcer, doing something she has discover to be really enjoyable and "super satisfying."
"I love it, it gives you a really good feeling to bring enjoyment to people at home."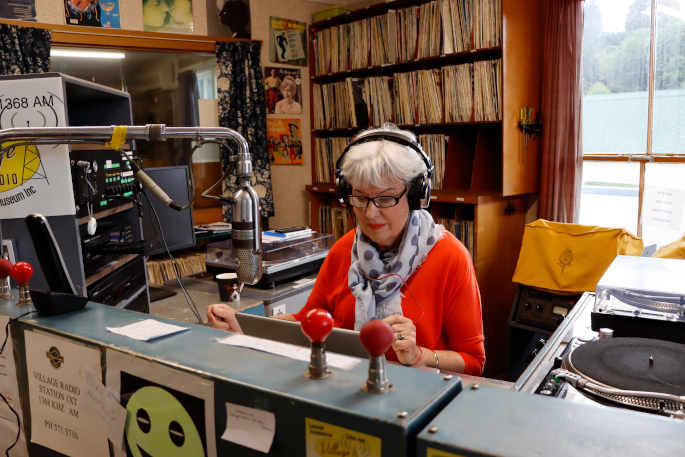 Announcer Penny Vaughan before she starts her program. Photo: Juan Cortes.
Penny says she was, at first, super scared of making mistakes but thanks to the support of "some lovely people" around her, she feels really confident. And she is now into her second month behind the microphone.
She is also encouraging other people to volunteer at Village Radio at The Historic Village on 17th Avenue.
It is the passion of people like Penny Vaughan that has driven Village Radio since weekly broadcasts began in 2004. The announcers, technicians and support staff at the station are all volunteers from different backgrounds and from all around the world.
The thing that binds them is a love for tunes that no other radios stations play, music from last century, nostalgic music from the 1940s to the 1990s.
"It is not easy to survive when you are a non-commercial radio station but our sponsors, the community and all our volunteers have done a great job all these years," says Village Radio station manager Tony Rhind.
"And we are in constant need of volunteers, especially announcers who want to learn and bring these lovely melodies to our audience."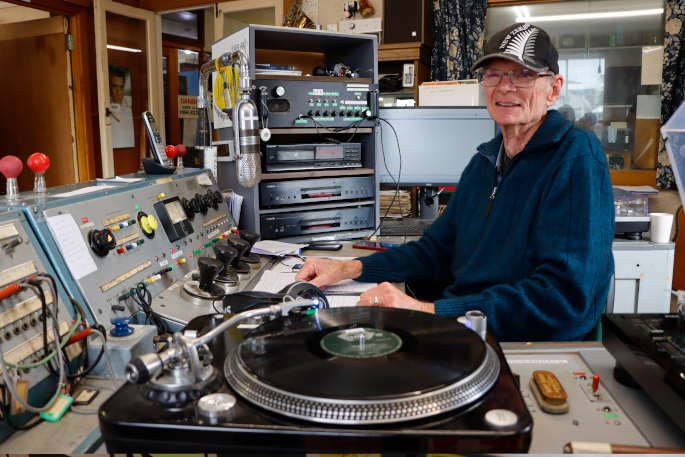 Village Radio station manager Tony Rhind during his Monday programme.Photo: Juan Cortes.
Tony also says that the station has made great changes to keep the magic on air, and now to an audience beyond New Zealand.
"I am happy and proud to say that thanks to our sponsors and a group of volunteers who set everything up, we are now transmitting to the world."
The stations AM signal barely covers Tauranga, but with streaming, Village Radio has been receiving feedback messages from listeners in Australia, England and Canada.
"That make us really happy".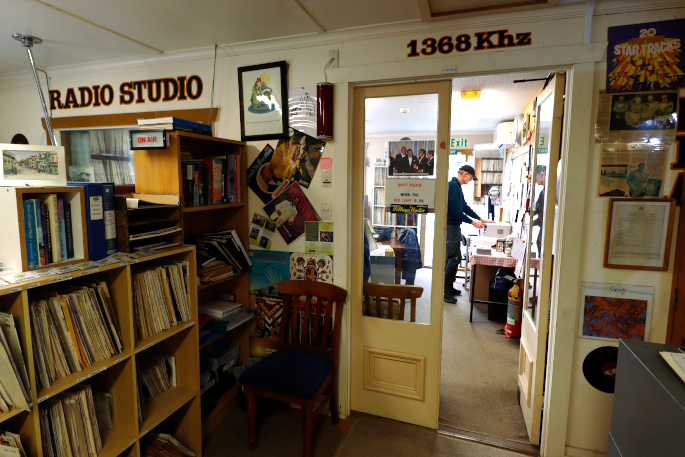 The hall into the announcer area at Villlage Radio.Photo: Juan Cortes.
Apart from being an excellent school for those wanting to jump into radio broadcasting, Village Radio is also a radio museum. It boasts probably the only working 1937 Collings transmitter in the world, and a library of 18,000 records and 120,000 tracks by 10,000 different recording artists.
The Village Radio will be celebrating its 40th birthday on April 13, 2024.
If you want to become a volunteer at Village Radio, offer them your financial support, or just tune in, you can find them at www.villageradio.co.nz