Two Tauranga teens heading to Scotland to compete at the UCI BMX Racing World Championships will be putting their sibling rivalry to one side this month to cheer each other on.
Sixteen-year-old Hannah Mason and her 14-year-old brother Daniel Mason have both qualified in the top eight of their respective grades to represent New Zealand against the best riders in the world at the Glasgow event from August 6-13.
"I was pretty excited when I found out I was going," says Hannah.
"Even if I don't place, I'll be going up against extremely fast girls so the experience will definitely help me progress."
Daniel is currently ranked fifth in New Zealand his age grade while Hannah is ranked second in hers. It's the first time they've reached the worlds in what can be an aggressive sport.
"There's a bit of argy bargy when everyone's looking for the gaps and trying to get through to the front," says Hannah. "You've got to be fearless."
She enjoys racing despite a serious crash last year that left her needing crutches. It took the Ōtūmoetai College student over a month to recover.
"You can't let it put you off. You have to be mentally strong to get back on the track. I still love the whole adrenaline rush with the atmosphere, the crowd and the racing."
She credits her younger brother, Daniel, with pushing her to be better.
"He's really fast, so we're pretty even on the track," says Hannah.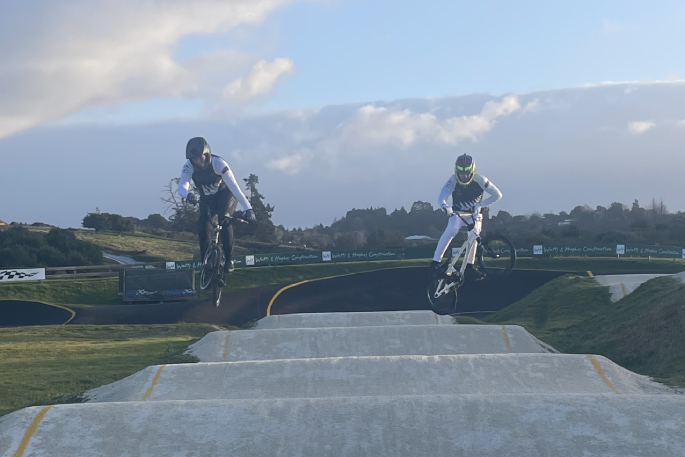 Siblings Hannah Mason, 16, and Daniel Mason, 14, are now in Scotland ready to race. Photo: supplied.
"There's tough competition at the worlds so Hannah's a good training partner," says Daniel.
"We're similar speeds so we have the advantage to push off each other when we train."
The road to being national ranked BMX riders has meant up to six days a week of training at an individual and group level, both at the track as well as gym workouts and mental health coaching.
"I'm Year 11, so trying to juggle training and study is hard. It affects sleep, which is key in sport. I've been sick a couple of times, too, so I lost a couple of weeks," says Hannah.
"We haven't trained this hard ever before."
"I'd like to achieve quarters or semi-finals," says Daniel.
"I feel fast in New Zealand so I'm looking forward to seeing what riders from other countries can do."