Three people have smashed their way through glass cabinets at a Bayfair Shopping Centre jewellery store in a robbery that has shocked bystanders.
Within about 90 seconds the robbers had cleared jewellery from most of the cabinets, shoving it into bags, before leaving together running from the centre.
"My sister was at Bayfair about 5.30pm when she heard breaking glass," says a SunLive reader.
"She heard a lady yell out 'gun'. And she and her partner and their baby ran outside. They saw three armed youth smashing cabinets.
"She doesn't know if there was a gunshot or not, but as they drove away they saw police arriving."
Another SunLive reader reports that there were three youth, two wearing dark clothing, and one wearing lighter grey clothing smashing glass cabinets at Michael Hill Jeweller. All were wearing hoodies.
A video taken by a shopper at the scene shows one of the youth jumping up onto a cabinet.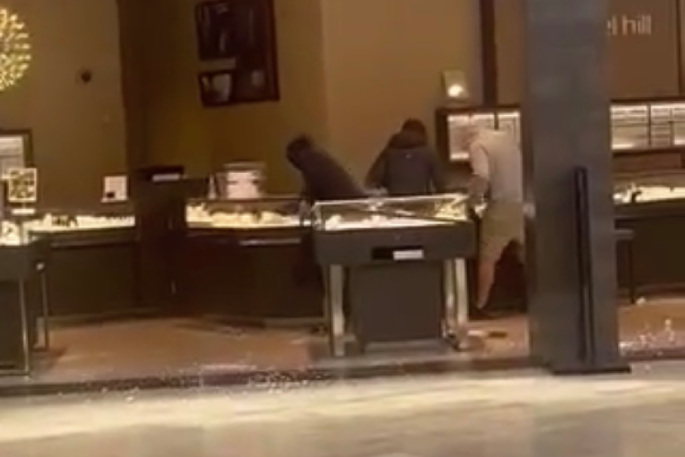 Three youth smashing cabinets to grab jewellery. Photo: SunLive/Supplied.
The robbery was over in less than two minutes with the robbers running from the store out through one of the Bayfair entrances.
"Police responded to reports of a robbery at a commercial premises on Girven Road, around 5:50pm," says a police spokesperson.
"It appears noone was injured, It appears one person was armed, not with a firearm.
"Enquiries are ongoing to determine what occurred and locate the offenders,' says a police spokesperson.
At the scene?
Phone 0800 SUNLIVE or email newsroom@thesun.co.nz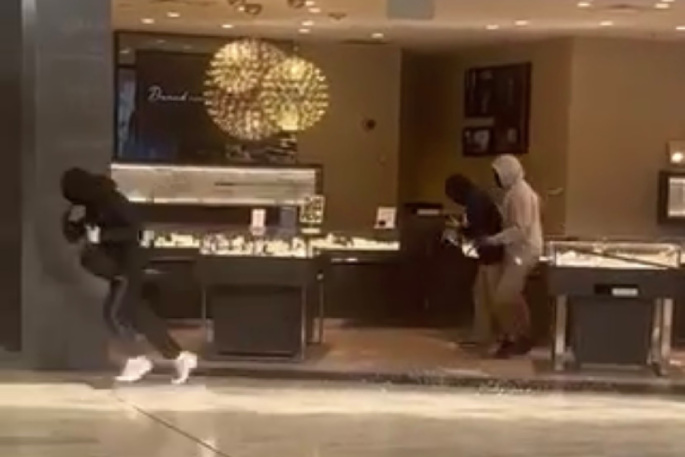 The three robbers running from the store towards a Bayfair entrance. Photo: SunLive/Supplied.