A whopping 1200 runners and walkers registered ahead of the Mite 10 MEGA Tauranga city to Surf Fun Run/Walk.
With overcast weather, and a slight breeze the Sunday morning of November 6 set competitors up with ideal conditions to head into their half marathon, 11km or 5km events.
A tight field of 250 competitors took on the Mitre 10 MEGA Half Marathon from Sulphur Point through to Mount Maunganui, following the stunning Daisy Harwick track around the esturary before hitting the industrial area of Totara Street and finishing around the Mauao base track.
The United Travel 11km event hosted the main field of 650 athletes who made their way to the finish line.
300 runners and walkers then took on the Bay of Plenty Times 5km fun run/walk, pushing through the first few hundred metres on the sand at Mount Maunganui beach before hitting the base track and wrapping up back on the sand with their fellow 11km and half marathon competitors.
'It is amazing to be back in the beautiful Bay of Plenty for this event after we cancelled in 2021 due to the pandemic." says Event Promotions Marketing and Sponsorship Manager Georgia Frame.
'Despite offering a virtual option last year, it is always great to physically see our competitors turn up to collect their bibs, have a quick chat to hear how they're feeling and then see them out there tackling whatever distance they've signed up for and being so proud at the end of it!"
After last year's cancellation, Event Promotions decided that their virutal events were too good to get rid of and throughout 2022 have offered a virtual entry option alongside each of their events to allow more people to be involved in the event, tick off their chosen distance and still receive a finishers medal (via the courier) despite either not being able to make it to the event location or for some, not being able to be around large crowds just yet.
'It offers that extra level of accessibility to our competitors and we never want to turn people away so this is an option that some of our loyal members are taking up when they're not able to commit to attending the event in person," says Frame.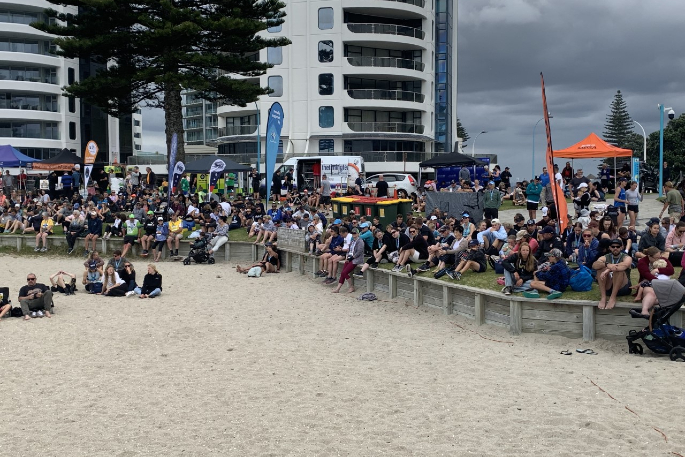 There was a great turnout on the day. Photo: Supplied.
2022's event also saw the event reach it's 2020 competitor numbers. Race Director Murray Fleming is pleased with this after the pandemic effected their operations consistently 'It's great to see that people are confident in events again and are coming out to take part."
After many events were cancelled and many other company's have shut their doors it was the local Bay of Plenty patrons who welcomed this event back with open arms making up a significant portion of the total competitor numbers.
'We know everyone can go and run these courses whenever they want to, and that is great thanks to the local council providing those opportunities, however attending events offers our competitors the full experience of the build-up of training, preparations, heading away for a weekend with friends or family and then on the day having the amazing atmosphere, fellow competitors alongside you helping to push you, and then getting the cheer squad along the course and at the end when you cross that finish line." Says Frame.
'It's something you can't get on your own and why we need events to be supported so they can continue."
2022 was the first year for the Mitre 10 MEGA Tauranga City to Surf to take place with no limitations or restrictions since November 2019.
An amazing relief to be back into the swing of things as both event organisers and event competitors with many commenting that it was their first event back since pre-covid and that their excited to see life returning to normal in all areas.
The event left Event Promotions team members motivated to make 2023 even better and they've
mentioned the long straight along Totara Street will be egnited next year with some new ideas, along with further finish line area interactions for competitors to enjoy between the event and prize giving.