Break times have become even more exciting for students at Te Puna School with the recent construction of a pump track.
Tamariki can be seen biking, roller skating, skateboarding, and riding scooters around the undulating asphalt track, which links up to other paths around the school.
Te Puna School sports coordinator Alexia Skipper says the aim of the Te Puna School and Community Bike and Scooter Project, which led to the conception of the pump track, is for all students to be equipped with essential bike safety and riding skills.
'The vision behind the project is that every student is empowered by the opportunity to learn to ride a bike and has access to a bike and a fitted helmet in both break and class times."
'It is also to build a facility that provides a recreational space for our local community to use outside of school hours."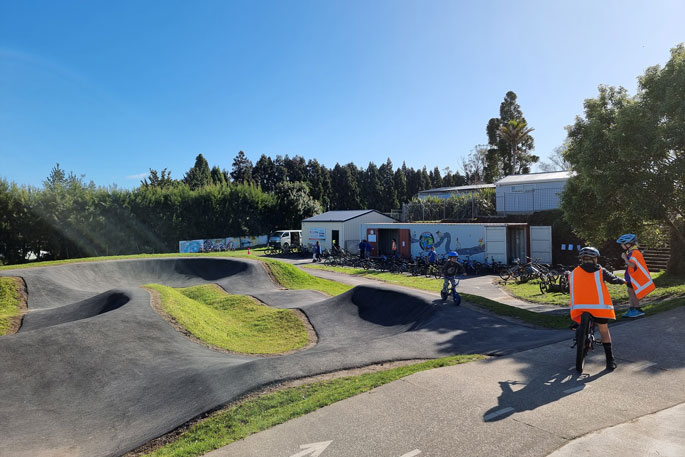 Pump track and bike storage container.
Alexia identified a need for the project in 2018.
'A few years ago, I organised a bike ride for our senior students. I became rudely aware that there were a number of students who either couldn't ride a bike or didn't have the confidence or skills to ride a bike in the community, let alone have access to a bike."
In 2019, Te Puna School was introduced to the Bike Ready Programme – New Zealand's national cycling education system, which helps teachers support student learning by giving them access to cycle skills training.
The Bike Ready Programme then linked the school to Bike On NZ Charitable Trust, who aim to get as many children as possible confidently and safely riding bikes through their Bikes in Schools programme.
The programme is a complete package of bikes, helmets, tracks, bike storage, and cycle skills training, all within a school.
Armed with this information and support, Te Puna School was able to begin planning the project, which has been developed in three stages, Skipper explains.
'Stage 1 was an 'all wheels" path through the school; Stage 2 was the construction of a skills track and the procurement of 50 bikes, 60 helmets and a secure storage container; and Stage 3 was the design and construction of a pump track."
Stage 2 of the project was supported by Bike On New Zealand, with a grant of $40,000, as well as by local families and businesses sponsoring bikes.
TECT supported Stage 3 with $27,179 in funding, which enabled the construction of the pump track to go ahead.
Te Puna School PTA, Western Bay of Plenty District Council, and Tu Manawa Aotearoa have also contributed funds towards the various stages.
The pump track was officially opened on Sunday, May 8, with over 100 people in attendance to celebrate.
School principal Neil Towersey is thrilled with how the project developed.
'At the beginning, the vision was to create a cycle track within the school that could join up with the Ōmokoroa to Tauranga Cycleway.
'The vision grew to what we have realised here today – a wonderful asset that has enabled us to have classes regularly timetabled to develop bike skills, and a great addition to the play facilities available during school and after hours.
'Even at this early stage, we can confidently say that there are tangible benefits relating to student engagement in class, engagement in physical activity, self-confidence, leadership, and the willingness to take risks and have a go."
Beyond this, the tracks are simply a lot of fun.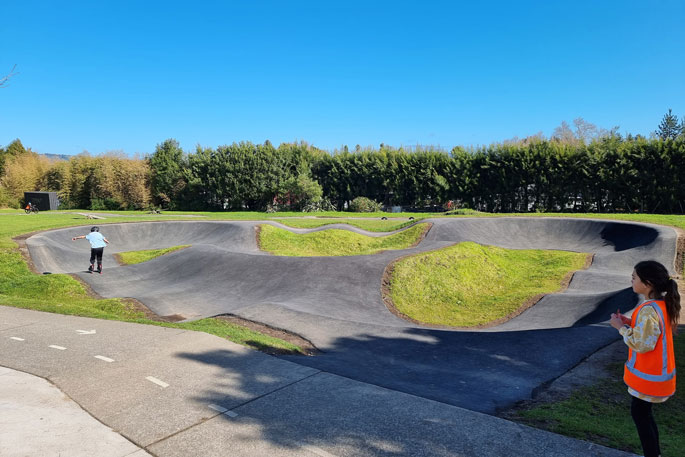 Roller skater Caprice with student monitor Analynn on duty.
Nine-year-old Zanthe says she loves spending time at the tracks, both during and after school hours.
'The pump track is so much fun. Some people like going on their roller skates. It freaks the teachers out because they go super-fast!"
One such 10-year-old roller skater Caprice loves blasting around the pump track and improving his skills.
'I've been roller skating since I was five and I'm ten now. The pump track makes my legs strong. I've definitely gotten fitter."
TECT Trustee Peter Farmer says the project is a great addition to the Te Puna community facilities.
'The bike tracks are a fantastic resource for local families for both leisure and health and well-being. Not only do they benefit students during school hours, with timetabled classes for improving bike skills, but also the wider community who use them on the weekends.
'As an extension of the Ōmokoroa to Tauranga Cycleway, the pump track adds a point of difference and excitement to the increasingly popular route.
'We are pleased we could support its construction and know it will be well-used for many years to come by the whole community."