A severe weather warning issued for the Bay of Plenty on Monday, remains in place today.
The MetService is forecasting rain to develop this afternoon and to turn possibly turn heavy this evening.
"A low over the Tasman Sea approaches central New Zealand today," says a spokesperson for the weather organisation.
"A moist northwest flow associated with this low is expected to bring rain with some heavy falls to parts of the North Island. An associated front that was previously forecast to stall near Northland now is expected move north of the area during Wednesday morning.
"The front should then begin moving southwards,back over the North Island, on Thursday and Friday and bring more heavy rain.
"If watches or warnings are needed for this rain, they will likely be issued during Wednesday and Thursday.
"People are advised to keep up to date with the latest forecasts and warnings."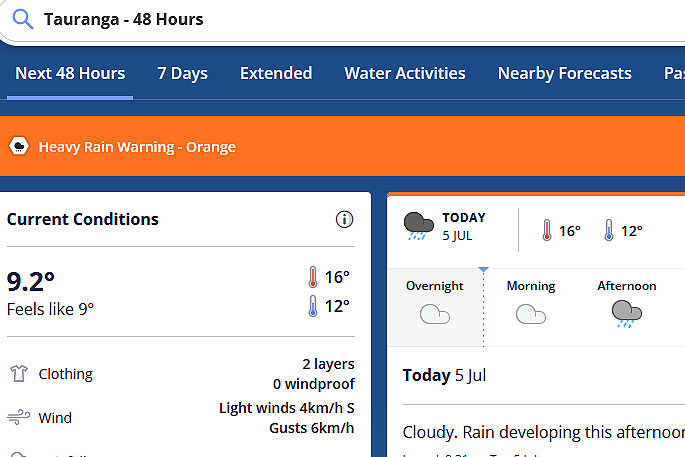 Image: MetService.
===========================
HEAVY RAIN WARNING - ORANGE
===========================
Heavy rain may cause streams and rivers to rise rapidly. Surface flooding and slips are also possible and driving conditions may be hazardous.
Area: Bay of Plenty ranges east of Opotiki
Valid: 10 hours from 6pm Tuesday to 4am Wednesday
Forecast: A period of heavy rain. Expect 60 to 90 mm of rain to accumulate. Peak rates of 10 to 15 mm/h.