Motorists caught up in an alleged illegal "burnout" on State Highway 36 say the experience was a traumatic one for them.
"We were too frightened to get out of our car. There was a lot of alcohol, a lot of people sitting on the road, sitting on utes parked on the road," says a driver caught up in the incident on Saturday night.
"Cars were parked four abreast across the road with the occupants walking the rest of the way to the burnout. We couldn't turn our car around to get out," says a driver of one family who found themselves with their young child stuck in the traffic block from 10.30pm on Saturday, June 25, to 2.30am on Sunday, June 26.
"There was no cell phone coverage so we couldn't call police. No one came to help us. No one cleared the road.
"If an ambulance or fire engine needed to get through, there's no way they could have even got there. What if they'd been a fire?"
The family's experience started after 10pm on Saturday, June 26, while they were travelling home from Tauranga towards Rotorua on SH36.
"We found we were in a convoy from Pyes Pa. Cars kept passing us and traffic slowed right down. And then about five to eight kilometres before TECT Park, we slowed down to a crawl and thought it must be an accident ahead," says the family spokesperson.
"We could smell the smoke from Taumata Road. Then everyone started pulling over and getting out of their cars as if there was something happening at TECT Park, as if there was an event.
"They just parked in the middle of the road, left their cars and started walking. By then we got stuck and couldn't reverse or go sideways."
The family say a whole line of traffic was held up for at least four-hours.
"There would have been 300 – 400 boy racer cars with four to five people in each car, so more than 1000 people. They had a massive burnout at TECT Park entrance completely blocking the highway.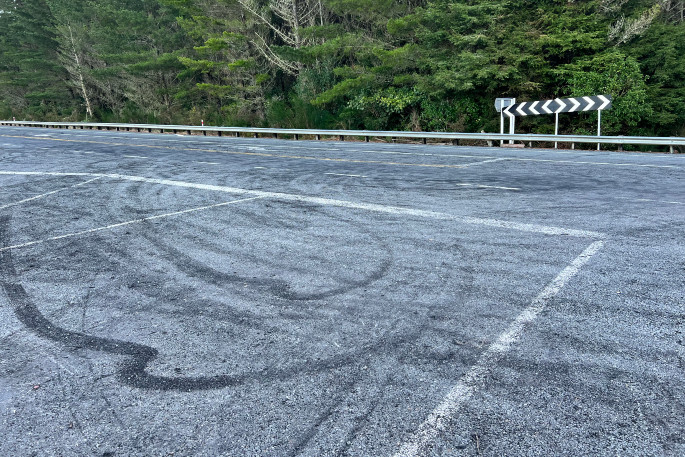 The motorist tried contacting police, but was unable to because there was no cell phone coverage in the area.
"My concern is that everyone was calling police but none of us could get in contact at all with them.
"There were mums, there were families, people trying to get to work. We were all stuck. It was so frightening because we became trapped with no way to turn around, and couldn't get help or contact police.
"The lady in the car behind us managed to get reception, she managed to get through to her husband, who called police. But no police came, no one cleared the road."
The motorist says even if police had come, officers would have had to walk from their vehicles to reach the TECT Park entrance.
"What if someone had had a heart attack? If an ambulance or fire engine needed to get through from Tauranga to Rotorua there's no way they could have.
"There were hundreds and hundreds of teenagers, walking up the road. Police would not have been able to get a patrol car through and would have had to walk, and that's scary."
The motorist says they could see smoke and fire in the distance from the wheel burnouts.
"They were having a massive party in the middle of State Highway 36 and watching the massive burnouts. You could see fire coming off their wheels. The smoke was unbelievable.
"My concern is that there could have been a huge fire. I just couldn't believe that no one came. There was a lot of people and a lot of alcohol and they were not intending to move."
She says there were teenagers jumping off the back of trucks, jumping into bushes, walking along the middle of the highway.
"If it was my teenager, I would not have wanted them out that night. I don't know how they didn't get killed, not to mention the stupid behaviour. It was very unsafe and very frightening being trapped, not being able to go back, reverse, sideway or go forward. All the people weren't being awful but we were definitely outnumbered. It wouldn't have taken much to get them fired up," says the motorist.
"I got out and spoke to a lady behind me and she was so frightened. She was from Auckland. She said "no one is coming, not a soul". I said "if we can get out of here you follow us". But we couldn't get through. I had no reception.
The motorist says they managed to get out finally as people were leaving after 2am with lots of cars reversing back.
"There was a huge mass of people. The young kids coming back from the burnouts afterwards were watching videos on their phones. When we were able to leave, there were eight drag or drift cars up on trailers being towed back to Tauranga. The burnout cars were stacked on the trailers and in a convoy."
"We managed at 2.30am to get a side space, did an eight point turn and came home via Mangatoi Road and Te Matai Road back to Kaharoa."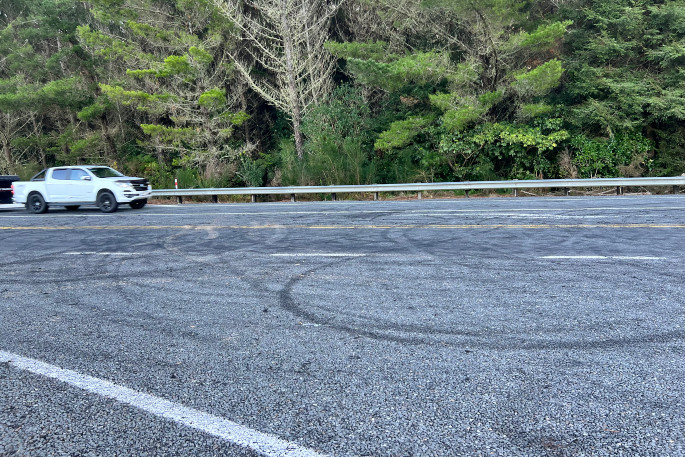 SunLive contacted NZ Police on Sunday June 26 about the incident.
"[We] Will check in with local staff and get back to you," says a police spokesperson.
A Western Bay of Plenty District Council spokesperson says no phone call(s) were made to Council on Saturday, June 25.
"A similar situation has happened in the past and police advised staff not to communicate or interact with the participants, more for staff's own safety."