Two different accounts of the same alleged dog attack have emerged during the trial of a Tauranga woman and her large Rottweiler.
Helen Fraser faced a charge of owning a dog causing injury during a judge only trial at the Tauranga District Court on Tuesday.
It's alleged her male Rottweiler Chopper bit veterinarian Liza Schneider on October 14, 2021, at Holistic Vets in Tauranga, where he was booked in to be de-sexed.
If Fraser is found guilty, Judge David Cameron must order the destruction of the two-year-old Rottweiler, unless exceptional circumstances can be proven.
Chopper has been in the Tauranga City Council dog pound since the incident last year.
Fraser's defence is based on the claim the vet is responsible for the attack and Fraser's actions did not cause it.
Tauranga City Council prosecutor Nathan Speir explained to the court that the legal test is whether Fraser took "all reasonable steps" to avoid the attack.
During her testimony on Tuesday, Fraser said she had arranged to meet the vet in the carpark for an initial consult because she had raised concerns with the vet nurse that Chopper was anxious around people he didn't know and small dogs.
The clinic staff said they asked Fraser to keep Chopper in the car for the assessment.
Georgia Adams, the veterinary nurse who took Fraser's call to arrange a plan for the appointment, said: "I think I told her to keep him in the car," during her testimony.
"Being new to the clinic, I can't completely confirm that," said Adams.
Schneider said when she went to assess Chopper she saw he was not in the car and was being held by Fraser's son.
"[I was] expecting to see Chopper in her [Fraser's] car," said Schneider.
Shortly after greeting Fraser and her son, Schneider claims the dog lunged at her and bit her arm.
"He lunged at me and grabbed hold of my arm. I was in a puffer jacket and managed to get my arm out. I noticed my arm was bleeding."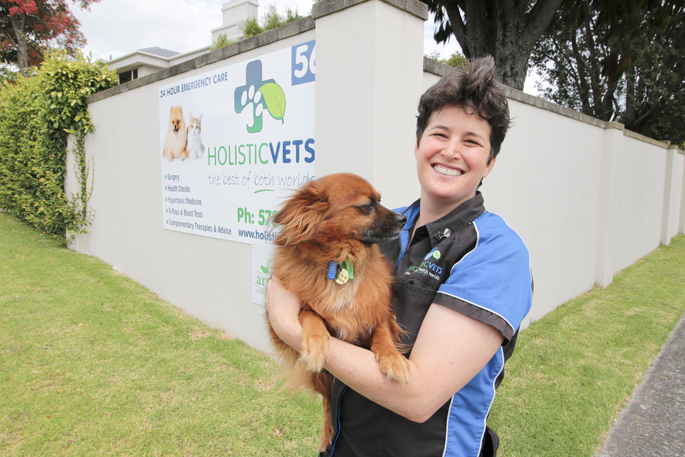 Veterinarian Liza Schneider suffered a fractured ulna from the alleged attack. File image/SunLive.
She said she was standing around two metres away from Chopper when he lunged "which would've been a safe space for most dogs".
The injury to Schneider's right arm included a fractured ulna, four puncture wounds, along with nerve and muscle damage.
The injury required a three hour surgery and a plate and six screws.
A vet of 22 years, Schneider couldn't use her right arm for anything for the first six weeks, which was "absolutely devastating".
After five months she was able to resume normal surgery work at her practice, but she may require another surgery to remove the plate and screws and still experiences pain, Schneider told the court.
Fraser's recollection of the event is different from Schneider's, although the details of the injury were not disputed.
As Schneider approached and greeted Fraser and her son, Schneider walked past Fraser, then Chopper started barking, said Fraser.
"I turned, Chopper had already started barking first," she said.
"And then, he started lunging, so he barked, he jumped and then he lunged and that's when she started walking backwards."
Fraser said the first time Chopper lunged he ripped Schneider's jacket, then the second time he gripped her forearm that she had raised.
"I saw that and ran up to him and that's when I put my hands in his mouth and pulled him out."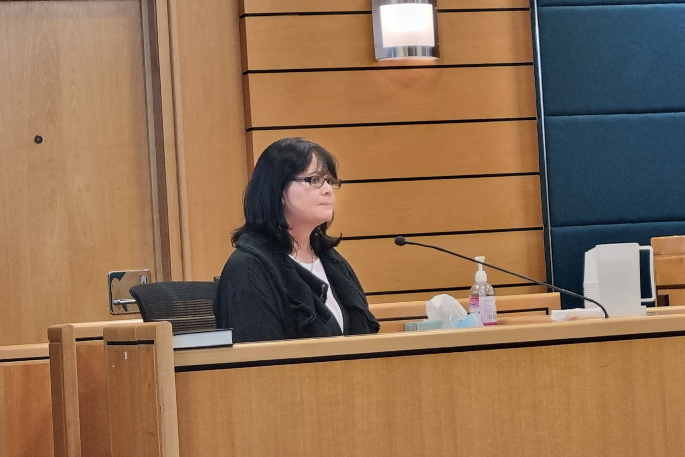 Helen Fraser is facing a charge of owning a dog causing injury. Photo: Alisha Evans/SunLive.
Defence lawyer James Carter asked Fraser if Chopper definitely did those two separate movements as she would have heard a "completely different version" from previous witnesses.
To which she replied yes.
During questioning, Schneider said Chopper "showed no sign of aggression or anxiety".
"If a dog is aggressive you can see signs."
Carter asked Schneider if Chopper barked and lunged forward as she came within two metres of him and Fraser's son.
Schneider replied that was not correct and had that been the case, she would have stepped away.
When asked by Carter, Schneider said she did not recall a pair of hands in the dog's mouth trying to prise it off her after the bite.
"That I would've remembered."
Carter questioned Schneider as to whether she could have asked Fraser to put Chopper back in the car.
Schneider said she didn't want them to put Chopper back in the car because that would bring him closer to the entrance of the veterinary clinic, which could have put other animals at risk.
Carter asked if the use of a muzzle was considered.
Schneider said muzzles were considered after the initial consultation. Muzzles can cause some dogs to be "very anxious", she said.
"Many dogs do not tolerate muzzles," said Schneider.
Witness Sue Mackey, the manager of Holistic Vets, told the court her experience of the attack.
She said she heard "a lot of screaming" then went to the window and saw Chopper latched onto Schneider's arm.
"She had an arterial bleed, so it was pretty horrendous," said Mackey
Witness Courtney Phipps, a veterinary nurse at the practice, described the moments after Schneider came back inside.
"She came inside, cradling her arm as lots of blood was streaming out. There was blood everywhere," said Phipps.
When questioning Fraser, prosecutor Speir suggested to her she was "putting a gloss" on her evidence and "filling in the gaps" in her favour in order to paint a picture for the judge.
Speir asked Fraser if the matter of whether they were meant to leave Chopper in the car was an issue she was "glossing over".
"I'm not lying," responded Fraser.
"I was never asked to leave the dog in the car. I just told that we were meeting in the carpark," she told the court.
In his closing statement Carter laid blame with Schneider. He said: "This is the one unique case where the defendant, who is a dog owner, when they take their dog to vet has an expectation of expertise".
"Did Ms Fraser take all reasonable steps to prevent this incident taking place? And my submission is the answer to that must be yes."
To close Speir said: "The test is there literally must be no practical step, the defendant could have taken to avert the attack".
"In cross examination my submission is, she has accepted that there were alternatives that could have been taken that weren't for various reasons."
Judge Cameron reserved his decision.
Public Interest Journalism funded through NZ On Air.