The 44th National Youth Jazz Competition in Tauranga featured the most competitors in its 44-year history, says National Youth Jazz Competition manager Liam Ryan.
The competition was held at Baycourt Community and Arts Centre on Sunday through to Tuesday.
"We had a record number of 520 registrations from 30 secondary schools as far and wide as Christchurch to Auckland," says Liam.
"That's a 20 per cent increase in participation which speaks volumes about the amount of jazz being played in secondary schools."
The judges' Dr Rodger Fox, Dr Dave Wilson, Eilish Wilson from New Zealand School of Music, and Ben Wilcock from Toi Ohomai were impressed by the standard of excellence of performance from the young musicians.
Head Judge Dr Rodger Fox feels the standard of combos and big bands is improving year-to-year, in large part due to the schools returning to the competition and building on their performances each time.
"It's very encouraging to see the competition continuing to grow; it shows it is valued by the schools," says Rodger.
"The bands are very receptive to feedback and this is showing in the band performances. It's great to see students really working on improvisational playing."
After performing the combos and big bands had a workshop with a judge receiving immediate feedback on their performance - a total of workshops.
Liam says this year's National Youth Jazz Competition showcased the best of youth jazz in the country.
"The standard of performances is incredibly high, with jazz now embedded into the New Zealand school music curriculum. The students blew us away again this year with their musicality, their enthusiasm, and their energy.
"It's great to see the students are getting together from different schools outside the classroom to form their own bands – the way rock bands used to form twenty years ago. It's the new thing!
"A big thank you must go to the school musical directors, young performers who played their hearts out, parents and support teams who came along and make it happen."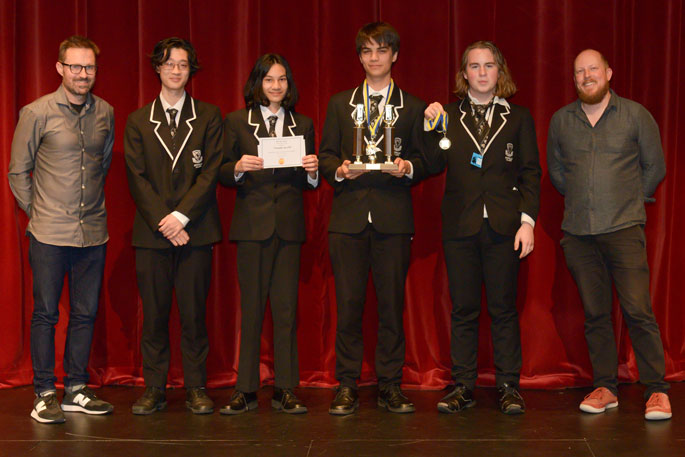 Avondale Quintet BEST COMBO.
The Best of Festival Trophy for the most outstanding jazz band was presented to Chicks from Corea from Burnside High School Christchurch with the New Orleans Trophy for most outstanding Big Band going to Auckland Grammar School.
The Norman Family Trophy for Best Jazz Combo was won by Avondale Quintet from Avondale College Auckland.
"We are very grateful to our sponsors for their support in hosting this event. It has been a wonderful three days of youth jazz and it feels more like we are developing a national jazz community than a competition," says Liam.
The 44th National Youth Jazz Competition is sponsored by Tauranga City Council, TECT, New Zealand School of Music: Victoria University of Wellington, SAE Institute, Music Planet, Creative Communities Tauranga, Dr Toot, Youth Jazz Band-it.
Chicks from Corea Burnside HS BEST OF FESTIVAL.