Four months into the Wednesday Challenge project to change the way we travel, a new carpooling app is being launched in Tauranga.
The Liftango carpooling app launches in Tauranga this week, and is the latest new mode on offer as part of the challenge.
Project director Heidi Hughes says the app enables real-time dynamic carpool matching that can help improve parking problems across Tauranga and help employees reduce their commute costs.
"The app gives users access to a trusted network of signed up carpool members. They simply enter where they are, where they want to go and request a ride at any time.
"The app then finds them a match. The service is free and choosing to drive or be a passenger is flexible for each trip."
Heidi says the app essentially creates a connected group of active car poolers united with a common interest - to use sustainable, cost effective and reliable shared transport.
"There are so many companies with employees, living in the same suburb, who currently all jump in their cars in the morning and drive separately to work.
"With the Liftango carpooling APP users have the opportunity to contribute to less carbon emissions, connect with others at the beginning and end of their day and know they're contributing to a transport solution in our city."
With 14 businesses already signed up for the launch of the service, it seems the business community recognise the benefits.
"We have businesses including Beca, Craigs Investment Partners, KPMG, Tonkin and Taylor, Tourism BOP, Blue Lab, Manawa Energy, Bay of Plenty District Health Board, Toi Te Ora, Envirohub, Bay of Plenty Regional Council, The Flooring Room and Tauranga Boys' College staff who've jumped on board for the launch this week and many more in the sign-up process.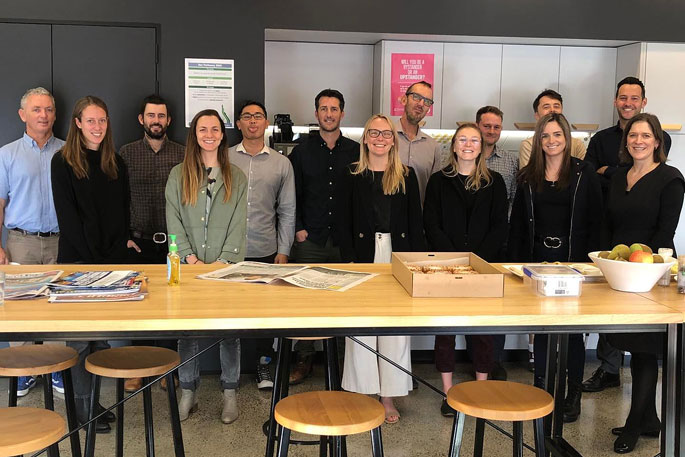 Some of the staff from Tonkin + Taylor who are registered to use the new Liftango carpool app launched this week.
"They recognise the benefits to their employees and the contribution they will be making to reducing carbon emissions, traffic congestion and parking issues."
Bay of Plenty District Health Board sustainability manager Vicktoria Blake says they support carpooling for various reasons, including potential improvements to emissions reduction and subsequent air quality improvements.
"Further, vehicle sharing can be a great social activity after a time many of us have experienced some levels of social isolation.
"The emissions from BOPDHB's staff commute is currently estimated at almost 5,000 tCO2e each year, we are working hard to find as many solutions as possible to reduce this footprint."
Craig's Investment Partners sustainability manager Oliver Pomfrett agrees.
"We've signed up because it's a great opportunity for our business to contribute to a more sustainable city in a way that is really engaging for our people."
Meanwhile, schools are also opting into the app.
Tauranga Boys' College head of faculty, Andrew Corney, says it makes a lot of sense for their teaching staff.
"Many of our teachers live in similar parts of the city so we've signed up to Liftango to try and make it easier for our staff to coordinate carpooling."
Heidi says the Wednesday Challenge and Liftango partnership recognises the significant issues with traffic and parking in Tauranga and seeks to make inroads into the problem.
"Their technology is world class and it's exciting we have been able to integrate it into the Wednesday Challenge.
"Like with the Wednesday Challenge Strava app, the Liftango app has a direct connection to our points system, so every trip automatically gives registered riders a Wednesday Challenge point."
Passenger safety is a key component of the app.
"We've made it exclusive to businesses and organisations signed up to the challenge to safeguard passengers. Businesses know that their staff can connect with other registered users in a closed and trusted community.
"It's also a great way for Tauranga's business community to connect and collaborate with others. It's a win-win."
The Wednesday Challenge has been running for four months in Tauranga and already boasts more than 9000 participants who have logged over 62,000 journeys.
Heidi says people are attracted by the environmental, health and wellbeing benefits of the challenge and the chance to win rewards and prizes.
"Our transport emissions are rising every year, because we are one of the fastest growing cities in New Zealand.
"The Wednesday Challenge is an invitation for Tauranga to roll up our sleeves and begin the work we need to do now to solve our own carbon emission issues, while at the same time, resolving some of the issues we have around congestion, parking and safety on our streets."
The Wednesday Challenge is led by Envirohub Bay of Plenty with funding from Waka Kotahi, Bay of Plenty Regional Council and Tauranga City Council.
To find out more about the Liftango carpool app go to www.wednesdaychallenge.co.nz/welcome-liftango