Young musicians jazzed up Baycourt's auditorium on Monday with musical flair for day two of the 44th National Youth Jazz competition.
At the largest competition yet, more than 500 students are taking part in the musical feast which runs through to Tuesday, June 21, showcasing young jazz players' talent and fostering the next generation of New Zealand musicians.
Manager of the competition, Liam Ryan says that there has been a 20 per cent jump in registrations for this year's competition.
"[This] tells us there's a lot of jazz being played in schools, it's a real thing now," says Liam. "When I was at school jazz was happening in the background but now jazz has become a core part of secondary school music programs.
"These kids are soaked in jazz, they're writing it, and are really fired up about it."
Liam describes jazz as "a really high art" and thinks the rise of jazz is because "students are now realizing you can go deeper and deeper" into the music.
"And the deeper you go, the more riches there are– it really is fantastic."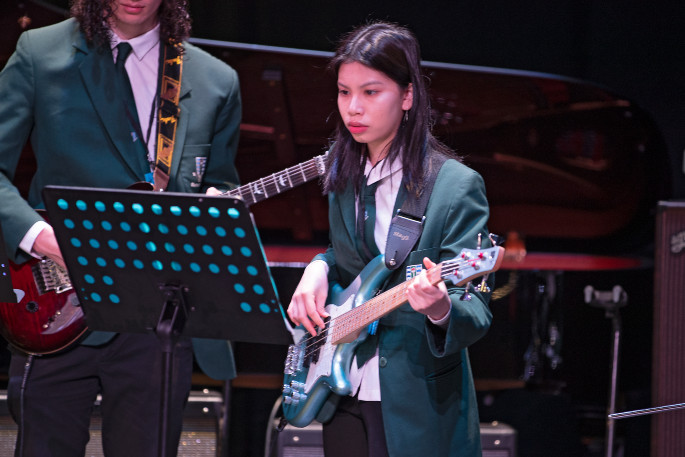 Samantha Reyes on bass received special feedback from jazz professional and judge, Rodger Fox. Photo: John Borren.
The two main categories of the competition are 'Big Bands' which have up to 20 students playing together and 'Combos' which have up to eight students, says Liam.
Playing earlier this morning, Otumoetai's Big Band pianist Caleb Friar says his performance nerves had settled for the second day of the national competition.
"Yesterday the jazz combo was scary on stage, then I realized it wasn't that bad," says Caleb. "I don't feel any of the fear that I felt yesterday."
New to jazz, the year nine student joined the college's jazz band this year but has four years of experience playing piano.
On what he loves most about Jazz, the young pianist says: "the crunchy chords, yeah they sound nice."
Tomorrow, Tuesday, June 21 there will be more jazz kicking off at 8.30am and prize giving at 5.30pm for the final day of the competition with trophies to be won.
Liam says that that some of the trophies are 45 years old and have famous names from the music world such as 'Hollie Smith' and 'Nathan Haines' etched upon them.
"They're taonga… it's a real honour to get these trophies," says Liam.
This year's competition focuses on youth creating original compositions and playing compositions by Aoetaroa musicians.
"The students come out of the youth jazz programs and end up in bands like L.A.B, Fat Freddy's Drop - all of those big NZ bands," says Liam.
"We're trying to get that idea happening that they can create their own music as well because that's often where they end up."