Ōmokoroa Boat Club's Winter Season Sailing competition has got off to an uneventful start – in a literal sense.
The season's competition was supposed to kick off on June 12 but was cancelled due to an unfavourable weather report from the coastguard.
Ōmokoroa committee member and stalwart of the club, John Budden, explains what constitutes weather that's bad enough to cancel an event.
"Normally, it's more than 15-20 knots of wind. We don't get too much in the way of high waves in the inner harbour but we can get some very nasty squalls coming off the Kaimais," says John.
Along with the initial setback, there has been a lack of consistency from committed numbers.
"It (the number of teams) varies each time we sail. Last year we were somewhere around seven to nine boats in the summer but it dropped off a bit in the winter," says John.
The sailing competition does have a lot of variety though and John says the winter season, although challenging, caters for numerous different classes of boats and a variety of skill levels.
"We have a range of boats basically from medium sized keelers down to trailer yachts."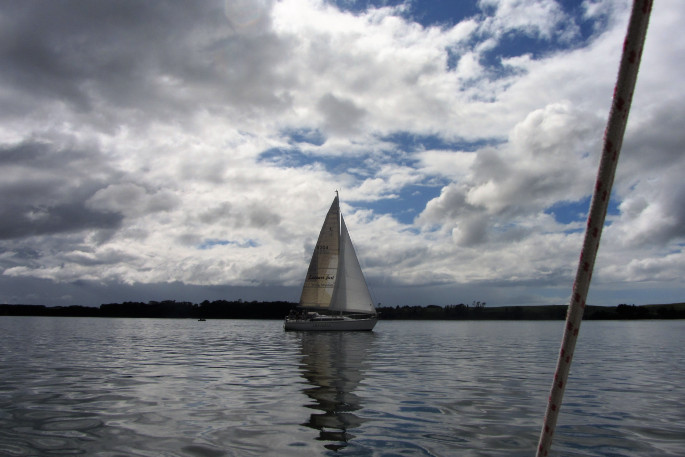 Past racing by Omokoroa Boat Club winter sailing enthusiasts. Photo: File.
Although the season competition does have a ladies' trophy, numbers competing are currently on the light side.
"We have about three or four ladies that sail with us regularly. Most of the ladies do sail through the summer but one only one or two sail through the winter as well."
John is concerned that although the weather may cooperate this weekend, another factor could impact the turnout.
"It's the day before our annual general meeting so I'm not too sure how many will come out, but I'm sure we'll get a few anyway."
The next round of the Winter Season Sailing competition is on Saturday, June 25, with spectators more than welcome to attend – if they can brave the weather.