"It's going to be a relentless year."
Oropi School principal Andrew King is talking about the constant challenges he is facing with "unprecedented amounts" of staff illness.
King reached out to Local Democracy Reporting to share his concerns about the overspending schools are experiencing because of staff illness.
The principal canvassed Bay of Plenty Schools and says primary, kura and intermediate schools have growing concerns that their budgets for sick leave cover are already overspent.
Of the 30 schools that responded 64 per cent of them had already spent more than half of their relievers budget and there is only 43 per cent of the school year gone.
King says at Oropi School he budgeted $15,000 for sick leave cover for the year but had already spent $25,000.
Each of his 21 teachers have had seven to 14 days off because of illness and this week nine teachers have been off sick.
"It's going to be a worse year than we've ever seen before," says King.
It's not just Covid-19 that was causing staff absence, he says.
"We are definitely starting to see those winter illnesses much more than last year, because we're not in isolation."
Schools are having to make compromises to counteract the overspending, says King.
"Some principals aren't running over budget, but they're already making compromises because there's no word from the Ministry [of Education] or government as to what support they might offer, so that we don't have to be compromising teaching and learning programmes."
At Oropi School, the Māori and Chinese Mandarin language programmes couldn't take place in all classrooms every week and reading and writing support programmes have been affected.
The school was also having to split classes and have one teacher, teaching two classes.
"The consistency of programmes of learning is a big issue," says King.
"It's limiting us getting back to normal pre-Covid."
Other schools King surveyed are having similar issues with splitting classes, some were asking students to learn from home and others had the principal covering teachers.
"I don't think the ministry are fully aware of how bad it is," says King.
The principal acknowledged that the Ministry of Education is offering additional relief teacher funding and it was available to schools after a teacher was off sick for more than four days. Previously it was after eight days but the ministry changed this in term one.
According to the survey King did, 68 per cent of the schools did not expect their sick leave budget to get back on track even with the additional support from the ministry.
King says the ministry needs to work with schools on a solution, so they don't have to compromise children's learning.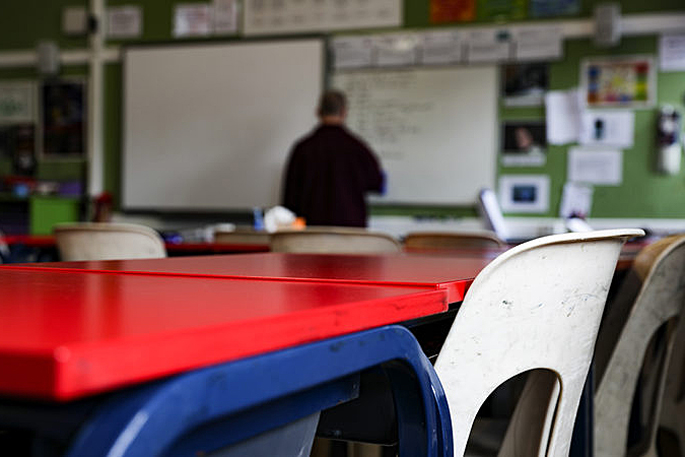 Schools are having to use one teacher for two classes because relief staff aren't available. Photo: RNZ.
Ministry of Education operations and integration hautū (leader) Sean Teddy says: "We are aware of pressure being placed on schools' operating budgets due to the need for higher-than-normal levels of relief teaching.
"Where a school or kura is experiencing high levels of staff absences due to Covid, or other illness, they can claim additional relief teacher funding."
"While there is pressure on their current year's budget, a school may have other entitlements or historical financial reserves to call upon to manage their relief costs," says Teddy.
"Where schools and kura are experiencing financial difficulty, we encourage them to make contact with their School Finance Adviser to provide assistance and guidance."
King says another issue is the availability of relief teachers.
"Because there's unprecedented amounts of cover, that we historically haven't had to cover sick leave for, some schools just can't get a reliever in and that's happening more than normal."
This meant more teachers taking two classes at once, having teacher aides help with cover and using specialist teaching staff as relievers, according to those King surveyed.
"It's a shambles, you just can't continue a nice normal teaching and learning programme when you're staffing like that," says King.
Teddy says the ministry is aware schools and kura are dealing with high levels of sickness and absence.
"Relief teachers are in high demand and sickness is no doubt also affecting their availability," he says.
Teddy says options for schools that were unable to find relief teachers included extending the redeployment of qualified teachers who are not currently serving in classroom-leading roles, such as learning support coordinators.
Another was considering the use of limited authority to teach staff, he says.
"There is no one solution that will work for all schools and kura, but there are a number of short- and longer-term options that they can explore.
"Staff in our regional offices are working with principals every day to help them find solutions to their specific staffing needs," says Teddy.
King says: "It's a really urgent problem because at the end of the day, kids are missing out on teaching and learning programs that we've normally got in place, simply because of unprecedented amounts of staff illness."
Public Interest Journalism funded through NZ On Air.