Brace yourselves Tauranga people - Jeremy Corbett and six of his mates will be in Tauranga on Sunday June 19, as part of the 7 Days Live tour. And, as expected, he's finding plenty of local fodder to poke fun at and turn into no-holds barred comedy.
With no cameras, no censors, no editing – he says it's "a whole 'nother level of uncut fun".
Jeremy, who will be hosting the show as part of a 13-show tour, is joined by six of NZ's best comedians - Paul Ego, Dai Henwood, Justine Smith, Josh Thomson, Laura Daniel and Ben Hurley.
In the first half, these seven will take turns to smash out their best standup comedy.
SunLive caught up with Jeremy to help our readers prepare for whatever he plans to inflict on us.
"Who knows what infectious diseases and new coffee designs I'll bring into your territory," says Jeremy.
"I like to come up with new descriptions for coffee that baristas don't know so they think I've travelled overseas and come back with something new and fantastic just to confuse them. I like to make up Italian sounding names. If they say 'what's that?' then I say 'well if you don't know, don't bother'."
It's probably necessary that an air of 'the urban gentleman from Auckland' is projected for those of us suspicious of anyone crossing the Bombay border into the regions.
"Rhymes with banker," says Jeremy, agreeing with that sentiment.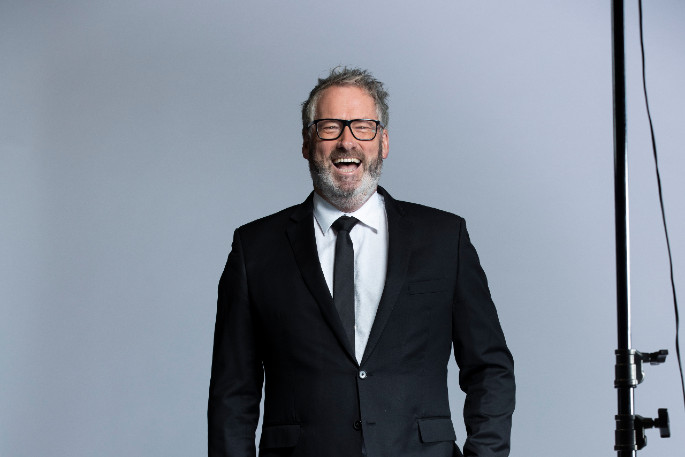 NZ comedian Jeremy Corbett. Photo: Supplied.
Finding things in common with Jeremy isn't difficult, being firstly human, growing up in the 70s and being surrounded by family. His family has a comic side, with a household full of laughter and silliness being 'the name of the game'.
"We used to gather around the table for most of the meals during the day. It was four boys and mum and dad. Dad was always funny. Mum had a great sense of humour too but Dad was always the one who came up with little sayings and nonsense words. He introduced all of us boys to the Goons very early on. Then of course we discovered Monty Python and got into those.
"The middle two boys, me and my brother Nigel, we ended up getting together and doing comedy together as the Corbett brothers. My oldest brother Greg was probably the funniest of all but he decided to stay hidden under trucks repairing them."
That British Goons/Monty Python influence was there from early on.
"I remember watching the Goodies too, on television."
He recalls a sheep jumping out of the bush onto one of the Goodies, with the silliness of it making him laugh so hard he says he feared for his life.
"As a family we were constantly playing gags on one another. One of us would get up and go to the kitchen to get something, and the rest of us would say 'I'll have one too!" without knowing why he was going. The challenge was that the one who had got up was to come back with a drink in the most ridiculous receptacle they could find like a saucepan or an old plate or a jug. You'd never get it just in a glass."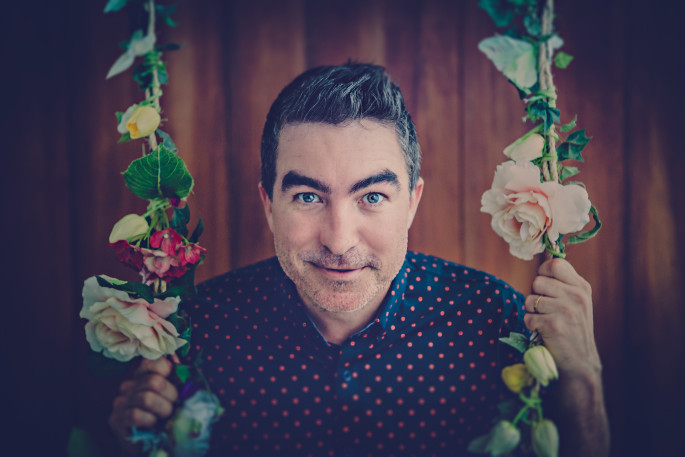 NZ comedian Dai Henwood will be joining host Jeremy Corbett live on stage for the 7 Days Live show. Photo:Kate Little Photography.
The old family phone attached to the wall also become part of the pranks.
"The phone would ring, you'd answer it, and then go back into the room and say 'GREG!' So Greg would stand up and you'd say 'can you get Nigel please, the phone is for him'."
Enticingly, the family's phone number was close to a local radio station's number.
"So we were constantly giving people prizes," says Jeremy. "They'd ring up and we'd say 'yep you've won, we'll send that out, no worries'."
One wonders if the idea of radio stations giving away a lot of free stuff first drew Jeremy to that as a career option. He is the former breakfast co-host for More FM.
Humour in early life
Jeremy believes humour is a huge important part of early life.
"I think it's a way of communicating things, and it can communicate some quite awkward things in a comfortable way. If you're trying to make a point or tell someone or teach someone something and they laugh, then I think the memory's implanted just a bit better.
"In general, a relationship with someone formed and bound with humour is a stronger relationship."
Despite his comedy originally springing from strong British beginnings, he's been dabbing and pouring out his own 'l'eau d'corbett' fragrance, permeated with a uniquely Kiwi flavour.
"The Flight of the Conchords have introduced the world to that Kiwi laidback humour. For that humour to go international and for people to embrace that humour is something of a surprise I guess. No matter how outward looking you are, you can't escape that NZ small country mentality, so you're always a little bit surprised when the rest of the world pays us attention."
He acknowledges the achievements of Taika Waititi, Melanie Bracewell, Urzila Carlson and Rose Matafeo, to name a few, who are all "exporting" Kiwi comedy.
"There's so many. They're too successful to be honest, makes me sick." He laughs.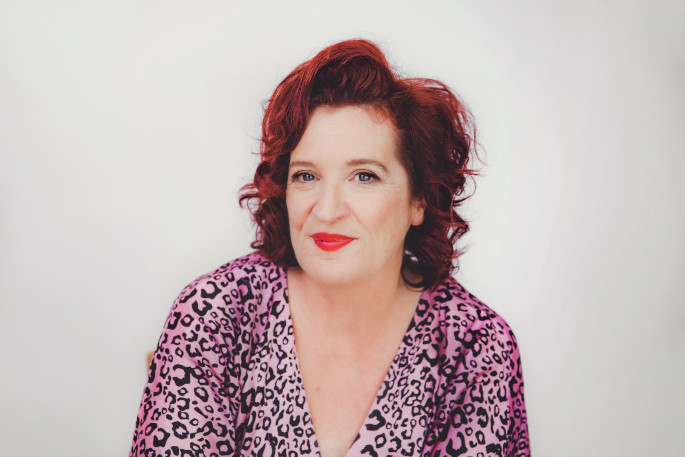 NZ comedian Justine Smith will be joining host Jeremy Corbett live on stage for the 7 Days Live show. Photo: Kate Little Photography.
"When we were growing up there was really only one way of getting culture from overseas and that was via the television, so we were very used to seeing American and British humour from a very early stage. Of course it wasn't reciprocated. They didn't see ours until someone like Flight of the Conchords popped up on their radar. The novelty of it, I guess, was huge."
He thinks every country should have a television panel show like 7 Days Live.
"I think it's healthy for their comedy industry, and healthy to take a slightly different look at what's happening topically."
In the early days he clearly studied hard, achieving a BA in English and Computer Science at Massey University.
He jumped from being a computer analyst for a western Australian mining company – basically what many would consider a complete nerd – to doing live sketch-based comedy.
"Those careers kind of happened in parallel," says Jeremy. "When I was studying computing at university I was also doing the capping review, which is comedy sketches. And Radio Massey – doing comedy on that. The only one that could pay of course was the computing side, so I got into that."
He says computing people, despite being nerds, are often funny nerds.
"Some of them quote Monty Python constantly. There are a lot of characters in that computer industry. So that comedic vein was always there."
A significant turning point in his life was when his first marriage "came to a grinding halt" in Australia.
"I remember sitting on a park bench eating my lunch and thinking 'I've got a bit of a choice to make here'. I decided to give up the big money of computing."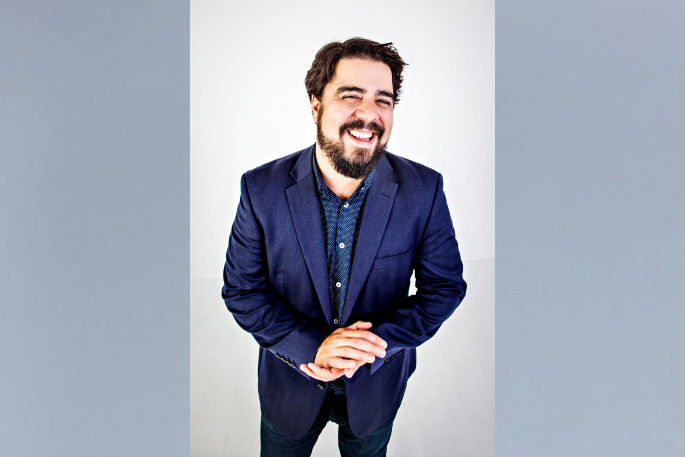 NZ comedian Ben Hurley will be joining host Jeremy Corbett live on stage for the 7 Days Live show. Photo: Supplied.
His first move was to Radio 2XX in Palmerston North where he started writing ads for about a quarter of the money he'd been earning and four times the happiness.
He doesn't have a clear memory of his first time doing standup comedy and getting a laugh on stage.
"I guess it was on stage at Massey for a capping review, but we were doing it as a collective surrounded by people who are still friends. We were laughing at each other so much that the audience laughing was really incidental."
Comedy from tragedy
It's said that from great tragedy comes great art, with Jeremy adding that from great tragedy comes great comedy.
"I think everyone uses comedy to a certain extent, but certainly comedians – that's their 'go to' setting whenever things get awkward or tragic or sad.
"I've been lucky to have had a pretty happy life. When the marriage split up I think we were both quite happy about that, and I did get some humour out of it."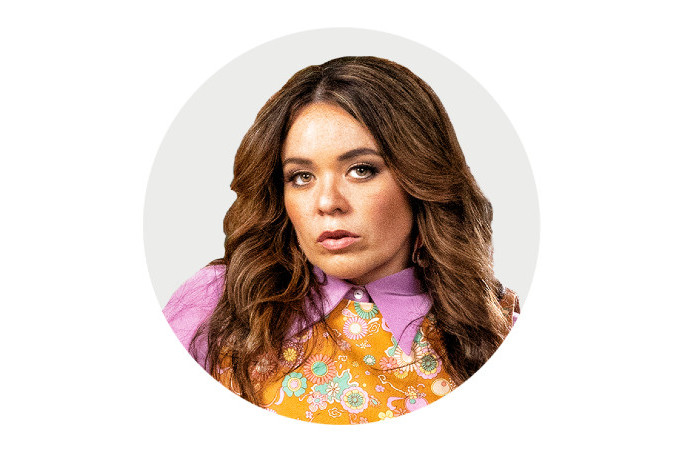 NZ comedian Laura Daniel will be joining host Jeremy Corbett live on stage for the 7 Days Live show. Photo: Supplied.
Jeremy lost his mother only a few weeks ago.
"At that funeral there was a lot of laughter along with the sadness. A lot of people experience that at funerals, because there's emotion and anxiety and tension that comes out in laughter. I think it's a completely natural and wonderful thing to do.
"Comedians more than most, resort to humour perhaps more quickly than other people."
He reflects on the farewell to NZ comedian Ewen Gilmore in 2014.
"There was a lot of comedy at his funeral. Some of it he even wrote. He had a lifelong friend who had promised to do a certain thing at his funeral which was a joke, and people pretended he was doing his last gig and he was introduced as though he was doing his last gig."
Corbett on Wikipedia
Asked why there isn't much about him on Wikipedia and what else could be added, Jeremy confesses to not really following Wikipedia or understanding how it's updated or who does the updating.
"I've never really made an effort to update it. Perhaps I should? It does seem to be a 'go to' for some people doesn't it?
"What's really interesting is that my article on Wikipedia was removed, and they said 'due to lack of significance' or something like that. One of the moderators had made a decision that I really wasn't interesting enough to be on Wikipedia. So I've been edited out.
"I was kind of proud of that. So when they reinstated me I thought 'aww that's a bit boring'.
"I'm also quite proud of the fact that when 'Deal or No Deal', a game show that came to NZ after running successfully for years and years in every other country in the world - I managed to kill it in one year. I was pretty proud of that, we got one season out of it and then that was gone."
The first moment when Corbett had fans…or were they stalkers?
Corbett says NZ fans are terrible.
"They start off with a hiss and a roar and then you have to text them where you're going to be, give them a heads up, they're hopeless, there's no work ethic in a New Zealand stalker."
He recalls when he was in radio in Auckland that he experienced his first fan.
"I don't think there was much before that that I can remember. I was having dinner with my flatmate and some friends, and a woman there just started talking about this person she'd heard on the radio and we suddenly realised she was talking about me. That was the first time that someone I didn't know or had any personal relationship with was interested in what I did. She got a little embarrassed and bashful."
"New Zealand fame is not quite as impressive as you'd think it is. I've been around so long I don't get that status anymore, I'm just there.
"My wife and kids notice it way more than me, I don't notice that I've been recognised."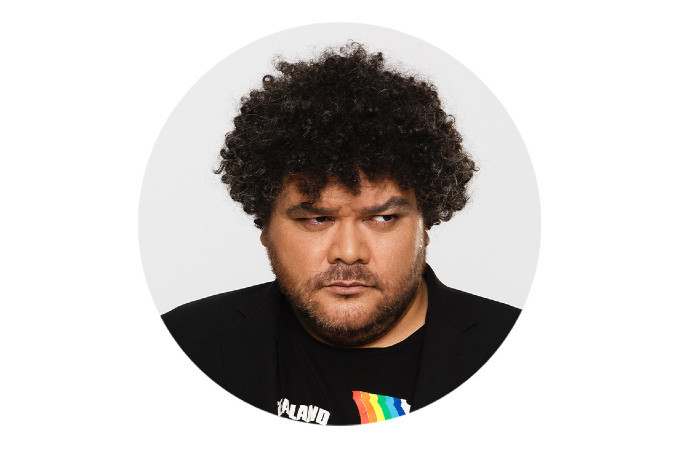 NZ comedian Josh Thomson will be joining host Jeremy Corbett live on stage for the 7 Days Live show. Photo: Supplied.
How much is talent and how much hard work?
Corbett says it's the cliché of '90 per cent hard work and 10 per cent talent'.
"Success in this industry – you see some people who do a lot of hard work and they'll be successful and then you see people who work hard and have that extra 10 per cent of X factor and they go ballistic. But there aren't many that have been successful and continue to be successful that don't really work at it behind the scenes."
Like many successful comedians he works hard to make it look easy.
"I'm definitely a better comedian when I put more work in."
Having said that he thinks it was probably easier in his younger days.
"When you're younger you don't see as many barriers. And you're talking with other mates, making jokes and constantly writing material. When you get to an age where you're married, living at home living the life that everyone's living, and not having that interaction as much, it's much harder to write, sit down and put yourself to the task."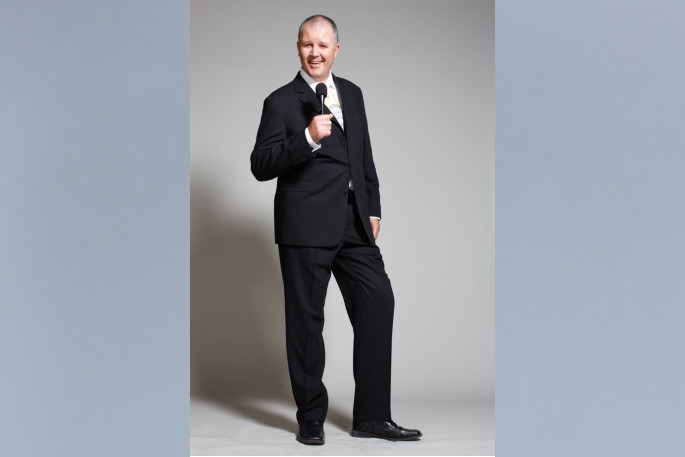 NZ comedian Paul Ego will be joining host Jeremy Corbett live on stage for the 7 Days Live show. Photo: Supplied.
Corbett says with some ideas that come, he's realised he's done it before or seen another comedian do it "better than I'm ever going to do it" or sees other hurdles.
"There's no reason a joke can't be written about a subject that's already done."
Favourite topics
"As you get older you know some things don't matter as much, and you get a handle on what truly matters. It's hard to care about everything and you get a bit laissez faire about stuff."
He says the things that entertain him or likes to joke about are not necessarily the things that make great stand-up comedy.
"I like surreal stuff or philosophical stuff. I like talking about what God may be or what God's like – spiritual speculation. And I get a lot of material from my family, I tell people what my kids have said – that seems to get a laugh at the moment.
"But for this tour, it's hard sitting down and writing comedy from the get-go. Relationship stuff I think is universal. A lot of comedians roll their eyes and say 'are you going to talk about the differences between men and women?' But I think men/women relationship stuff is universal, a lot of people go through it so I find humour in that."
Why live in Auckland?
"I can see why people go to Tauranga, it's a beautiful part of the world. But all the things that tie you to a place are here in Auckland."
He is referring mainly to his wife's family and work.
"Auckland is a whole lot of little cities joined together so you are living in your own suburb for most of your time."
Having said that, he also says he hasn't crossed Tauranga off his place of lists he'd like to move to.
Why go out into the regions with the 7 Days Live road show?
"We're not filming. We're live. People have forgotten what live means. We've been doing it for only a few years fewer than the TV show. This is probably our tenth year, not counting last year because of Covid."
After taking the show on the road at the end of the first year and receiving a great response, the decision was made to repeat it.
"We really enjoyed it and got to do some standup and 7 Days on stage, so we just kept doing it. It's rolled over year after year and we've found people would come along and combine it for their Christmas function."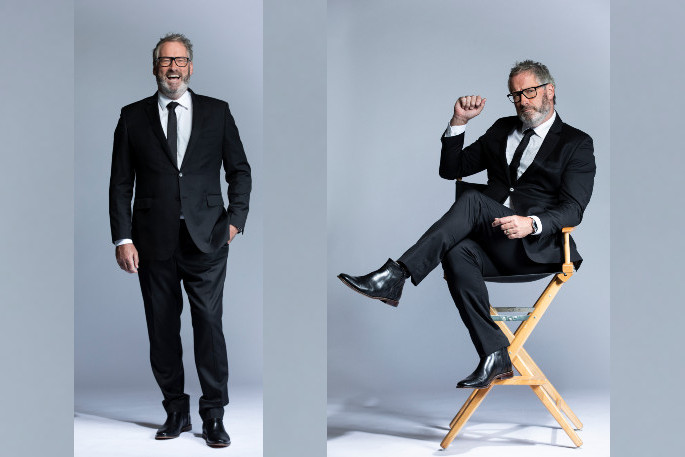 NZ comedian Jeremy Corbett will be live on stage for the 7 Days Live show. Photo: Supplied.
The show was postponed last year, and Corbett is interested to see how a mid-year show will be received.
"The other thing is that Paul Ego is an avid golfer, and Dai Henwood and I join him. So basically for us three, it's a golf tour interrupted by having to perform some comedy at night."
Teasing Tauranga
"I love going to Tauranga. I like cities by the water. And that Baypark Arena is great, we always have a good time.
"We'll tease Tauranga about the usual tropes. It was 'retirement city' now every Aucklander's gone down there and you've got your own traffic problem. You're becoming a mini-Auckland except you've gone one step further with your local body politics. That's a complete shemozzle."
He says he tends to steer away from politics "but you have a cluster scenario happening there".
"We'll be teasing the Tauranga audience about the traffic, about the by-election, the candidates involved in that."
He's wondering if it's a fair bet to write something about National, given the by-election finishes the day before.
As well as golf and comedy, he says the food is the next "number one thing" on their tour.
"Elizabeth Café is a favourite."
Jeremy says whether people like 7 Days or not they will enjoy the standup comedy.
"If you're not really into 7 Days, come along anyway. What you will see in the first half is each of us doing seven minutes of standup. You'll see one of the best standup comedy shows in New Zealand."
7 Days Live is at Trustpower Baypark Arena at 7.30pm Sunday June 19. Tickets are available at Ticketek