A major storm system is developing south of NZ this week and will take until the middle of next week to finally clear away, says WeatherWatch.co.nz.
The low pressure zone this weekend is forecast to deepen into the 940hPa range and the size of the low is expected to be larger than Australia.
"While storms like this in June are normal in the Southern Ocean, the placement of the low's centre being closer to the South Island than Antarctica is not so normal and therefore increases the risks of severe weather in the NZ area (and Australia too)," says a spokesperson for the weather organisation.
SNOW:
Heavy snow is forecast in the mountains of both Australia and New Zealand, but it's the Southern Alps that could receive over 1 metre of snow in the coming week.
Snow will also get down to low levels with the potential for sea level snow flurries in Southland and Fiordland, says WeatherWatch.co.nz
"This means low level snow is likely across Southland and Otago. Canterbury may be more protected by the Southern Alps with airflows looking more westerly than southerly - this is both drier and milder and explains why this Saturday Invercargill has a high of +6C while Christchurch is on +12C.
"Heavy snow is expected down to 300 or 400m, maybe lower. Lighter flurries may get right down to sea level, or 100m, but these lower level flurries look to be more isolated and focused in Southland and Fiordland at this early stage.
"Snow at low levels isn't expected to be heavy or settle long based on data today - but higher up it will be heavy with WeatherWatch.co.nz / IBM forecasting well over 1 metre of snow for the peaks of the Southern Alps over a three day period from Thursday night to Sunday night."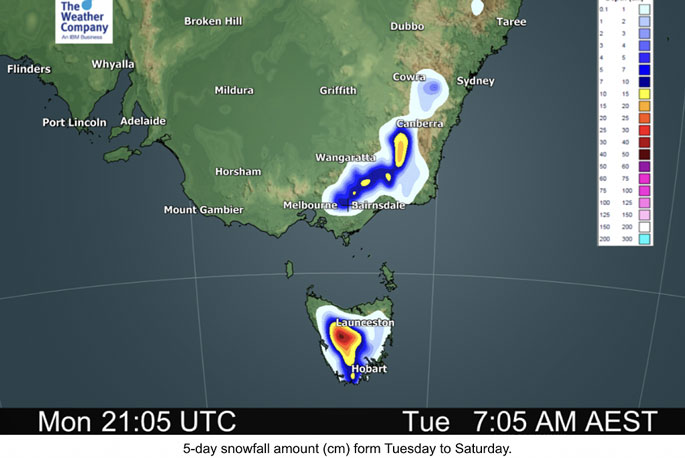 COLDEST AIR
The coldest pulse of air looks to be around Saturday in Southland but a second burst on Monday/Tuesday next week may be more southerly driven and will likely be more nationwide.
"Early next week is when daytime highs drop for many places further north.
"This low pressure system south of NZ is incredibly complex and the large centre to it - interacting with other low pressure zones makes for a much busier looking weather map - this then makes it harder to see when the coldest air will be coming through."
Check your local WeatherWatch.co.nz forecast for more as the IBM supercomputer will be most accurate and locking in your coldest day(s).
HIGHWAY CLOSURES DUE TO SNOW
Snow may prove to be an issue across all Alpine Highways on the South Island over the coming week, especially this weekend and early next week when snow levels lower.
"The North Island isn't immune either, with snow possible on SH1 The Desert Road next week - although it's unclear yet if snow totals in the North Island will be enough to cause road closures around Central Plateau."
HEAVY RAIN:
This major low pressure zone south of NZ will feed a lot of W to NW winds into our country this week - which is why it won't be cold or wet for everyone, says the weather organisation.
"This airflow will encourage heavy rain on the West Coast with over 300mm forecast in the week ahead, falling as heavy snow higher up.
"This heavy western rain will also clip the lower North Island with at least 200mm coming for Mt Taranaki and possibly the ranges of the lower North Island (Tararua Ranges).
"Possibly the most dramatic difference in rainfall is from the Tararua Ranges (200mm+) and coastal Hawke's Bay (1 to 5mm) - such a short distance as the crow flies but very big rainfall differences.
"Eastern areas look mostly protected from the worst rain and snow - but may have worse winds."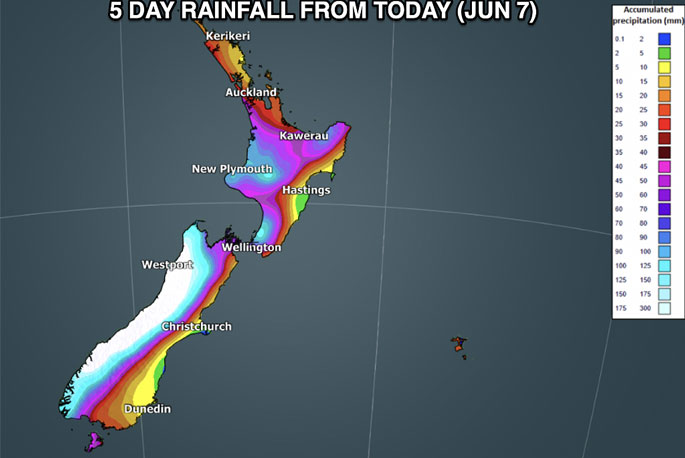 SEVERE GALES:
Worst winds look to be through central NZ (upper South Island, lower North Island) but will surge up and down the entire country over the next 7 days ahead with gales, says WeatherWatch.co.nz
"Use the wind maps and our hourly forecasts to better get your head around the worst winds, but they surge off and on over the coming week, frequently from the Westerly quarter (which is windier in the east, but not as cold as a southerly)."
A LOT OF UNCERTAINTY
"We're certain of a storm forming south of NZ - but the huge size of it, compared to the size of our country (and mountains and ranges) means there is a lot of detail to still work out.
"WeatherWatch.co.nz will have daily updates from today on this developing low."
FAQs
Will it snow where I live?
"Simply look at your local WeatherWatch forecast, if snow is highly likely or heavy then a Snow icon will appear. Some snow flurries will be light and won't accumulate at lower levels - just like isolated rain showers can be hit and miss and brief."
Will it snow in Christchurch or Wellington?
"No, not at this stage - but check back for updates. It's all down to that bitterly cold southerly portion of wind. Sou'West airflows are dry for Canterbury and Wellington for the most part. Southerlies turn wetter and colder for both of these centres."
Will snow fall to sea level?
"Highly likely in Fiordland and moderately likely in Southland. Lower risks in coastal Otago and no risks (at this stage) anywhere else for sea level snow."
Will this be a repeat of the 2011 snow storm?
"Not at this stage, no. The set up is slightly different, in the fact that the most polar portion of the southerlies may actually be west of NZ over the Tasman Sea and not so directly across NZ...but this could still change, especially this weekend or early next week. But based on today's data, no."
Will everyone have a storm?
"No, but there are many moving parts - some regions in the east may be drier but windier, those in the south likely colder with snow risks, while those in the north have downpours and gales - but maybe not as cold.
"As we pointed out, some places like Napier may be mostly sunny with daytime highs in the late teens - hardly a wintry blast, but the windy westerlies may reach severe gale at times."
When can forecasters be more specific?
"Both WeatherWatch.co.nz and MetService will become more detailed and specific about severe weather risks (and general weather) in the days ahead.
"Not all of NZ has severe weather in the week ahead, but the risks for severe weather are widespread over the South Island and lower North Island. Northern NZ looks least impacted, but may still have some heavy rain and westerly gales."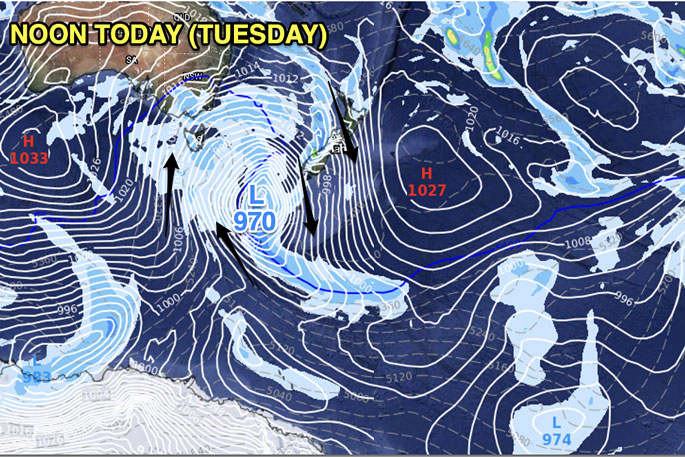 Mild northerlies over many regions, windy in the South Island with rain on the West Coast moving into the western/northern North Island.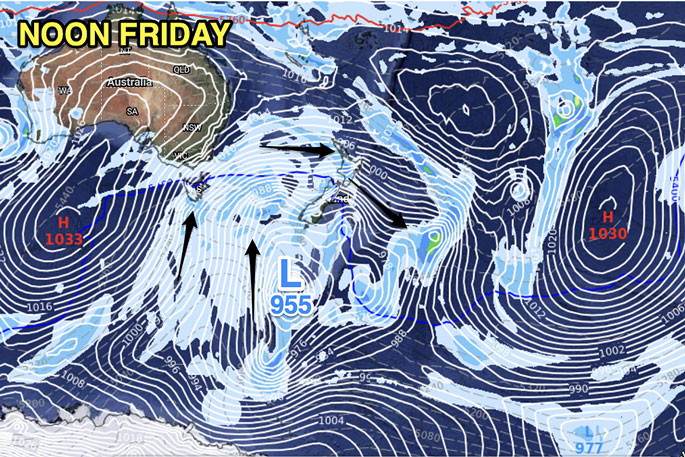 Low pressure is growing south of NZ but still much of the North Island has a mild but windy westerly. Westerlies will also likely dominate in the South Island but will be colder.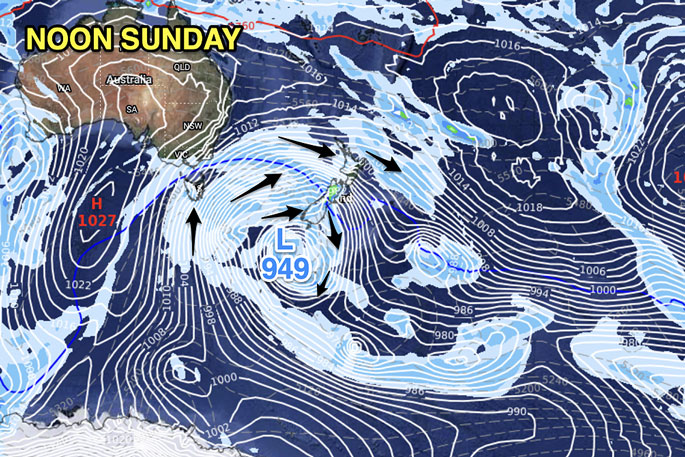 The centre of the Southern Ocean storm gets deeper and drifts very close to southern NZ. However, still many regions have milder W to NW winds blowing. This encourages more heavy western rain and more dry/sunny weather in the east of both islands, mainly north of Otago.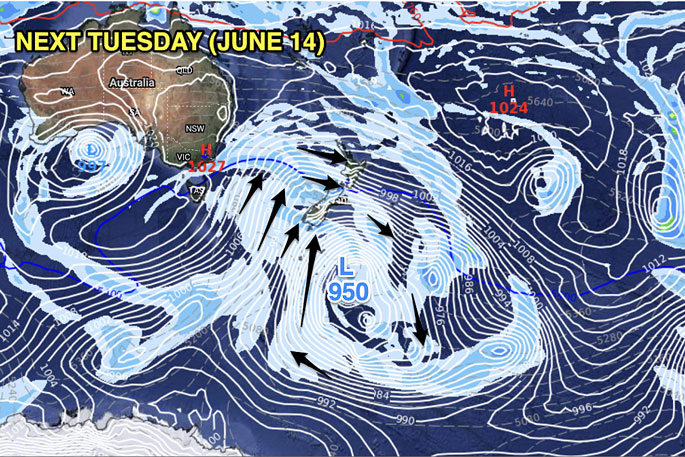 Now we get more of the polar southerly kicking in across NZ - although northern NZ still has W to NW winds. The further the centre of the storm tracks eastwards, the more likely a colder pulse of southerly air will move in.