Tauranga local Ronald Chamberlain has raised $1000 for the people of Ukraine, after teaming up with EmbroidMe Tauranga, and receiving a further donation from TSB Bank.
In March this year, the 84-year-old came up with the idea of selling Red Cross T-shirts to raise money for the people of Ukraine.
"I wanted to approach EmbroidMe Tauranga as they have a great reputation," says Ron.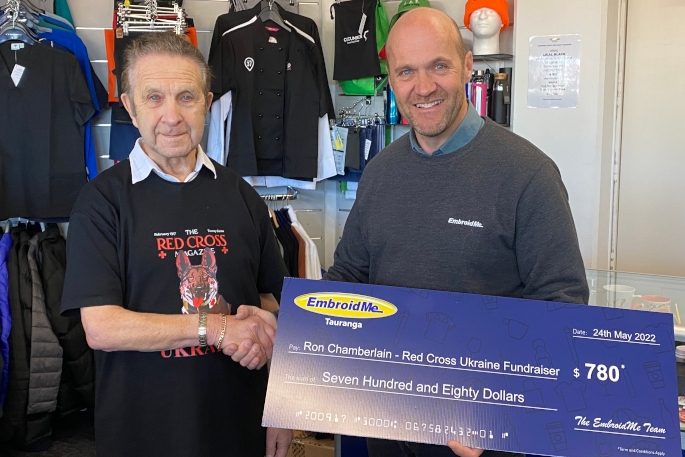 Ronald Chamberlain (left), has teamed up with Steve Smith from EmbroidMe Tauranga, along with TSB Bank to donate a total of $1,000 to the people of Ukraine. Photo: Taylor Rice/SunLive.
EmbroidMe Tauranga director Steve Smith says he wanted to support Ron's effort as holding good values as a corporation is extremely important.
"Corporations' social responsibility is a huge thing. We decided to team up with Ron because he shared his views on what is happening in Ukraine," says Steve.
"He came to us with the proposal, and that is something that we absolutely wanted to support."
The T-shirt displays a drawing of a Red Cross dog from 1917 during World War One. Ron is pleased with the effort so far, and hopes to raise a total of $10,000 in the future.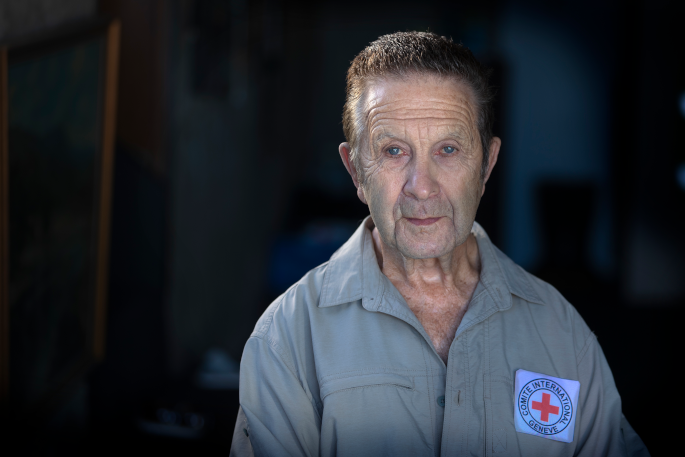 Ronald Chamberlain. Photo: John Borren/SunLive.
"Even though we're presenting this cheque, we're going to keep the tee shirt fundraiser going and selling to all who want to purchase one," says Steve.
Ron expresses his dissatisfaction with how much New Zealand is doing for the people of Ukraine in comparison to other countries, and says that he is trying to add on "a bit extra" by starting this fundraising effort.
To order a T-shirt and help raise money for the peolpe of Ukraine, visit https://orders.embroidme.co.nz/redcross. Alternatively, contact Lani at EmbroidMe Tauranga on 07 220 9988, or by email at sales.tauranga@embroidme.co.nz