A spate of violence at bus stops in Tauranga, mainly instigated by youth, has prompted regional council to restrict free bus fares for under 18 year olds.
During a meeting on Wednesday, Bay of Plenty Regional Councillors voted to restrict free fares from 7am to 9am and 3pm to 5pm for Western bay of Plenty youth, starting from June 4.
Criminal and anti-social behaviour at bus stops has been an issue for years and in 2020, security guards were put in place at the Willow Street interchange in the Tauranga CDB, Greerton and Farm Street in Mount Maunganui.
The most recent issue occurred on Saturday, when a man was assaulted by a group of youths near the Farm Street bus stop, it is just one many examples of anti-social behaviour at bus stops throughout the city.
In May, a young man was arrested for alleged possession of a homemade taser at the Willow Street bus stop, there have been assaults and aggressive and threatening behaviour often targeting bus drivers.
Bus drivers also threatened to boycott the Willow Street bus interchange after death threats and abuse.
Council met with representatives from police, NZ Bus, the company that operates the buses, Waka Kotahi NZ Transport Agency and Tauranga City Council about the issues.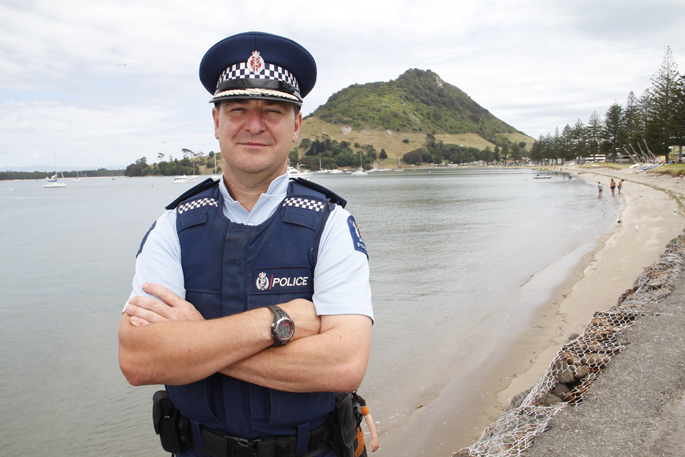 Western Bay of Plenty area commander inspector Clifford Paxton. File image/SunLive.
Speaking in support of the reduction, Western Bay of Plenty area commander Inspector Clifford Paxton says since the free trial there had been an increase in issues.
"Since we've seen free buses being introduced more widely, we've seen an escalation in anti-social behaviour in particular with our youth," he says.
"Ultimately these youths have free reign of the city.
"Their behaviour is impacting on those legitimately going about their business and the free buses are enabling all behaviour to continue.
"Most of these youth don't have the money or resources to move around the city at will.
"By preventing that movement they won't have the ability to congregate intimidate and offend against those who are legitimately trying to go about their business," he says.
NZ Bus chief operating officer Jay Zmijewski says in his 22 years in the bus industry, he hadn't seen the level of anti-social and criminal behaviour that Tauranga was experiencing, before.
He says the abuse towards drivers not only takes on toll on them, but also the community as bus services can be impacted by a lack of driver availability.
"Drivers are often too shaken or injured to continue, which often lasts for more than a day."
Zmijewski also spoke about the constant vandalism to busses the company is dealing with.
"These youths have been cutting our seats, burning our seats, burning floor coverings, melting window laminate, and graffiting basically all parts of the bus.
"We are having to fix vandalism on our buses on a daily basis.
"The crux of the issue is the security guards no longer appear to be sufficient."
He says there was a two stage approach needed that dealt with the wider social issues and a short term solution.
"We very much need in the short term to get that confidence back to drivers, so they can stop and pick up the people who are doing the right thing, just trying to get from A to B.
Zmijewski suggested initiatives where police ride the buses or stop busses and remove any "trouble makers".
He says the reduction in free fares was "an effective short term solution for at least slowing down the amount of incidents".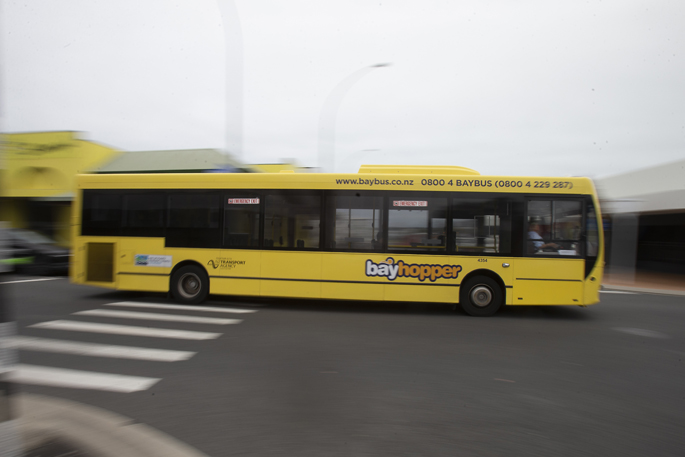 From June 4 free bus trips for school aged children will only be available during peak school hours. Photo: John Borren/SunLive.
Council chairman Doug Leeder says that Tauranga is the worst Zmijewski had seen was a "really a sad indictment of where we've got to as a community".
Former security guard Chimmyma Kiora Williams described the day-to-day reality of working at the Willow Street bus interchange
"Security guarding in the CBD is not a normal security job, it's actually a type of social work," she says.
Williams says this was because they were dealing with elderly, people living on the street, rangatahi (youth) aged 10 to 18 and the general public.
She says the security guards worked with the police who were "very good" but they couldn't always attend incidents or attend them quickly because they were "understaffed".
"In the end if police couldn't come and there were disturbances you were security you had to try and deescalate, manage it and help those that felt there was harm, feel safe," says Williams.
"That's a lot going on mentally, that's a lot going on physically and that's a lot of different social groups."
Williams says security guards that worked at the bus stop needed authority to be able to move people on and have the support of schools.
"A lot of these children that are down the bus place are turning up in uniforms.
"They're not going to school, they don't care about the law.
"We need to find a way to help support and encourage them to feel part of the community [and] take responsibility for their actions," says Williams.
She spoke about girls aged 15 or 16 who were "going to school in the day and selling themselves at night".
Williams says the youth often mixed with homeless people who hung out the Willow Street bus interchange.
The homeless drank, did drugs and sniffed glue and would sometimes buy alcohol for the young people, she says.
"The youth will be drawn down there and they will start mixing with our adults down there that may not be the best influence.
"Because those adults are taking notice of them whether it's good or not and its making those young ones feel like they're part of something."
She says there was a group of around 15 youths that caused a lot of the issues.
She supported reducing the free fare trial.
"I really believe that taking away those [free] fares will make a positive difference."
Williams suggested ensuring the security guards stationed at the bus stops had the "right skills" to deal with the issues as well as giving them protective vests and body cameras for safety as a "quick fix".
A trial of frees fares for all school aged children travelling at any time has been in place since May 2021.
In March 2021 157,107 bus trips were taken by children with 13,720 of those off peak or in the weekend. In March 2022 there were 122,086 trips with 13,123 of those outside of peak times.
Councillor Jane Nees suggested a review after three months to see if the reduction acted as a "circuit breaker", as well as looking at how to support schools and families that may find the extra cost of buses difficult.
Nees also suggested a communications campaign to advise the changes to the community.
"This is going to come as a big shock to those who have learned to rely on this... because of a small number of youths, there are families and their children who are going to be disadvantaged."
Councillor Stuart Crosby says "sadly there has been some unintended consequences of very well-intended trial".
The cost for security at the bus stops is currently $600,000 per year with the cost shared between Bay of Plenty Regional Council and Waka Kotahi NZ Transport Agency who pay 51 per cent of the cost.
Council approved an additional budget for increased security which is expected to cost $200,000 a year.
Public Interest Journalism funded through NZ On Air.