Tauranga's traffic congestion is once again a topic of discussion, this time amongst the Tauranga by-election candidates.
In a statement released this week, National Party candidate Sam Uffindell reaffirmed his party's commitment to Takitimu Northern Link, formerly known as Tauranga Northern Link.
Sam says stage one of the northern link project was approved and funded under the previous National Government, before it was cancelled by Labour.
National's Transport spokesperson Simeon Brown says after the 2020 election, Labour scaled back the project to only stage one and delayed stage two for at least a decade.
"This project was approved, funded and ready to go in 2017 thanks to National, but instead of getting on with it, Labour put the people of Tauranga through the wringer by cancelling, restarting, delaying and paring back the project."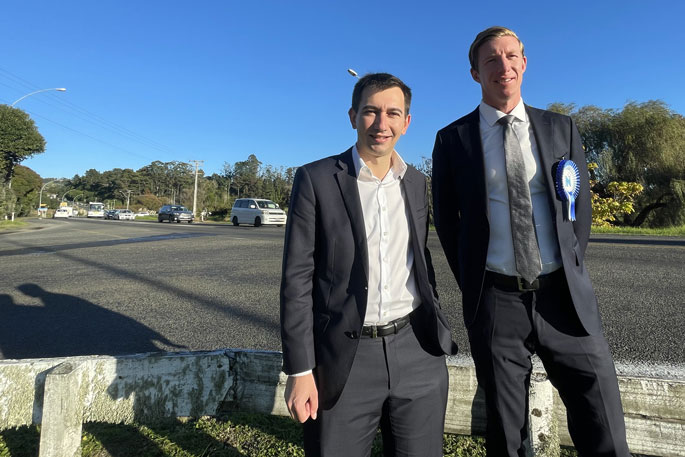 Simeon Brown and Sam Uffindell. Supplied photo.
Current Labour List MP and Labour candidate Jan Tinetti says the Government has put in extra investment so that Takitimu Northern Link stage one can go ahead while ensuring the route protection for stage two can happen.
"We are more than press releases and photo opportunities, this Government has taken a balanced approach with our NZUP investments to secure our recovery and keep a lid on debt," says Tinetti.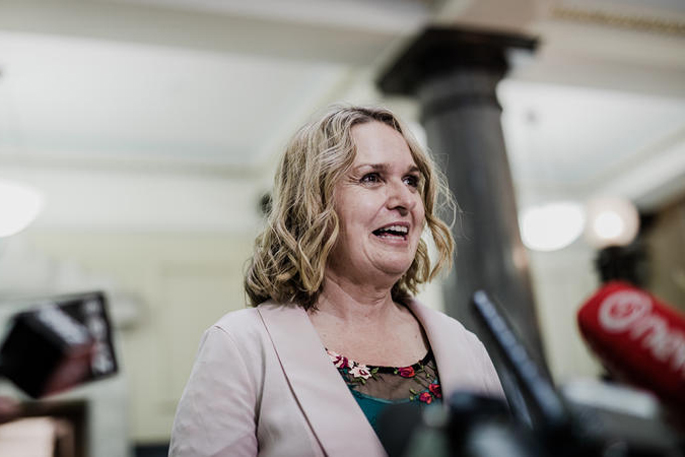 Jan Tinetti.
"We know safety is a major concern on State Highway 2 and that's why we are continuing to build safety improvements along SH2 between Waihi and Omokoroa to help save lives."
ACT candidate Cameron Luxton is accusing both Labour and National of playing political football over SH2.
"This is the same politicised investment in infrastructure which has caused this vital roading to be delayed because National and Labour have valued political footballing more than real infrastructure being built," says Luxton.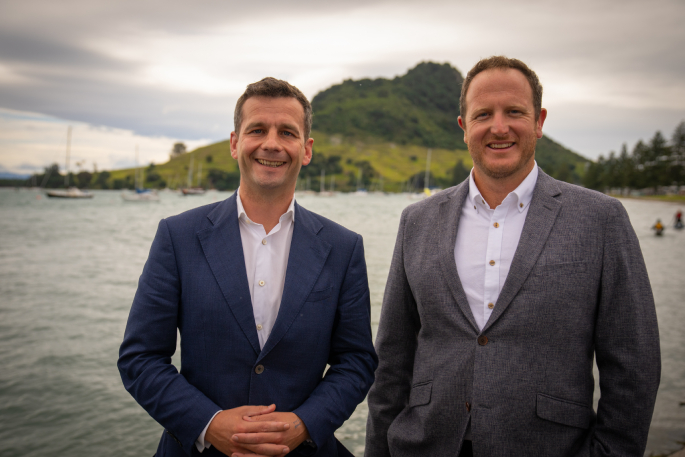 Cameron Luxton, right, pictured here with ACT Party leader David Seymour.
"ACT is the only party putting forward policies like a Nation Building Agency that would take vital infrastructure funding decision out of the political cycle and into a 30 year funding scheme that locks in projects such as Northern link/Takitimu and gets party political campaigning out of the way of Tauranga's growing future."
NZ Outdoors and Freedom Party's Sue Grey says the Takitimu link was identified as an essential upgrade many years ago.
"Since then Tauranga has had almost uncontrolled ad hoc growth, and the roading issues have become even worse," says Sue.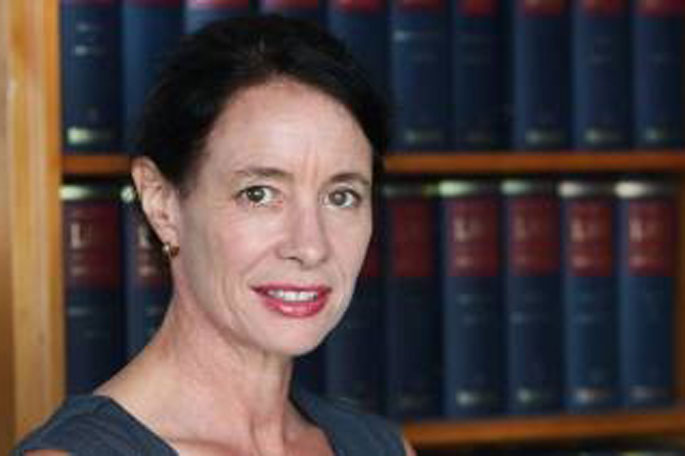 Sue Grey.
"The urgent upgrade of the Takitimu Northern Link is a commonsense need that should be beyond politics. I also promote a coherent plan to address wider traffic issues to enhance the quality of life for everyone in Tauranga."
New Conservative candidate and party co-leader Helen Houghton says her understanding of the Takitimu North Link is that this has been in the pipeline since 1998.
"And while there are some works that have started around Tauranga where the works are being completed in smaller stages there is a continued handbrake by this government to allow the experts to just get on with the job," says Helen.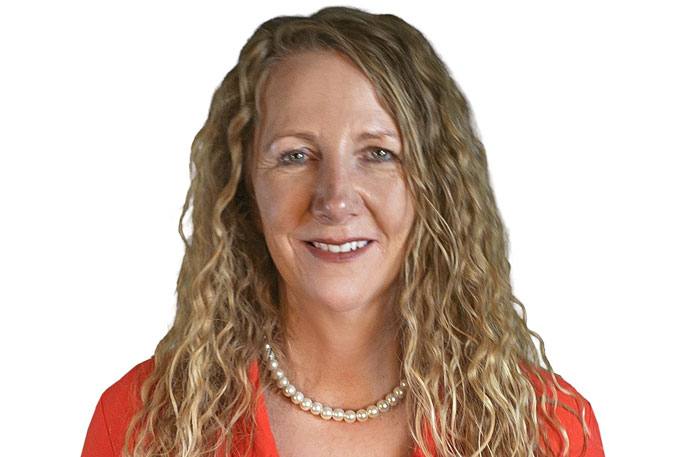 Helen Houghton.
"Whether that is due to the funding or the slack attitude of priorities by Labour is up for debate however one thing is clear this road has been identified as high significance.
Independent Tauranga candidate Peter Wakeman highlights the cost of roads, fuel and inflation as factors in the decision-making.
"On again, off again," says Peter. "Tauranga has had more toll roads than anyone else that I know of." He cites the Tauranga Harbour Bridge as an example of one of the tolls road Tauranga has had.
"We don't know what date it's going to be finished, but National and Labour have significantly contributed to the cost of roads, because of the bitumen import costs of no longer having Marsden Point.
"So the cost blow outs and inflation causing, you know, for not doing things straight away and taking a lot longer, it is going to affect us badly. And their idea of both Labour and National – Labour introduced 10 per cent and GST was put up by 50 per cent - I don't think many people will be able to afford to travel much when, or even if it is work-related, with the cost of fuel," says Peter.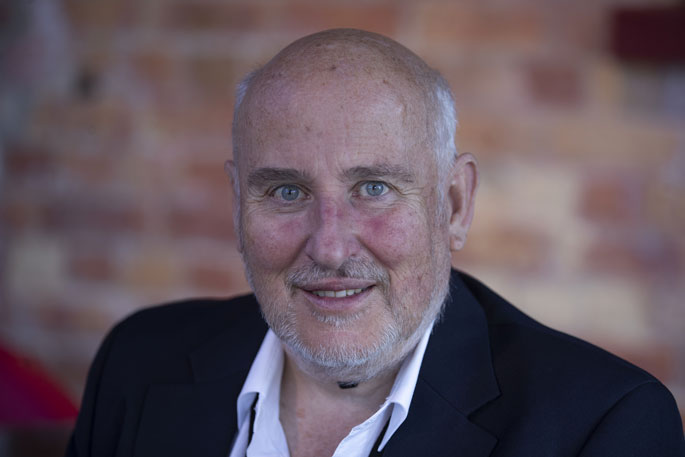 Peter Wakeman. Photo: John Borren/SunLive.
"The cost of inflation – everything is going up. And the political parties' decision making, as I say, the closing the refinery is actually putting the cost of roads up and inflation is just running away and both parties have contributed to the inflation with the 15 per cent GST."
"When this government received responsibility yet has not taken proper leadership that is nothing short of shambolic. It is time to get real over these infrastructure issues that Tauranga is facing."
Back in 2018, Fix the Bloody Road spokesman Andrew Hollis said NZTA needed to make SH2 between Tauranga and Katikati a priority.
Hollis, a Tauranga City Councillor, is now standing in the Tauranga by-election as a candidate for New Nation Party.
"Finally, four years late, twice as expensive and not even half the original project, this inept government is finally "fixing the bloody road"," says Hollis.
"And only time will tell whether SH2 will become Tauranga's third toll road.
"The only reason this government is even building this road at all is that they needed to be able to show that they could build infrastructure for next year's election.
"After a disaster period in New Zealand's infrastructure history with failed Kiwibuild, billion trees, the ridiculous tram to nowhere project and billion dollar cycle clip on, the Takitimu Northern Link was the only project in the country that they could start without stuffing up," says Andrew.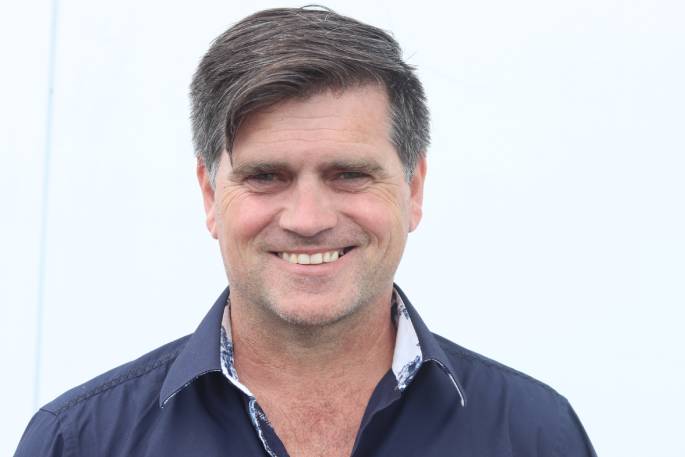 Andrew Hollis.
"And yet? The project doesn't even touch the parts of the road that are the most dangerous. The local population must now wait more than 10 years to have the road reach the area with the biggest growth, Omokoroa.
"The issue is that while being kind is useful...it isn't as useful as true growth projects like highways and infrastructure," says Andrew.
"Is it good that the road is finally being fixed? Yes...but it shows the ineptitude of a government out of its depth when it comes to infrastructure projects."
Aotearoa Legalise Cannabis Party's Christopher Coker was also approached for comment for this story.
Key dates for the Tauranga by-election:
Tuesday 17 May candidate nominations close at noon, by-election candidates announced 4pm
Wednesday 1 June overseas voting starts
Saturday 4 June advance voting starts
Saturday 18 June election day, voting closes at 7pm. Preliminary results will be announced later that night.