Residents of a suburban street in Papamoa have banded together to purchase and install an Automated External Defibrillator unit available 24/7 for their neighbourhood and community.
Driven by Murray Burnette, the residents of Excelsa Place in Papamoa have all contributed toward the cost of purchasing an AED unit that is now installed in the street, allowing the public to access the device.
Murray himself suffered a cardiac arrest several years ago and was saved by an AED unit.
He says he'd never given much thought to heart problems until his own event six years ago.
He was at home alone and he knew something was wrong but had no idea it was his heart.
He phoned his daughter, who in turn phoned an ambulance.
The ambulance took him to Tauranga Hospital, who then transferred him to Waikato Hospital ICU.
During the trip he was given four shocks with the defibrillator with the fourth one eventually triggering a cardiac rhythm again.
During conversations with fellow residents in the street, he discovered he was not alone with cardiac issues with some ranging from bypasses, valve replacements and open-heart surgery.
Nothing is more certain in his mind that the quicker the response in a cardiac event, the better the outcome.
The AED unit was purchased through The Heartbox NZ charity.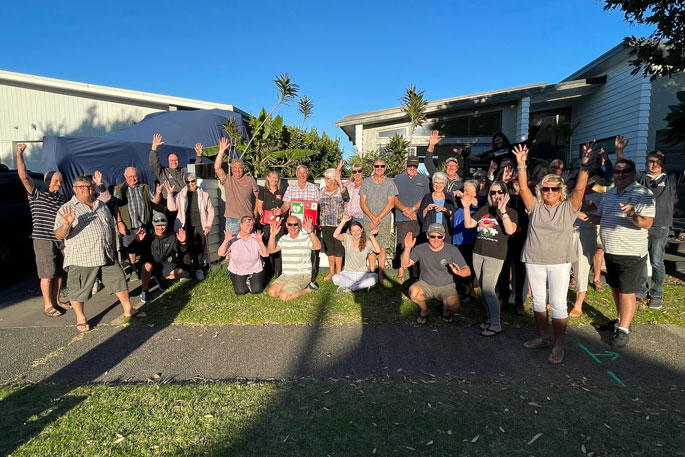 Residents of Excelsa Place in Papamoa.
"In the event of a cardiac arrest, every minute that passes without CPR and defibrillation, the chance of survival decreases by 10 per cent," says the charity's Melisa Wilson.
"Early defibrillation, along with CPR, is the only way to restore the patients' heart rhythm."
Whilst several businesses have AED units installed in their premises, these are often unavailable outside of business hours, says Melisa.
"People have died within 50 metres of an AED unit simply because it wasn't accessible.
With the increase of traffic on our local roads, the time for emergency responses to arrive is increased, particularly in areas of the community that are further away from emergency base stations."
If you would like to know more about installing one of these life-saving devices in your area, contact The Heartbox NZ today on 0800 25 25 00.