Former deputy prime minister Winston Peters says he has been trespassed from Parliament for two years after attending the occupation of Parliament by the anti-vaccine and anti-mandate protest.
Peters attended the protest weeks after Parliament had issued a trespass notice to the protesters, saying they could no longer occupy the lawn of Parliament as they had erected tents and were blocking off roads.
Former National MP Matt King has also been sent a letter trespassing him from Parliament grounds.
In a statement, Peters said the move was outrageous.
Peters blamed Speaker Trevor Mallard for the move.
Mallard told Stuff on Monday night the decisions about trespass were being made by Parliamentary security, not him.
"This dictatorial behaviour by Mallard, supported by Labour, should be reserved for third world banana republics," says Peters.
"What's more astounding is that the Speaker of the House of Representatives in our country could possibly attempt to trespass former Members of Parliament – of whom some are leaders of political parties planning to run against the sitting government in around eighteen months' time."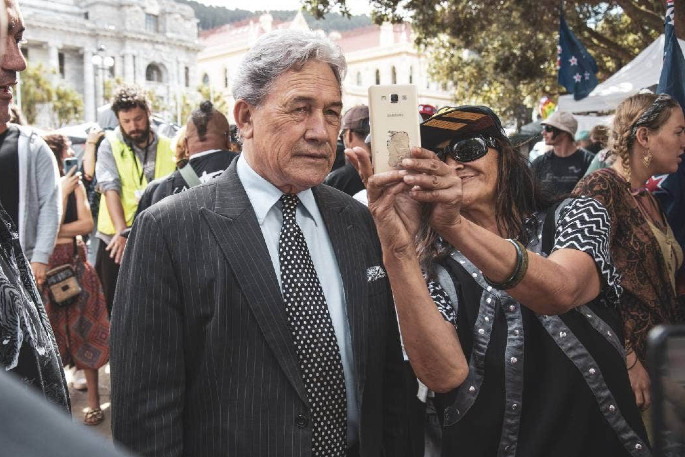 Winston Peters attended the protest at Parliament. Photo: David White/Stuff.
Peters says there was a difference between the protesters who were there peacefully and those who engaged in violence at the end of the protest – when tents were lit alight and rocks thrown at police.
He questioned whether the reporters who followed him into the protest were also being trespassed.
"New Zealanders should not put up with this type of totalitarian behaviour from the Speaker - nor should the Prime Minister or Parliament," says Peters.
He says he was seeking legal advice on the decision.
"It is because of this that I have taken legal advice and will continue to do so. Speaker Mallard has lost the plot and will continue to do so if he thinks he can enforce his unreasonable and unlawful decision."
King told Stuff that he felt a "lot better" knowing Peters had been trespassed too.
"They probably had to, they couldn't single me out and not him," says King.
"I feel a hell of a lot better now...It wouldn't stand up in court."
Asked about the trespass notices on Tuesday morning, both Prime Minister Jacinda Ardern and National leader Christopher Luxon said they would not comment as it was a matter for the Speaker.
Parliamentary Services has been asked for comment.