An increased number of reports of poor behavior at Tauranga CBD's Willow St bus terminal has led SunLive to investigate the claims.
One caller, who chose to remain anonymous, reported that a group of young people who look to be around 12 to 15 years old, are repeat offenders of threatening behaviour and vandalism.
"There have quite a few instances in recent times, especially over the Easter weekend," says the caller.
"One thing they do is open the bus door and try to distract the driver, and another one will run inside and wreck the seats, and do graffiti inside of the bus."
"I reckon it's been about $3000 worth of damage."
The caller mentioned that the public toilets near the terminal have also been damaged by the group.
"They rip the toilet roll-holders and vandalise that place too."
The caller expressed that locals have tried to do the best they can to stop the group, however there is not much that can be done. "When we call Police it is sometimes too late. The security outside the bus stops are also not allowed to touch them as they are minors."
Another Willow St bus terminal user has also expressed his frustration. "There's been multiple instances."
"One time, kids were vandalising the back seats [in the bus], ripped off some plastic and threw it at another passenger."
"Someone asked: 'Hey, what are you doing?' And they became aggressive with them and the bus driver," says the other bus user.
"At some point people are just going to give up and go back to their cars to be honest."
"It's not a good look for bus users, or people visiting. To attract people out of their cars and into buses, the council needs to come up with a solution."
The Weekend Sun approached both Bay of Plenty Regional Council and the Tauranga City Council for comment. Both referred The Weekend Sun to Police without providing a statement.
Western Bay of Plenty Police area commander Inspector Clifford Paxton says the issues are ongoing.
"Tauranga Police are aware of ongoing issues involving anti-social behaviour in the vicinity of Willow St."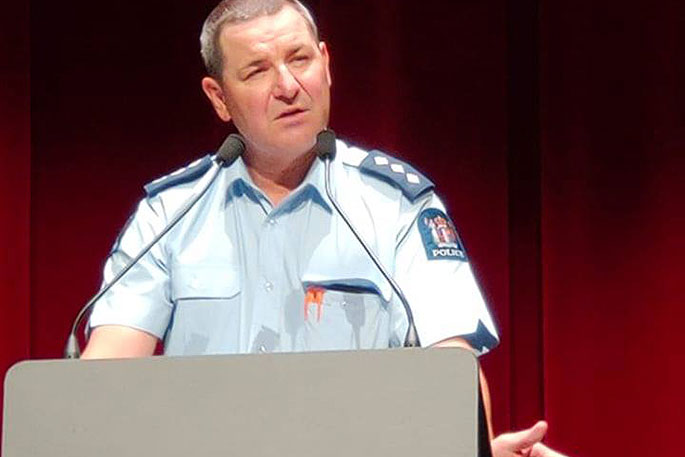 Inspector Clifford Paxton. Photo: Grant Dally.
"While there is no one particular group responsible, for a large part those involved currently are predominantly young people.
"Police continue working with our partner agencies, including the Tauranga City Council and others, to ensure the area remains accessible and safe for the community."
Clifford says during the weekend, police took enforcement action against those acting in a disorderly manner in the area, "youth tagging and those providing alcohol to young persons".
"A number of people were issued with infringement notices for breaching the liquor ban in the area."
"We also strongly encourage anyone who is aware of potential issues or offending to report them to Police so we can identify those involved and take the necessary action.
"If an incident is happening now, please call Police on 111. If it has already happened, please report the matter to Police via 105."