The Bay of Plenty Youth Development Trust is opening of its new Youth Centre with the help of financial support from a local philanthropist, as well as the NZCT, TECT, and NZ Lotteries.
"As our programmes have grown rapidly and diversified, our previous premises became cramped and we have now moved to a new, much larger location," says trust chairman Craig Nees.
"In January 2022, BOPYDT moved into these new premises which have been renovated and fitted out to a high specification.
"We are so grateful to NZCT who recently granted $400,000, and other funders who have helped us with the fit out of our new premises.
"We now have what we believe is the largest and best equipped dedicated youth development and community facility of its kind in New Zealand.
"We love to see the expressions on the faces of our visitors and the excitement of youth as they see what we have to offer to help the youth in our community."
Craig says they already work with up to 300 young adults a week in various programmes.
He says their new premises will help them offer more programmes to help more youth with diverse needs.
As well as the Tauranga Boxing Academy, the IBA employment programme, and the IAGA suicide prevention programme, the additional space in Youth Central has enabled the trust to bring the Te Aranui Youth Trust under its umbrella.
"In partnership with NZ Police, they share our facilities and our vehicles to deliver a programme for vulnerable youth under the age of 14.
"Another example is the Transition for Adulthood programme we are starting to help youth coming out of youth justice facilities.
"These programmes all work to help young adults develop their mental and physical fitness, address the challenges they face in their lives, and develop pathways to succeed. This, in turn, has a major impact on their whanau and the wider community."
Craig says the trust's vision is to produce "vibrant, independent and responsible youth, contributing to their communities and our mission is inspiring youth to believe in themselves and achieve dreams they never thought possible".
"In the future, we aim to operate Youth Central as a strategic youth hub enabling shared initiatives with other providers of services to youth.
"We hope this will achieve a real shift in the way youth service providers work together to achieve successful outcomes for youth."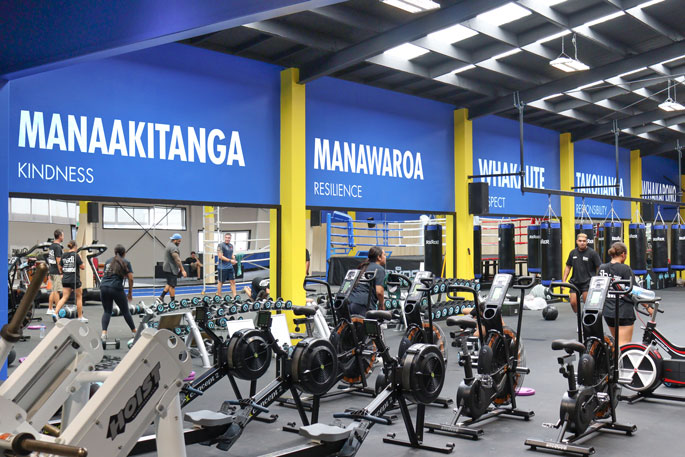 The Trust's Purpose and Programs
The Bay of Plenty Youth Development Trust was established in November 2017. The Trust's purposes include:
• To help and support the educational, social and physical development of BOP youth;
• To provide support for BOP youth who are socially disadvantaged and from dysfunctional families;
• To provide facilities and other appropriate assistance to BOP youth;
• To foster and encourage interests enabling youth to improve self-esteem and behaviour;
• To provide support and funding for programmes that provide educational, social and physical development.
BOPYDT operates a strategic youth facility in Tauranga which incorporates a purpose-built gym, meeting and training rooms, offices and commercial kitchen to deliver values based fitness programmes that help young people -
• to learn discipline and get physically and mentally fit;
• to understand and learn core values;
• to develop leadership capability and self-confidence through access to positive role models and mentors.
BOPYDT began delivering its programmes for 'at-risk' youth in Tauranga in 2018 using boxing and mentoring via Tauranga Boxing Academy (TBA) as the vehicle. This programme provides after-school values-based fitness classes for young people aged 9-18 years.
In July 2019, BOPYDT moved from temporary premises into its own purpose-built gym. Central to our programme is the teaching of five core values: Manaakitanga (kindness); Takohanga (responsibility); Whakaute (respect); Whakapono (trust); and Manawaroa (resilience). Many of our members are from disadvantaged backgrounds and solo-parent families so our membership fees are voluntary and are waived if families can't afford membership. A focus is on developing a strong, supportive family atmosphere.
In June 2020 we started delivering a pathway-to-employment programme called Imagine, Believe, Achieve (IBA) for youth who are NEET (15 - 24 years old not in employment, education or training). We are on our sixth intake and have a 70 per cent success rate getting youth into meaningful employment or education.
In January 2021, the trust started our AIGA Suicide Prevention programme for Pasifika youth, and we are receiving ongoing funding for this because the need in Tauranga is great.
In March 2021, it won the Rising Star Award in the TECT Community Awards.
In December 2021, the Te Aranui Youth Trust came under the trust's governance. It works in conjunction with the NZ Police and Ministry of Education to provide a variety of programmes for vulnerable youth between the ages of 7-14, aimed at increasing and encouraging positive behaviour and decision making.
"In 2022 we will start a Transition to Adulthood Support service supporting young people over the age of fifteen to transition from long-term care or youth justice residential placement by assisting the development of life skills, good decision-making, and positive pathways for the future. We are also extending our fitness-based programmes into the outdoors and have a ten-year lease on a boatshed at Kulim Park to use as a base for marine fitness activities in our Ki Tai (To the Sea) programme - using rowing skiffs, kayaks, and paddle boards etc.
"A feature of the Bay of Plenty Youth Development Trust approach is the delivery of integrated and ongoing programmes and the provision of ongoing post pastoral support where required to support youth in their life journey. We have found this ongoing support reinforces positive life lessons and increases the achievement of sustainable positive outcomes. We have an extensive referral network for at-risk youth into the BOPYDT programmes and work with the business community to channel youth into job opportunities.
"BOPYDT operates in a very collaborative way and set up and hosts meetings of the Piritahi Youth Collective of organisations who work with at-risk youth. We take pride in sharing the use of our facility and have hosted several national teams in various sporting codes who also use our facilities for training purposes. In return, they talk to the youth in our programmes about life lessons and achievement. Another example is a NZ Police Pasifika conference later in 2022, which will use our presentation spaces for the conference."