Kazuma Kobori had his work cut out for him at the start of the day, with around 15 players within four shots of his lead. He carded rounds of 66, 75, and 69 to be six-under and leading the chasing pack.
The 20-year-old Rangiora Golf Club member began his day with a bogey at the first to give his one-shot lead away immediately. He steadied himself with four pars in a row before getting on the board with a birdie at the par 5 sixth to get back into a share of the lead with Harry Bateman.
The 2019 NZPGA Champion then rattled off birdies at the seventh and ninth to go out in two-under-par and set up a blockbuster final nine holes with Harry Bateman, who moved equal with Kobori once again.
He remained steady in windy conditions making birdies at the 14th and 16th holes to take complete control of the tournament. Kobori parred his final two holes to shoot a final round of 68 and capture the first Jennian Homes Charles Tour event of his career.
He says it's great to get back in the winner's circle again.
"It feels pretty surreal right now. I haven't won a big event in such a long time. The NZPGA Championship in 2019 was the last one I won, but that was at my home club.
"To win against a bunch of elite players feels fantastic."
His victory on the Jennian Homes Charles Tour has been a long-time coming. Kobori is a perennial contender on tour and has played in Jennian Homes Charles Tour events since he was a teenager.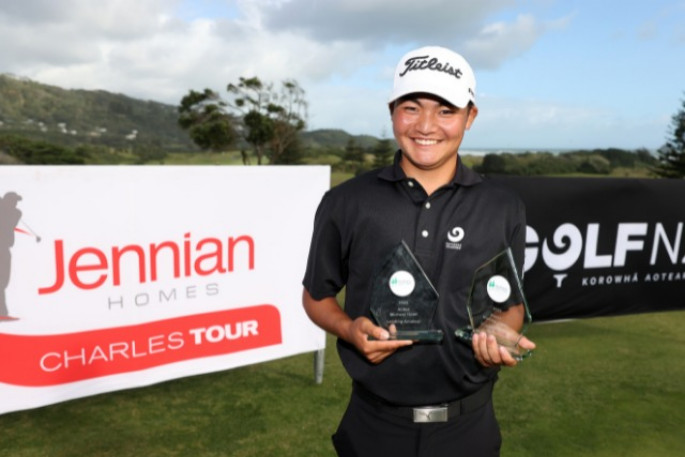 Kazuma Kobori joins an illustrious group of a handful of amateurs to win on the Jennian Homes Charles Tour, claiming the Autex Muriwai Open by four. Photo: Supplied.
He says he's learned a lot from all the professionals he's played with on tour, which helped him get over the line today.
"I started playing the Jennian Homes Charles Tour when I was about 16 years old, which is four years ago now. Playing on the tour with players that have a lot of experience like the ones here this week is great as I can learn lots from them whilst competing.
"After the second day where the weather was horrific, most of the names that were up near the top of the leaderboard were professionals, and to learn and rub shoulders with them has certainly helped me progress a bit quicker."
He just wants to soak up the victory before focussing on his preparation for his trip to the United States, where he will be competing internationally for the first time in a while.
"It was a perfect week. I couldn't have drawn it up any better.
"Coming into the week, I thought I might have a chance as I was playing quite well, but it doesn't matter how well you've been playing before the week, you still have to go and hit the shots, and I'm glad I did."
Kobori finished at ten-under, four shots ahead of Harry Bateman in second place.
Luke Toomey came third, a further shot back.