Three times bigger than ever before with more opportunities to make a splash.
Kel Travers is delighted to bring Waterworld Waterpark back to Tauranga for four days over the ANZAC weekend.
"It's a feel-good thing," says Kel.
"We started here four years ago, ran it two years, and then took the business up to Auckland.
The waterpark has operated at locations across Auckland with three waterparks and 30 events.
"It's a big event up there now," says Kel, who lives in Tauranga.
"We've expanded with much bigger waterparks over Auckland all summer. Tens of thousands of people and it's very successful.
"I've been discussing coming back with Tauranga City Council and Bay of Plenty Regional Council for next summer.
"We've been talking about school holidays and how about doing a four-day event here over the school hols to give everyone a bit of fun."
Kel says that on reaching Waitangi weekend each year, the waterpark is normally put into storage, and not set up again until the next summer. It's been a big deal bringing it to Tauranga, with transport and storage logistics to work out.
"We were going to do it at Pilot Bay, but the tides were all wrong over Easter when we had approval. The plan is to have one at Pilot Bay next summer."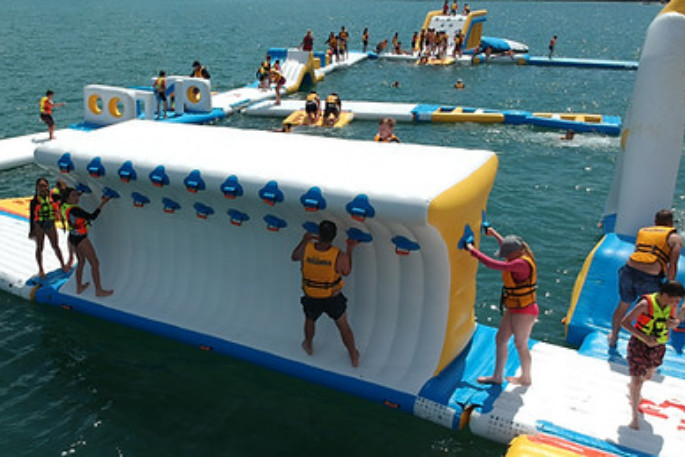 Fortunately for local waterpark enthusiasts, the plan changed to having a four-day event on the Tauranga waterfront over the ANZAC weekend from Saturday April 23 to Tuesday April 26.
"For this one, it's a special event, as we've got through this big hump of Covid, so let's give everyone a bit of fun," says Kel.
Located on The Strand, the waterpark is open from 10am – 5pm each day during the four days. Any age from five years old and upwards can participate. Children age 5-9 years must have an adult present with them, and all participants must be able to swim.
"Everyone over 70 is free," says Kel. "Grandparents come along with their grandkids. There are qualified lifeguards and every participant wears a life jacket.
"Hopefully people will come along and have fun and we get families smiling and playing together.
"The beauty of the waterpark is that it's a whole family thing. It's fun for all ages with mum, dad and the kids. Gets the kids off their tablets and computers.
"It's going to be fun all weekend."
Waterworld Waterpark is open 10am – 5pm, Saturday April 23 to Tuesday April 26 on the Tauranga waterfront. Booking are required. To book go to www.wipeout.co.nz/timetable