All the King's horses and all the King's men are 'eggstatic.' The stories are false – Humpty Dumpty can be put together again!
Tauranga City Council working in conjunction with local artists Sam Allen and Ally Drury from The Incubator Creative Hub are celebrating the restoration of the much-loved children's sculpture located at Memorial Park.
The statue has been at the park since 1959, and was vandalised in December 2021. The Incubator Creative Hub resident artists Sam Allen and Ally Drury were tasked with the restoration mission which was completed at the end of Janurary.
From having a hole in its head, a damaged face and a mangled right arm, the new Humpty Dumpty now sports a ponamu, fresh sneakers and a shirt that depicts Mount Maunganui on the back.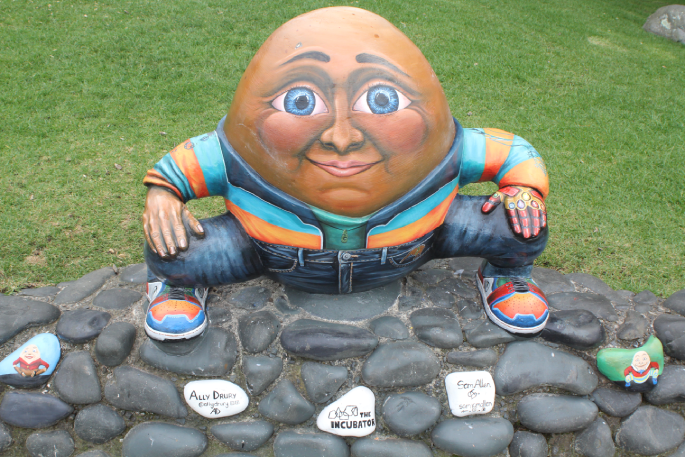 Along with his new look, the famous egg also now features pop-culture references such an 'infinity gauntlet' from the popular 'Avengers' movie series. Photo: Taylor Rice/SunLive.
Covid-19 restrictions have meant the celebration of Humpty Dumpty's restoration was delayed.
Sam Allen also created a children's colouring competition, whereby children were invited to use their imagination to decorate their own Humpty Dumpty.
This competition closed at the end of February. Winners for the colouring competition were announced on The Breeze Mornings with Mark and Jolene show in March.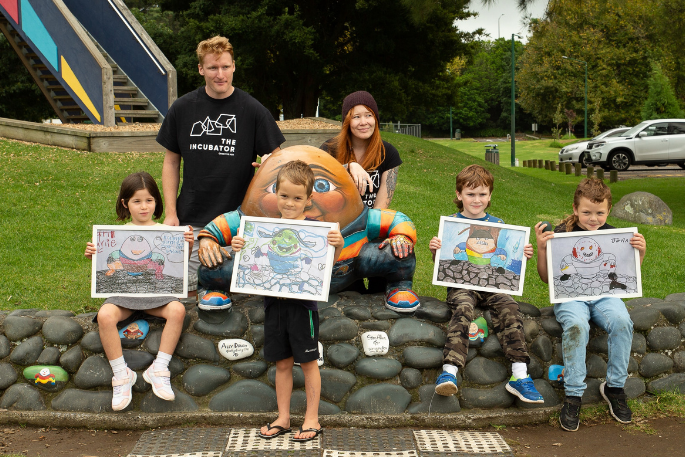 Competition winners Charlie Perez Sosa (left), Sam Allen (artist), Jaxon Sneddon, Ally Drury (artist) Wyatt Pentecost, Jonny Robinson. Supplied Photo.
At today's event, artists Sam and Ally were inviting competition winners to take part in some 'eggscelent' games including an egg and spoon race, and an egg hunt.
The event also sparked further creativity, as the noble King's boys and girls were tasked with painting their very own eggs.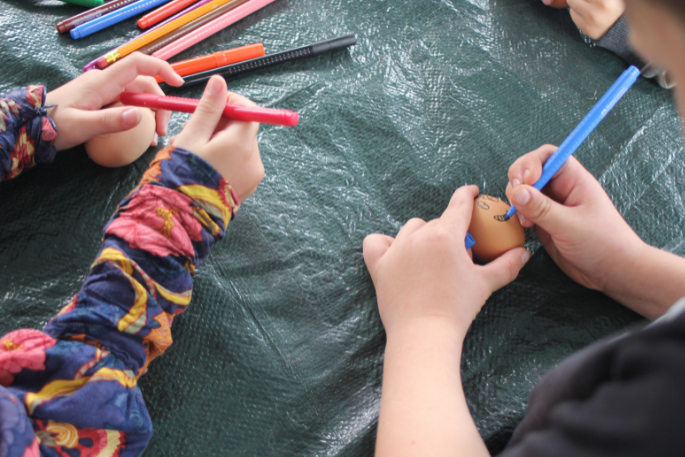 Photo: Taylor Rice/SunLive.
Sam Allen, one of the artists who restored Humpty Dumpty, says the feedback has been fantastic.
"The children seem to love it, the feedback so far has been about 90 per cent good, we know kids don't hold back so I think it's been a great reception," says Sam.
Ally Drury, another artist who worked on the restoration, says that she has been contacted by numerous friends to congratulate her on the work her and Sam have been doing.
"It's been great that every child that came along to watch us work knew what the [infinity] gauntlet was, they've told us that he [Humpty Dumpty] is much more realistic and relateable," says Ally.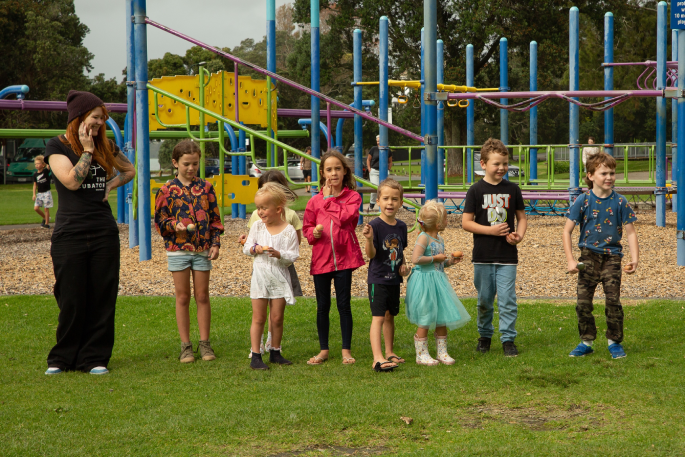 Ally Drury standing with the keen egg racers. Supplied Photo.
The Incubator Creative Hub director, Simone Andersen, says she had been thrilled to see all the positive comments appearing on Facebook posts about the new Humpty Dumpty design.
"All this amazing engagement shows the need for Art in our community and how it plays such an important role in bringing a community together," says Simone.