The team at Tauranga Women's Refuge are yet to meet a woman that wants to end up in a safe house, but for mother and grandmother Jane* that was her reality.
Ten years ago, Jane left an abusive husband with nothing but her two children and a suitcase of belongings to her name.
She reached out to the refuge and spent three months living in a safe house with her children and being supported to start a new life without the fear of violence.
"It's nerve wracking not knowing what to do when you are in an abusive situation, but the refuge helped me a lot and were there with me through everything - from going to the police, court cases, getting into a house and furnishing it," says Jane.
"I wouldn't know where I would be if it wasn't for them."
Ten years on, as a caregiver at a Bupa care home in the Bay of Plenty, Jane was given the opportunity to give back to Tauranga Women's Refuge through the Bupa Foundation Community Grants programme.
The programme gives Bupa employees the opportunity to apply for up to $10,000 in funding to help an organisation run a project or initiative that aims to make a positive difference in the communities where they live and work.
The Bupa Foundation Community Grants programme, launched in 2019, encourages Bupa employees across New Zealand and Australia to identify, nominate and work with eligible organisations or charities that are making a positive difference in their community.
Grants of up to $10,000 are available to support projects that align with the themes of building mentally healthy and resilient communities and creating a healthy planet for healthy people.
A total of $250,000 was awarded through this programme for projects throughout 2022, with the grants making a direct contribution back into communities where Bupa operates.
At the end of last year, Jane submitted an application for Tauranga Women's Refuge and was delighted to receive a $10,000 grant.
Tauranga Women's Refuge General Manager Hazel Hape says they were honoured to be selected for the grant.
Tauranga Women's Refuge is an independent refuge that has operated since 1980. Its core services are a 24-hour crises line, three safe housing options for victims and/or survivors of domestic violence, community-based advice, information and support, safety alarm systems, and education programmes.
"So long as there is violence and abuse happening in our families and communities, then women and children need immediate safety and support agencies who can help them navigate through the experiences," says Hazel.
While the refuge receives some Government funding, Hazel says community grants and public funding are also greatly welcomed.
"It means we can think outside the box of other things we can offer that might not be business as usual and aren't controlled by Government prescription or outcomes," says Hazel.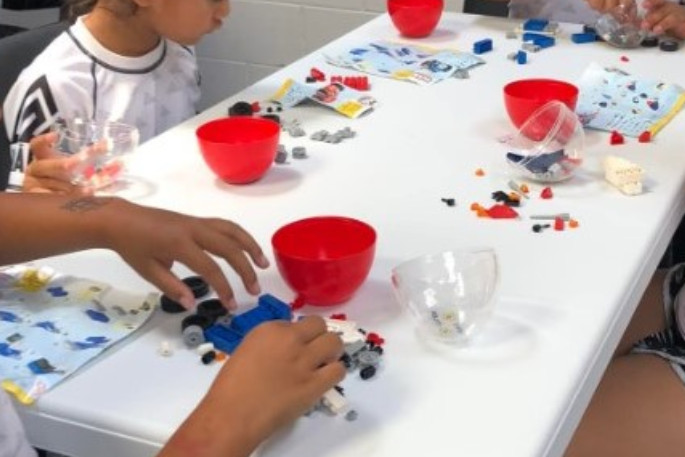 Art therapy, including using Lego has been part of the programme. Photo: Supplied.
So far, the Bupa Foundation Community Grant has gone towards running a 10-day holiday programme for children impacted by family violence.
The programme centred around helping the children to expend their physical, emotional and psychological energy, as well as learning team building, communication, self-esteem and problem-solving skills. This was done through Brazilian Jiu Jitsu lessons during the morning, and art therapy, using Lego, in the afternoons.
Programme Facilitator and Advocate, Maree Saunders, says the refuge also plans to use the grant to offer further resources for its impacted women.
"We offer a 10-week programme for our wahine, but then they have to go off and survive with the tools that we have given them. There wasn't enough money to have something else for them, so now we have a little bit extra, we hope to have pampering packs and mirimiri available for the mothers that never get that opportunity to do that for themselves," says Maree.
Bupa New Zealand was delighted to have six very deserving organisations selected, including; Tauranga Women's Refuge, Manurewa Marae, Skylight Trust, Upside Downs Education Trust, Graeme Dingle Foundation, and Big Brother Big Sister Rotorua (BBBS).
Bupa has chosen not to identify the employee mentioned in this story in order to respect their privacy. A pseudonym of Jane has been used instead.