Pop along to Tauranga Hospital and you'll find a growing carpet of bright red poppies blooming in front of a turn-of-the-century restored villa in the hospital grounds.
Mental Health and Addiction service co-ordinator Debbie Lawrence has been busy knitting even more poppies than last year in preparation for this year's Anzac Day commemorations.
In 2021, Debbie honoured Anzac Day at Tauranga Hospital with a wall of hundreds of knitted poppies transforming the White House next to Te Whare Maiangiangi.
"This year, I have a different vision – to cover silhouettes of soldiers in the poppies, as well as creating a carpet of poppies on the roundabout outside the building," says Debbie.
She's putting the call out for other keen knitters to again help her achieve her vision. Placemakers Tauranga kindly donated the MDF board needed for the soldiers.
In 2021, Debbie found she was missing family back in England, having lived here in NZ for nearly six years with her husband and daughter.
"I was going to knit a couple of poppies for members of staff here and then I thought how I'd seen the poppies at the Tower of London; we could do something like that," says Debbie.
Created to mark the World War I centennial, 888,246 ceramic poppies progressively filled the Tower of London's famous moat in 2014, with each poppy representing a British military fatality during WWI.
A desire to honour Anzac soldiers prompted her to start creating a wall of poppies in remembrance along the front veranda entrance to the White House, which accommodates the hospital's mental health management team.
This year, instead of extending chicken mesh along the white trellis latticework of the veranda of the pale lemon painted villa, a carpet of hundreds of red poppies is being created with the soldier silhouettes amongst them.
Debbie has put out an appeal through the BOP District Health Board website and social media platform for others to help give her give it more 'wow' factor.
She has an easy pattern that can be used and is looking forward to receiving many knitted poppies back as people respond.
As knitted poppies arrive, Debbie is adding the flowers to the growing poppy carpet located on 20th Ave, at Te Whare Maiangiangi. By Anzac Day, the roundabout outside the villa will be popping with colour.
Two ANZAC services for staff, patients and whanau will be held at the White House, opposite Te Whare Maiangiangi this week.
An ANZAC service will be conducted at 11.15am on Wednesday April 20, and a second service at 10am on Friday April 22.
The services will feature the NZ National Anthem sung in Maori and English, the ODE, the Last Post played on bugle, and the singing of hymns and waiata.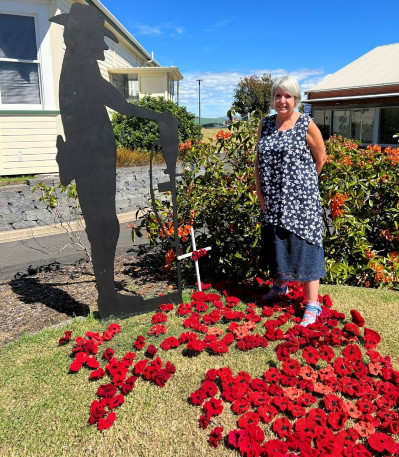 There are silhouettes of soldiers as well as a carpet of red poppies spreading across the grass. Photo: Supplied.