The Tauranga Sport Fishing Club are continuing their fundraising efforts towards a sustainable future, donating over $14,000 in total for two separate charities.
Through selling t-shirts and donating a large percentage from their two largest annual events, the Fish and Chicks Tournament and the Stoney Creek One Base Tournament, the committees were able to raise $8000 for Our Backyard Trust, and $6070 for the local Homes of Hope charity.
"The main committee wanted to get involved with Our Backyard Trust as they represent a large vision that fits in with the ethos of the club," says Fishing Club Manager Barry Brown.
Barry says Our Backyard Trust has three pillars, which focus on conservation, well-being, and mental health.
"We are a sustainability focused club, and their purpose fits in really nicely with what our club is all about."
"A percentage of the proceeds for our tag and release Calcutta held earlier this year has enabled us to make this donation. It is going to be used towards funding the ocean clean up event taking place on Saturday, May 14 and Sunday, May 15."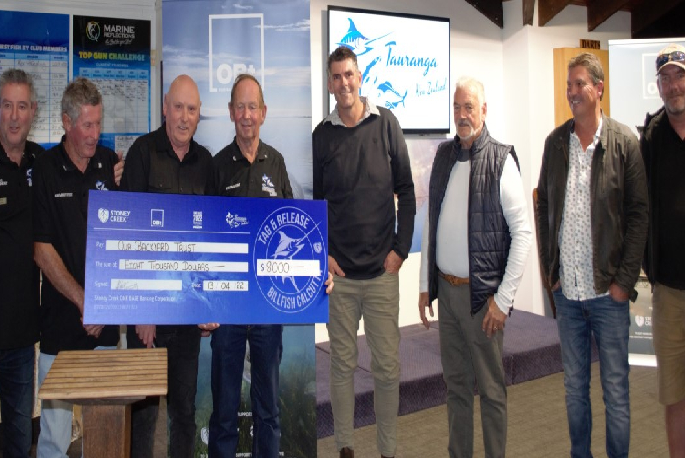 Ken Wilson (left), Ian Thomas, Barry Brown, Doug Stewart, Brent McConnell, Tony Kinzett, Dave Carswell, Nick Shearman standing with their donation.
"The clean up event is community focused; we're trying to get as many people involved as we can. It will be used to clean up Tauranga's marinas, beaches, and waterways."
Barry says the fish and chicks committee chose the Homes of Hope charity as they are a local charity that help the youth.
"The fish and chicks committee raised their money through selling t-shirts, holding raffles and a successful online auction of sponsors' donated products. The committee chose them as they are a local charity that doesn't get any government funding. They have a great cause and do a lot of good work in the community."
"Looking at the work that Homes of Hope do, the fish and chicks committee were very encouraged to fundraise for them this year."
"The clean-up project that Our Backyard Trust is hosting this year is aiming to get as many people involved as possible. They're going to ask all the fishing clubs, dive clubs and surf clubs to attend. It's going to be a big event and hopefully each year it gets bigger and bigger."
"We can't wait to all go out and look after our waterways. It's our way of creating a sustainable future in our backyard."
For more information on the upcoming Tauranga Harbour and Ocean Clean-up project, visit https://ourbackyardtrust.com/clean-up-project/.