Growing strength, leadership and respect are some of the pillars Robert Mangan will be leaving behind him at Tauranga Boys' College, following an exemplary career.
The Principal, the college's sixth since opening in 1958, announced his retirement a few months ago and will be leaving mid-2022, passing over the reins to a soon-to-be appointed replacement.
With a current roll of 2100 students, and leading a staff of over 200 including 135 teaching staff, Robert's career at Tauranga Boys' goes back further than just his time as Principal.
"I started at Tauranga Boys' College as a first year teacher in 1982 teaching physical education and science."
He was 24, only a few years older than many of his students.
His own schooling took place in Ōpunake, a small town on the southwest coast of Taranaki, and birth place of Peter Snell. Attending Ōpunake High School, he threw himself into the college's sporting activities.
"My passion was running, athletics, distance running, rugby, golf, every sport."
Following secondary school, Robert headed to university to start a science degree, worked as a builder's labourer and then on to Otago University to pursue a degree in teaching physical education.
On arriving at Tauranga Boys' College, he found himself teaching physical education and coaching summer and winter sports' teams under the mentorship of Max Heimann.
"Max was an institution and a legend, and has been a role model throughout my career."
Robert's enjoyment of sport has not diminished despite his career path.
"I enjoy standing on the sideline supporting sports, and the opportunity to be involved growing talented young men."
He's quick to highlight that the same enjoyment goes into supporting students involved in theatre and the arts, despite some notable NZ sportsmen being amongst the college's alumni.
"When I arrived, Peter Burling was the sports captain and Kane Williamson was head boy. Kane's dad Brett is my wife's cousin, and Kane's mum Sandra works in the college office."
All Black captain Sam Cane and former All Black Nathan Harris also attended the college during Robert's time as principal.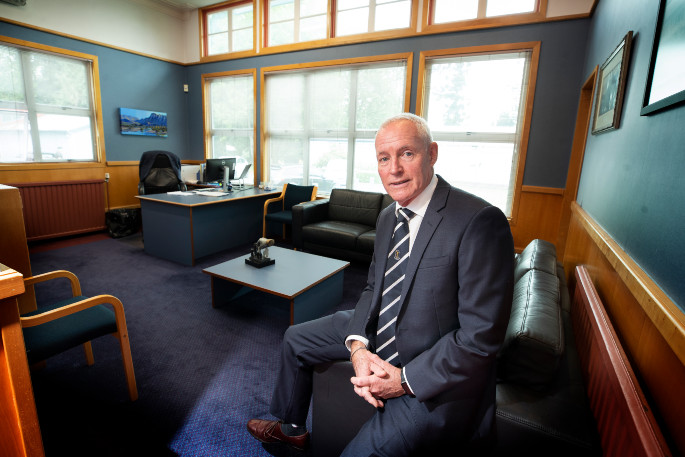 Tauranga Boys' College principal Robert Mangan says it all comes back to respect. Photo: John Borren/SunLive.
The sense of pursuit of excellence permeates Tauranga Boys' from the motto 'Pergo et perago' which means 'I take up the work and I carry it through' through to the assemblies which end with 'Tama tu, tama ora, tama noho, tama mate' meaning 'He who stands lives, He who sits perishes'.
With a 40 year career in education, Robert has completed 14 years as Tauranga Boys' College Principal since 2008. He has spent 33 years in total at the college, had a year overseas in 1985 and six years teaching at Lindisfarne College in Hastings.
He has built on the work of those who came before, especially mentioning Norman Morris (1971-1984), and Graham Young (1985-2008) who he served under, as significant role models.
The college auditorium is named for Graham and was completed in 2007.
"Graham Young was an inspiration in terms of how I've modelled my leadership," says Robert.
"And Norman Morris was Principal when I arrived. He built the whare – a house of learning for our Māori boys at school.
"This was in the early 80s and was unique for the time and inspirational in recognising the need to engage Māori boys in education."
Four Principals of Tauranga Boys' College pictured in July 2008. From left to right: Garth Sim (1959-66), Norman Morris (1971-84), Grahan Young (1984-2008), Robert Mangan (2008 - ). Photo: Supplied.
During his time teaching physical education, Robert advocated successfully to Graham for a new gym, working hard to help establish the college as a place for every boy, where each one is valued.
This sense of belonging is another pillar Robert has continued to build within the college, reinstating the House System in 2009, his second year at the helm.
"Each form class is in a house. There are six house groups which give leadership opportunities to both students and the middle layers of staff."
The six houses – Ngarimu, Halberg, Hillary, Ngata, Rutherford and Freyberg - are named for six noteworthy New Zealanders who displayed spirit, courage, hard work, humility, loyalty, cooperation and perseverance.
A main aim of the house system is to support and encourage student leadership in the school and to help develop boys within these houses into 'Good Men'.
Friendly rivalry between the houses promotes school pride and the qualities of the men their namesake displayed.
"We try to grow tūrangawaewae, and use traditions and rituals to challenge the boys to grow a sense of pride, connection and belonging to the place. The respect code is one we emphasis repeatedly to them."
This important attribute of respect is role modelled through the academic, sporting, cultural and services areas of the college by student leaders, with all dimensions recognised at the school assemblies as well as the teachers and coaches.
Robert takes considerable pride in three recent Old Boys who are currently studying at Cambridge University in the United Kingdom on prestigious scholarships:
-Quaid Forbes – Sports Captain 2019, Sir Douglas Myers Scholarship
-Ben Allen – Dux 2020, Girdlers Scholarship
-Logan Green – Head Boy 2020, Sir Douglas Myers Scholarship
"The achievement of these young men is symbolic of the pursuit of excellence permeating throughout the college across all domains and the quality of the staff."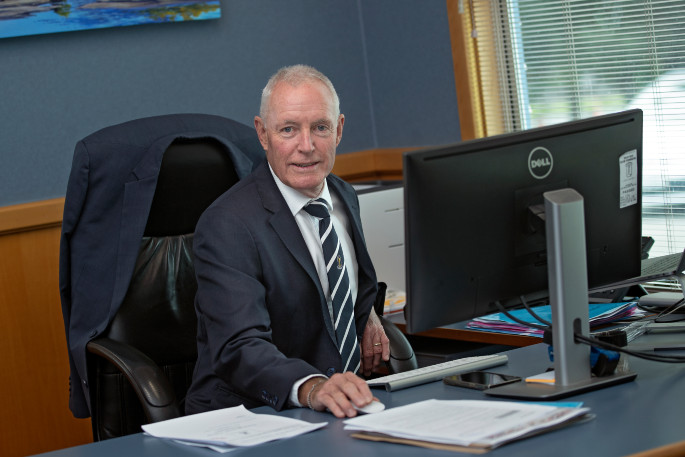 Robert Mangan. Photo: John Borren/SunLive.
Where once 21st birthdays were significant milestones in a youth's life, these days it's getting your driver's licence and passing NCEA. And being allowed to wear 'the white shirt' on entering Year 13.
Robert initiated the white shirt tradition at the end of his first year as Principal.
"Boys just assumed they'd step into Year 13 wearing it, so we put a bar there to inspire them to achieve. If boys work hard and are diligent they can still get across that bar and get the white shirt. Those who don't achieve this qualification have a six-week review early in term one."
Covid has been challenging during the last two years of his term as Principal.
"We haven't been able to offer the same opportunities to our students as we have previously."
He's deeply impressed with the depth of character that his senior student leaders portray.
"They are not just strong in only one area of sport, culture or academically, but strong in all of them.
"Achievement is valued across the full breadth of curriculum. We recognised that only 30-40 per cent of students go on to tertiary education, so have provided opportunities to celebrate achievement in all career pathways such as apprenticeships. We've tried to recognise and ensure the boys know that with everything they're involved in, they're valued."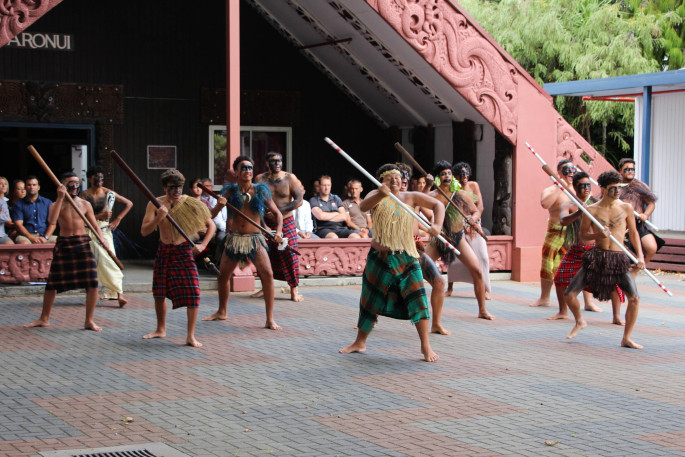 Year 9 and other new students being officially welcomed at Aronui, the wharenui at Tauranga Boys' College. Photo: Supplied.
Throughout his tenure, he's established an Old Boys Association in 2008, liaised closely with other Principal colleagues across the region; and strengthened relationships with Ngāti Ranginui, Ngāi Te Rangi, Ngāti Pūkenga and Ngāi Tahu. University of Waikato, Toi Ohomai and Priority One.
The college is the third largest school of Māori boys in the country with 26 per cent Māori, over 620 in total. A meeting house stands in the college grounds and Year 9 students are welcomed to the college with a haka powhiri.
"We're not a traditional boys' school but we have traditions. I think we have a really good formula for growing boys into young men."
The latest ERO report's comment of 'Supportive, orderly and caring environment" highlights that the college has evolved, with Robert appreciative of the word 'caring'.
"We do that well. We have an environment where the boys know we care about them but they are also reminded constantly what the rules are, what will happen if they break the rules, that the rules will be applied consistently, and that we are in charge."
The caring extends across all ethnic, cultural, religious and gender diversities with tolerance and acceptance of all being an important part of a boy's education.
"It all comes back to respect," says Robert.
Students are encouraged to take their service and leadership out into the community.
"We are part of a wider group of 16 schools, Tauranga Peninsula Kāhui Ako including early childhood, primary and colleges. Our student leaders return to their primary schools regularly and help with reading and sporting events. They go back as senior boys to provide role models and leadership to the contributing school they came to us from."
His plans on retiring at the end of Term 2 include enjoying more exercise and spending time with his family and 19 month old grandson.
"Running marathons was my passion, these days it's trail bikes. I'm going to take time to unwind and do some fishing.
"I feel very humbled and grateful to build on what's been built before. I remember Graham challenging the boys to leave the place in a better condition than when they arrived.
"It's been a wonderful ride. I feel absolutely privileged to have had the role and build on the work of previous Principals. The staff of the college are second to none, the quality of teaching is outstanding, and the leadership team is excellent."
The college board has advertised for a new Principal and is now going through the shortlisting and interview process.
Robert retires at the end of Term 2.