Mount Maunganui rugby league player Marley Igasan has scored the opportunity of a lifetime, and is heading to a NRL development camp in Brisbane to spark further interest in overseas clubs.
From tomorrow, the 15-year-old is looking forward to playing with some great rugby players in the camp designed for people his age.
Marley is the only under 15-year-old from New Zealand that has been invited to the invitational camp.
"I'm really looking forward to the opportunity to be playing with some quality football from the Queensland area.
"It will also be great to have some more in depth coaching from and individual point of view."
Marley has been developing his rugby league skills since he was four-years-old.
He has a busy schedule of training at the gym, surf lifesaving at the Mount Maunganui Surf Life Saving Club during summer, playing rugby league for the Otūmoetai eels, and playing rugby union for Mount Maunganui College l all while keeping up with schoolwork.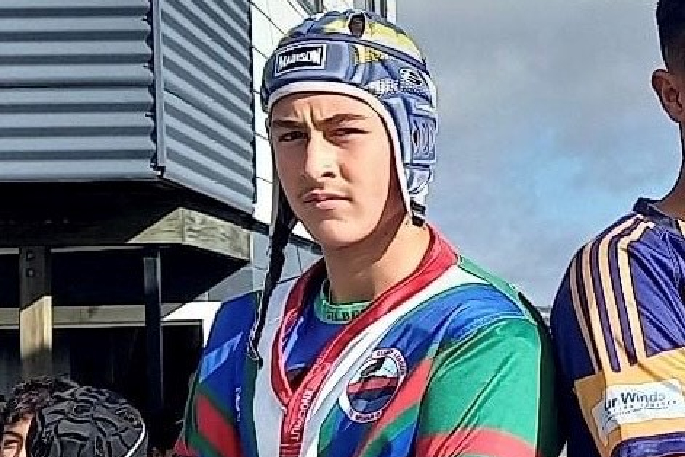 Marley Igasan playing at the Coastline competition. Photo: Haruka Day.
This hard training schedule has been awarded with multiple NRL clubs signalling their interest in signing him on a contract.
He has received an elite player development contract with the Brisbane Broncos, and has also received an offer from The Redcliffe Dolphins, who are a new club to the NRL starting in 2023.
Marley was spotted by being the most valuable player at the under 14 New Zealand Māori Teina tournament, and also played at the under 15-year-old Māori Rangatahi Tournament. The Brisbane Broncos could not sign him until he was 15, as he was 14 years old at the time.
As far as what the camp entails, Marley says that the camp will including testing and field training sessions.
"The first day we'll probably do some testing, they'll want to see where we're at. The next day will probably involve more field sessions, and we're also going to an NRL game that night as well which will be awesome."
Marley hopes to strike a deal with a rugby team eventually, and that going to this camp is bringing him closer to this goal.
"I am currently trying to get a few offers for a contract, I have a few already, but I am hoping to put my best foot forward and try to show clubs that I am what they're looking for.
"It will be great to continue working towards this goal and showing clubs what I have to offer."