In 1984, Rex Williams and Kevin Pinkerton started the Tauranga Vintage Machinery Club.
The first meet up was hosted at the Bethlehem Scout Den and brought in 13 people. Rex was voted President and Kevin, secretary of the club.
Almost 39 years later, the club now has 50 plus members who all share similar passions in restoring engines that would otherwise be scrapped.
Rex's love for old tractors and machinery was passed down to his son Larry who is now a member of the Tauranga Vintage Machinery Club himself.
"It has always been a big part of our family as it was a big interest of my dad's," says Larry.
"We were all very involved and still are, and now my son is keen on the old tractors and things as well now.
"There's three generations here," he says.
A tractor filled past
Born and bred in Te Puna, and still based in the area, Larry grew up burning it around the family farm on old tractors.
"That was our fun in the old days, towing sledges and just racing around the paddocks on tractors. It was always a big part of our growing up.
"When I was younger, my dad did lots of tractor treks.
"They would do various ones to Rotorua and to Opotiki but one I remember was they went to Waitakaruru in the Firth of Thames.
"They drove over the Kaimai ranges to a tractor rally and stayed the night there. They then drove their tractors back to Morrinsville and then back home over the Kaimais.
"One of my dad's highlights was in 1989 when they celebrated 100 years of tractors in the world.
"A group of about eight guys drove vintage tractors from Tauranga to Cambridge where they had a huge field day gathering at Mystery Creek.
"He had a sign that he put on his Fordson that said Te Puna to Cambridge in six hours. He was always quite proud of that.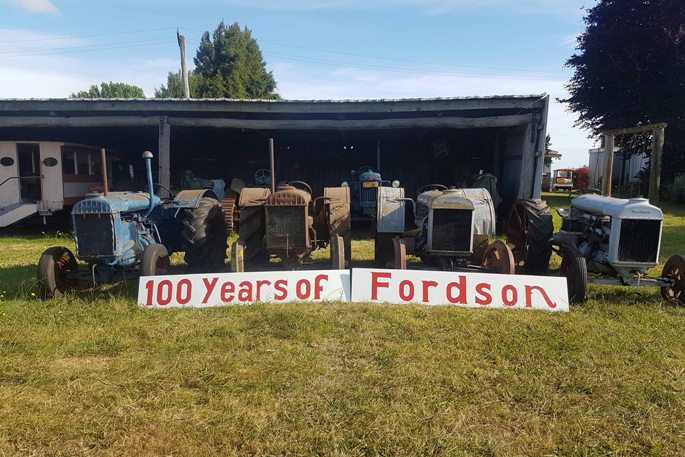 The Williams family's collection on Fordsons. Photo: supplied
Keeping it in the family
Larry has now been a part of the Tauranga Vintage machinery club for about 10 years and his son has recently joined the club as well.
"We have a big collection of tractors. A couple of the ones I have restored are some of the oldest in the Bay.
"We have a 1916 tractor and a 1918 tractor which are over 100 years old now."
Larry's standout piece is his 1916 Mogul because of its rarity. He also owns a 1918 Samson Sieve-grip, another standout in his collection.
The hard thing, Larry says about a club such as this one, is that everyone is getting older.
"It's hard to attract young people. The average age years ago was mid 50's but unfortunately now the average age is about 70 to 80 years old.
"The reason it's hard for young people to get into it now is because the old tractors are worth quite a bit of money, but when my dad was collecting them, they were just junk.
"The two early ones in my collection have a value for about $30,000 but Dad got them for nothing. For the sake of going and getting them because they were just junk.
"I did spend a lot of time restoring them, but now old tractors just aren't lying around farms anymore."
From junk to treasure
"For a young person to get into it they've got to spend a few thousand dollars just to get their hands on quite a common one. Whereas my son will inherit my collection just as I have inherited from my dad.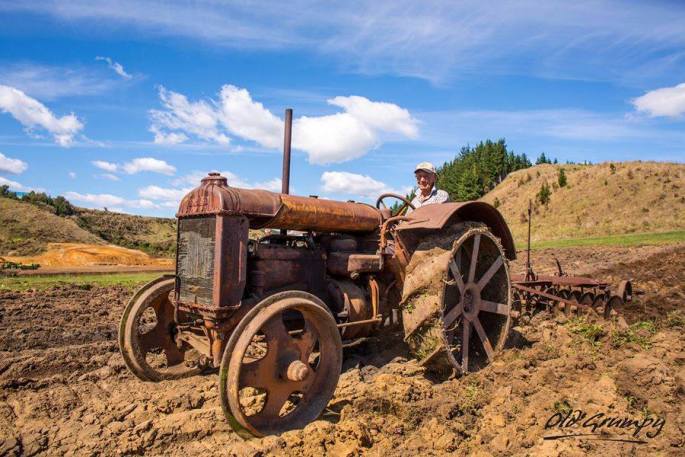 Rex Williams on his tractor 'Old Rusty'. Photo: supplied
"I've restored only three or four tractors, and the rest are from my father's era basically.
"He used to bring them home and his passion was to get them going. He never had a lot of money as he was only an orchardist, but he had mechanical skills.
"That was what he was proud of. Most of them weren't painted up but he could always get them going."
The Tauranga Vintage Machinery Club hosts club meetings on every third Monday at the Vintage Car Club Rooms on Cliff Street.
"New members are always welcome," Larry says.