The elite of New Zealand's triathlon athletes will be battling it out on Sunday at Mount Maunganui to win themselves a spot in NZ's Birmingham Olympic Games triathlon team.
"There's three places each for male and female who will attend the Commonwealth Games in Birmingham," says Sunday's 2022 Oceania Triathlon Cup event manager Paul Miller.
Paul, who also manages Triathlon Tauranga's other events, says the event is a "one-off special" that they've never run before.
"We're putting it on to help Triathlon NZ and the NZ Olympic Games committee.
"With the cancellations of most of the triathlon season we just haven't had any races to select for the Commonwealth Games team. And they're also selecting the world junior championship team for Montreal in June 2022."
On Sunday April 3 both the Junior Oceania Cup for under 19 years, and the Elite Oceania Cup will be staged for both men and women.
"The junior will be qualifying for the worlds and the elite qualifying for the Commonwealth Games."
The invitation only event will feature about 50 people across all four races, based at Mount Drury.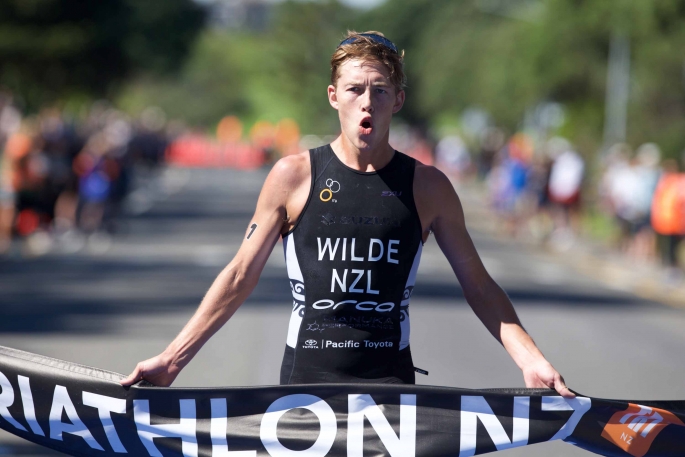 Hayden Wilde. Photo: ScottieT.
The first race starts at 8.30am with the Junior Men and Women, then the Elite Men and Women races. The course has a 750 metre surf swim in the ocean at Shark Alley, followed by a 20 km four-lap bicycle ride along Marine Parade, finishing with a 5km run north of Mount Drury to the Mount, running along the road up to the cafes on the corner and then a tight circuit back to Mount Drury.
"It's a compact race course," says Paul. "Easy and close for spectators and viewing."
The Oceania Cup, run by Oceania Triathlon Union, is the second race in a series of three.
"They raced last weekend at the Tri Taranaki Festival at New Plymouth."
Nicole Van Der Kaay and Hayden Wilde won the Elite Women and Men in New Plymouth and will be focused on holding their first placings through all three races against a formidable competition.
"All four of our 2020 Tokyo Olympic Games athletes are competing to get to the Commonwealth Games."
The third race will be held in Taupo on April 10.
"The selectors will choose the athletes to represent New Zealand at the games from these three races."