One young Tauranga cricketer, with dreams of following his father's footsteps and becoming a Black Cap, has the chance to showcase his talent when a New Zealand XI side take on the Netherlands this week.
It will also be a game with extra significance for Tim Pringle, considering he will be facing off against the nation of his birth in two one-day matches and a T20 in Napier.
The call-up is certainly merited based on Tim's recent form with his club side, Otūmoetai Cadets.
The teenager was the top scorer with the bat in the recent Baywide Cup ODI competition - which the Cadets won.
The Northern Districts representative scored 230 runs, with a 57.50 average and a high score of 65, which he reached in the semi-final.
He was also the top bowler in the competition, with best figures of 4/6 and 14 wickets in total at a strike rate of 8.57.
It is not his first time playing with the New Zealand XI, but going in with this form might suggest he can make a significant impact.
Although Tim, who headed down to Napier earlier this week, is fairly relaxed about his impressive figures.
"I have just been really happy with the way I have been playing, obviously, but just really enjoying the culture at the club as well which has really helped," he says.
"First things first for me is to just enjoy my cricket and I have definitely been doing that which is nice.
"That means doing the work training as well during the week. It means I get to go out and just enjoy myself at the weekend."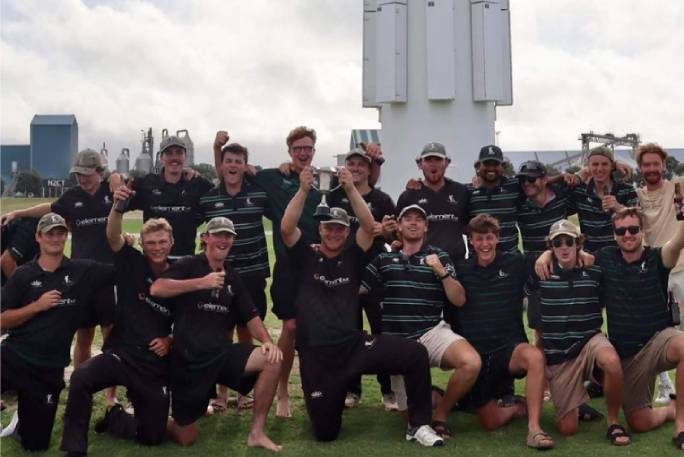 Tim, fourth from left, top row, helped Cadets win the Baywide Cup in February. Supplied photo. BOPCA.
For Tim, more than anyone else in the XI, the rare visit of the Dutch side to New Zealand is particularly remarkable.
The 19-year-old all-rounder was born in the Netherlands. His mother is Dutch and his father, former New Zealand cricket international Chris Pringle, coached and played in the European nation.
Next month, Tim is off to the Netherlands to play for the club based in the city of his birth, Den Haag, something he is clearly looking forward to.
"My dad played for the same club I am going to be playing for," Tim explains. "The captain of my club over there is actually over here for the Netherlands as well so I am hoping to catch up with him.
"Yeah there are some exciting times ahead."
However, Tim is not getting carried away at the idea of his European adventure.
For now his focus is purely on making an impact in his latest NZ XI appearance, in a team that includes Black Caps such as Ross Taylor and recent call-ups Michael Bracewell and Dane Cleaver.
"It's awesome," says Tim.
"Being a young guy and being involved in that environment, a Blackcaps like environment is great.
"I guess my plan is just to take it all in and enjoy the experience as well as doing my best."
Catching the eye in this group will certainly cement Tim's name as one of the nation's brightest prospects.
He has followed in the footsteps of a Tauranga cricketing great before, breaking Kane Williamson's record as the youngest player to represent the Bay of Plenty, at just 15 years and 92 days, back in 2017.
Going forward, he certainly has his sights set on full international recognition, just like Williamson and fellow Cadets alumni Trent Boult. Although, he remains pretty cool about the whole situation.
"It is always the goal and a dream as well," Tim admits.
"But right now I am just happy to be playing and enjoying the moment."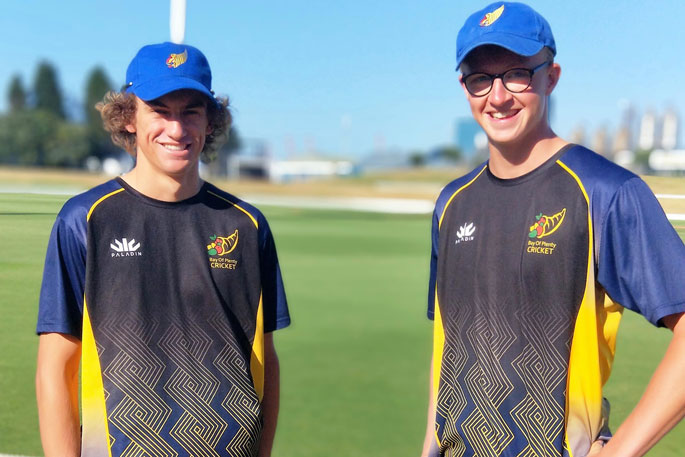 Tim, right, pictured in 2019 with fellow Bay of Plenty cricket talent Ben Pomare. File Image/SunLive. Peter White.
New Zealand XI take on the Netherlands behind-closed-doors at Napier's McLean Park on March 17 and 19 followed by a one-off T20 on March 21 – with all three matches live-streamed and scored at nzc.nz.
A much-changed Black Caps side, depleted to the tune of 12 players due to Indian Premier League commitments, then take on the Netherlands in a T20 match on March 25 and three ODIs beginning on March 29.