The sound of revving engines filled Whakatāne streets on Sunday as bikies came together to brighten the day of Tutemaungaroa "Tu" Hillman.
The community has been rallying around the three-year-old Whakatāne boy, who has terminal brain cancer, making sure he gets to experience as much as possible in the time he has left.
Around 50 members of the Ulysses Club of New Zealand attended the weekend ride, organised by Anita Barnett from Auckland. Local riders were joined by riders from Tauranga, Rotorua, Taupō, Hamilton and Wellington.
Anita, who lost her daughter, Maddy, to brain cancer in 2018, says she came across Tu's story on Facebook after returning from a trip to Rangitoto Island – a place her daughter had loved to visit.
"I was having a really bad week the other week, so I decided to visit Rangitoto … when I got back, the first post that came up on my Facebook was about Tu. I knew right away that I had to help in making a difference for him and his family."
Ulysses ran a bike meet for Maddy before her passing, prompting Ms Barnett to reach out to them and try to organise something similar for Tu.
Tauranga branch president Matt Farrell played a key role in making this happen.
HAPPY CHAPPY: Tu with a toy motorcycle, gifted by one of the event attendees.
"Ulysses is very involved in things like ambulance fundraisers or raising money for child cancer foundations," he says.
"We like to show that the motorcycling community has a huge heart, and there's often a good cause behind our meets. Tu's story is heart-rending, and there was no shortage of people to attend the event at short notice."
Abby Hillman, Tu's mother, says Tu was stoked to see so many motorcycles and the event had a hugely positive impact on their family.
She's been overwhelmed by the level of community support.
"There have been just so many people offering a helping hand … I couldn't believe the amount of kindness and generosity from strangers.
She says it was quite emotional and Tu loved the day. "He's definitely a poser for the camera too."
Abby says Tu has many other activities coming up including a trip to Taupō, a car meet in Mount Maunganui, horse-riding, and spending a day at kindergarten.
Alongside organising the bike meet, Anita has reached out to numerous organisations, such as Farmers and Harvey Norman, to arrange donations of furniture for the Hillman family's home when they leave their temporary emergency housing situation.
She has also sent a call out for TV and Playstation donations for Tu's brother Jerome, with whom he is very close.
"Abby, Tu and their family are so well-deserving of all the support they've received," says Anita.
"I was so humbled by the Whakatāne community. Everyone who showed up is responsible for making the day happen."
Anita wants to continue helping children with cancer and their families make positive memories during their final days together.
"Maddy guided me the whole way in helping Tu.
"She was all about helping others; fundraising with me for child cancer before her passing. This event went to show that when we pull together as a community, we can help everyone.
"We need to keep paying it forward and being kind, because we never know what the person in front of us is going through."
Matthew and Anita are grateful to Te Puna Ora O Mataatua, for providing the venue and parking that allowed the event to take place.
People can help the Hillman family continue to make Tu's dream come true by donating at https://givealittle.co.nz/cause/help-make-tus-last-dreams-come-true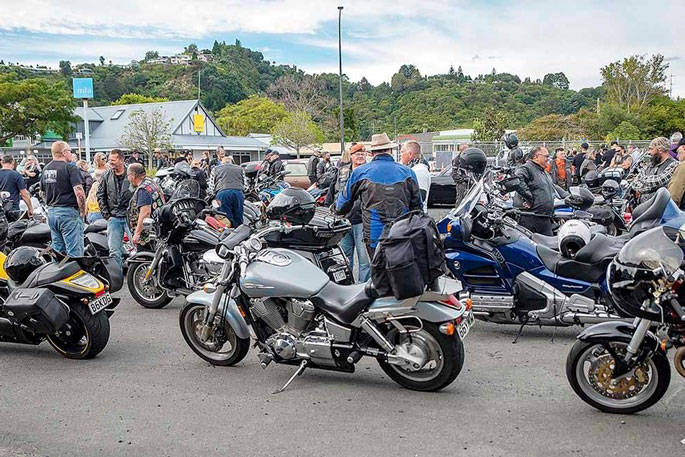 LET'S RIDE: Ulysses members from around Aotearoa gathered in support of Tu.
-Whakatane Beacon.