The 35th Marra Sprint Triathlon attracted some of NZ's high performance athletes to Tauranga over the weekend.
The Sunday race at Mount Maunganui is one of the few North Island races to have gone ahead this season, mostly thanks to Covid restrictions leaving competitors with fewer events this year.
Events and Development Manager Paul Miller says this has led to some heavy competition and he was delighted to see nearly a dozen of NZ's high performance triathletes competing.
"We have had quite a stacked field since we're one of the only ones going ahead."
This field included Tokyo Olympians such as Tayler Reid, Hayden Wilde and reserve Trent Thorpe, who all competed in Sunday's Marra Sprint.
Still, the course was at times eerily quiet with far less spectators than previous years, and the usual music and hype around the start being toned down, in order to keep to Covid social distancing parameters.
"We ran the races to the guidelines, so there were athlete-only areas."
The races had no more than 100 athletes competing at once, complying with the current red-light restrictions.
The triathlon features three different lengths that relate to the age of the athletes.
There is the Marra Minis, which involves 100m swim, 2km bike ride and 1km run; the Marra Monsters, which features a 400m swim, 10km bike and a 2km run; the Marra Short, which is also a 400m swim, 10km bike and 2km run; and the big event, the 35th Marra Sprint, which has a 750m swim, 20km bike and a 5km run around the Mount Maunganui base track.
The Marra Minis is designed for kids aged 6 to 11, the Marra Monsters is for kids aged 12 to 16, the Marra short is available to athletes 16 and older, and the Marra Sprint is for adults.
This is the 35th time the event has been held, and the fourth year that Paul has run it.
Due to restrictions in place for Covid-19, the races start times were staggered throughout the morning, and prizes were handed out after the event rather than the usual prize giving.
At 7.30am 50 Marra MIni athletes aged six to 11 set off on their race, with Toby Borman winning it, Daniel Mumby in second place, and Kona Kelly in third.
Half an hour later at 8am the Women's Marra Sprint race and the Marra Monsters aged 12 -16 started their races, with no more than 100 competitors overall.
Finnley Oliver won the Marra Monsters male race, and Alex Rawlinson won the Marra Monsters female race.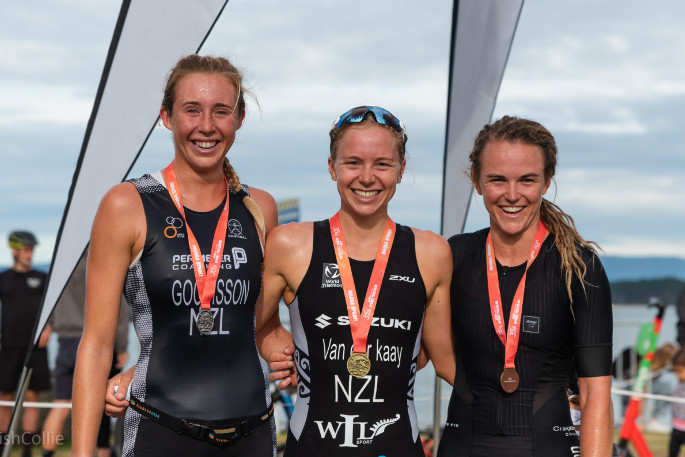 Winning women in the Marra Sprint are Eva Goodisson in second place, Nicole Van Der Kaay in first place, and Deb Fuller in third place. Photo: Hamish Collie.
The women's Marra Sprint was a competitive race between Nicole and Eva around the Mauao base track, with Nicole winning the women's sprint race in a time of 58:29.
Eva came in second place with a time of 59:28, and Deb Fuller was third with a time of 1hr 22sec.
The Men's Marra Sprint of nearly 100 competitors set off at 9.30am.
Winning men were Hayden Wilde in first place with a time of 52:24, Tayler Reid in second place with a time of 52:49, and Dylan McCullough in third place with a time of 52.53.
Paul says the top 10 men's competitors are all involved in the Triathlon NZ high performance – HP - sector.
"We were very honoured to have them all here," says Paul.
"Quite amazing. Usually we have one or two of them, but we had 10."
Hayden Wilde winning the Men's Marra Sprint in 52min:24sec. Photo: Hamish Collie.
The top three of the men's group made a break in the bike leg and then managed to stay away from the rest of the fold on the running leg, taking out the top three places on the podium.
"There's an invite only Triathlon NZ selection races coming up, so the HP people use the Marra Sprint Triathlon as a race hit-out for a three-race series that starts in Taranaki in two week's time," says Paul.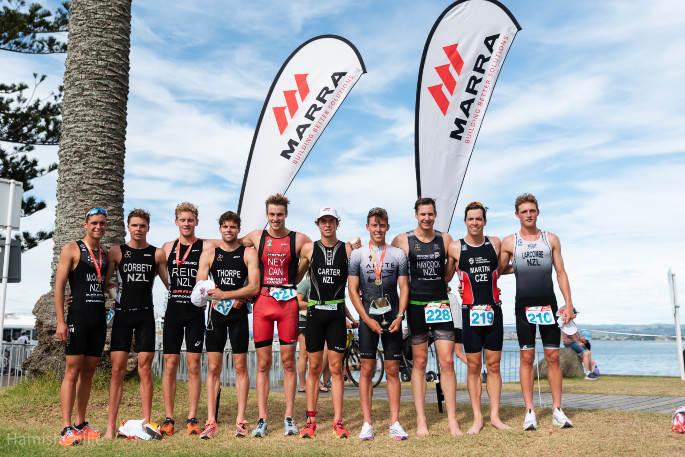 One of the biggest elite men's fields in recent times was in the running. Photo: Hamish Collie.
Paul is grateful for the support for the event, with main sponsor Marra Construction.
Smiths Sports Shoes, Beyond Physio, My Ride Mount Maunganui, Teamline, R Line, NZCT, Pub Charities, TECT and Tauranga City Council are also sponsors of this year's event.
He's now looking forward to the Tin Man Triathlon in November which will once again see the streets of Mount Maunganui alive with runners and cyclists, and hopefully, if Covid-19 restrictions allow, more more athletes and spectators.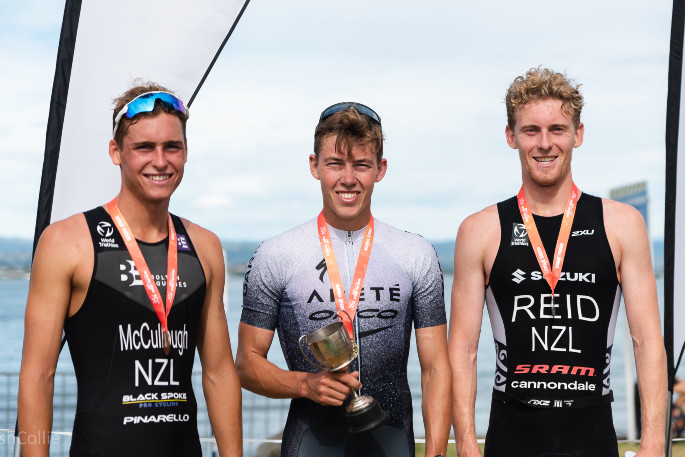 Winning men in the Marra Sprint are Dylan McCullough in third place, Hayden Wilde in first place, and Tayler Reid in second place. Photo: Hamish Collie.
For more information regarding race results and competitors see the triathlon website at https://my.raceresult.com/194584/results