As a new law to enable the New Zealand Government to impose sanctions over the war in Ukraine is put in place, a peace flotilla is sailing north to make sure the Government puts those laws into action.
Evoking memories of New Zealand's tradition of peace flotillas of the 90s, a schooner set sail from Whitianga on Saturday morning in support of Ukraine and to send a message to a powerful Russian oligarch.
On board the 62-foot Windborne, skipper Avon Hansford and partner Mihaela Vlainic are planning to meet up with other boats near Kawau Island in the Hauraki Gulf, before sailing on together to Helena Bay. Read more here.
In a statement on Wednesday, Greenpeace announced its protest yacht SV Vega was going to set sail from Auckland's Waitemata Harbour at 9am today.
Talking to SunLive this morning, Avon says "unfortunately Vega couldn't make it".
"She's having engine issues. But she will join us ASAP.
"We picked up the Greenpeace crew and left Auckland about half an hour ago."
The flotilla is heading for Russian billionaire oligarch Alexander Abramov's luxury Northland lodge in Helena Bay.
The aim is to arrive in Helena Bay on Sunday morning to deliver a message of peace and a call on the Government to immediately "freeze oligarch's assets" to apply pressure on Vladimir Putin to end the war on Ukraine.
Greenpeace Aotearoa programme director Niamh O'Flynn if the Government is serious about using sanctions to pressure Putin, then they must go for the big fish quickly.
"That means freezing Alexander Abramov's assets, as New Zealand's richest Russian investor."
On Saturday, Greenpeace called on the Government to immediately freeze the New Zealand assets of Russian oligarchs close to Vladimir Putin, until the Russian President ends his war against Ukraine.
More than 8000 people have now signed the petition to support that call.
Greenpeace has condemned the Russian government's war in Ukraine, and has called on President Putin to immediately pull back his forces and cease military operations.
On Tuesday, Prime Minister Jacinda Ardern announced the Government would pass a law that could freeze Russian assets and ban Russian super yachts, ships and aircraft in New Zealand waters and airspace.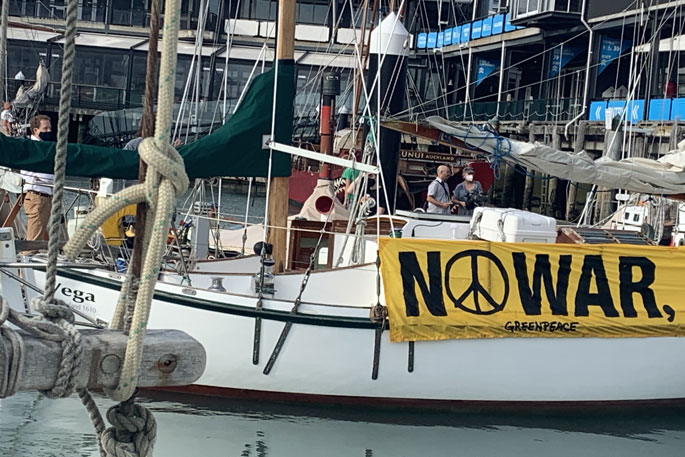 Vega at berth in Auckland with No War banner on the side.
Ardern described the Russian invasion as "the blatant act of a bully – brutal, intolerable, and an act of aggression".
Ardern has also promised "these won't be the only steps we will take, but these are measures that we can undertake quickly".
The prime minister said Russian investment in New Zealand stood at about $40 million, and Russian oligarchs could be targeted under the new law.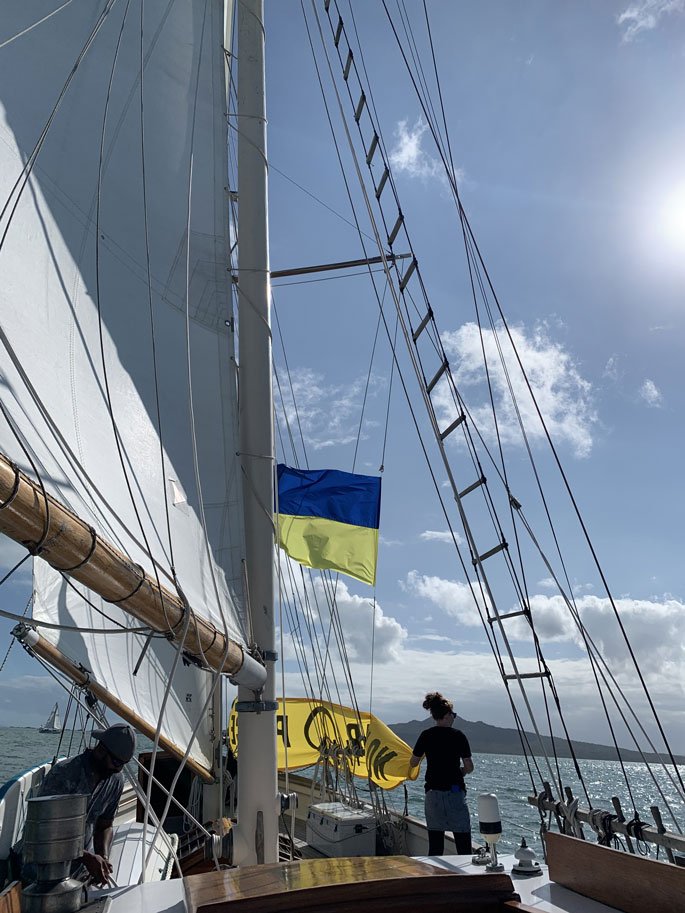 Niamh O'Flynn holding banner on board Windborne as they leave Auckland to meet other boats.
The peace flotilla is aiming to arrive at the home of the Russian oligarch on Sunday.
-Additional reporting by Sophie Harris and Emma Clark-Dow/Stuff.