If you're going to hold a garage sale, why not rope in more than a dozen neighbours to do likewise and make a big day of it?
That's the thinking behind Saturday morning's community event in Butterworth Crescent and Coutts Street in Pāpāmoa, where households are joining together to hold a giant garage sale.
"Even in these Covid times, we as neighbours are still finding ways to have fun and support each other," says Pāpāmoa resident and co-organiser of the event Ben Brock.
The 'Mega Multiple Garage Sale' will feature more than 15 homes along Coutts St and Butterworth Cres.
Ben says some of the neighbours will also be cooking up some sausages on their barbecues.
"It's sure to be a fun morning and is an alternative to the Mount Festival of Sport,' says Ben.
Community spirit is truly alive and well in this part of the Pāpāmoa suburb, where the two streets form a sort of 'town square', and looking like they are ideally suited for this type of activity.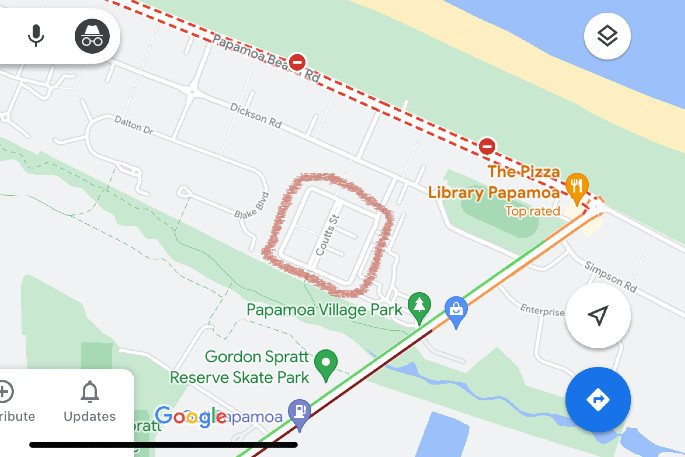 Map showing location of community garage sale. Image: Google.
There are road closures on Papamoa Beach Road on Saturday morning, but the garage sale is close to Parton Rd for those travelling from outside of the area.
Significant congestion and delays of up to 30 minutes on Saturday morning are likely, particularly in Pāpāmoa around Parton and Tara roads as cyclists link up with the Tauranga Eastern Link leg of the Mount-based multi-sport event between 7:45am and 11:45am.
The local potential traffic woes are not damping down enthusiasm.
"Everyone is very excited about Saturday. There are lots of families getting involved, especially the kids who will receive an awesome lesson in buying and selling as well as understanding the value of money," says Ben.
Ben says it was originally his wife Stephanie's idea to organise the giant community garage sale.

"She is from Canada and this is how they run garage sales there. As a big community event rather than a one off thing," says Ben.
Ben and Stephanie plan to sell a lot of items including plenty of baby clothes and toys.
"A cot, a barbecue and even a giant Very Hungry Caterpillar will be on offer."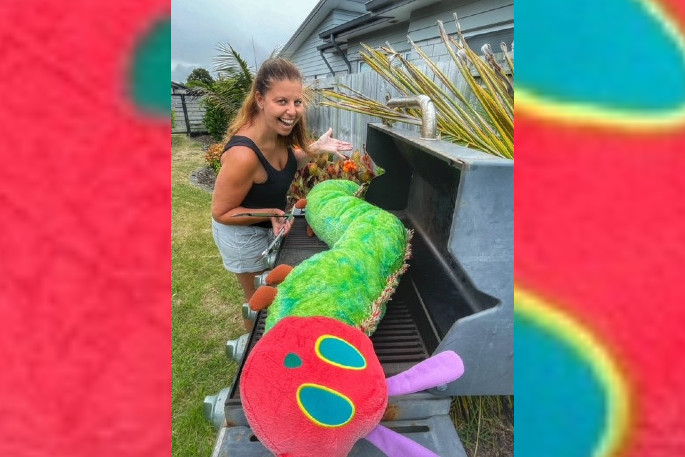 Stephanie Brock with the giant caterpillar and barbecue that she and Ben will be selling in the giant community garage sale in Pāpāmoa. Photo: Supplied.
With the road closures in and out of Pāpāmoa today, staying local is something many residents will be planning to do, with the beach nearby and now a huge community garage sale to go to.

"If it is a success the residents are already talking about this becoming an annual event," says Ben.
The giant community garage sale in Butterworth Crescent and Coutts Street, Pāpāmoa runs from 9am – 1pm on Saturday January 22.