A community crowdfunding campaign to make a documentary on the Rena disaster has just 12 hours left to run, finishing at 11pm on Christmas Eve.
Already, the campaign, hosted on Boosted, the Arts Foundation crowdfunding platform, has attracted over 100 donors, raising over $16,000.
With only 12 hours to go, the race is on to reach the all or nothing target of $25,000 by Friday night.
Sun Media, which put up the initial funding for the documentary, has been joined by campaign match funders Bay of Plenty Regional Council, Holland Beckett Law
and Bay Conservation in helping fund the making of the documentary titled 'The Rena, the reef and the residents'. Additional support has come from Western Bay Wildlife and Western Bay Neighbourhood Support, with donations from Tauranga Marine Charters, Te Matai Investments Ltd and many individuals.
The heart of the film project, led by Claire and Brian Rogers, Rosalie Liddle Crawford and Anton Steel, addresses how the local community responded when the iconic New Zealand coastline was under threat.
Already around 30 interviews have been conducted and the main documentary laid out. The crowdfunding will enable more interviews to be undertaken, additional footage to be filmed and further editing to be completed.
During the crowdfunding campaign five 'teaser' pieces were released, providing a snapshot of some of the recollections covering the wreck, community response, Government response, wildlife response and the iwi response.
These are:
"We are so grateful for so many of the community coming on board to help us tell this important story," says co-producer Rosalie Liddle Crawford.
"Recording and documenting oral accounts of significant events in our country is important for not only being able to process as a community what happened, but to learn and adjust our approach to any similar event that may occur in the future.
"Ten years on, the impact of this disaster on our beloved coast and marine environment still brings politicians, iwi and volunteers alike to tears. However many positives have grown from it. Our community is overall more aware of the care our environment needs - now - for future generations to continue to enjoy."
Rosalie says the crowdfunding campaign which still needs to reach $25,000 by 11pm on Christmas Eve has already been a success in many other ways.
"We've had so many people contact us with offers of footage and photos to be included in the documentary, as well as some amazing behind-the-scenes firsthand accounts of what happened. Some of it has not been heard of publicly before, so it's going to make the documentary quite fascinating to see."
She is encouraging anyone who is looking for a last minute Christmas present to 'choose environmental' and buy their loved one a Rena documentary film credit this year.
"Do it for the penguins! Every donor's name will be listed in the film credits and it's a fantastic way to show support for our local environmental and wildlife groups."
A percentage of any net profits made from the documentary will be going to support local community groups that arose from the Rena incident, and the intention is to submit the film to the NZ Film Festival.
"It will be fantastic to see all our donors and supporters on the red carpet next year when we screen it for the first time," says Rosalie.
Click here to donate before 11pm on Christmas Eve: https://www.boosted.org.nz/projects/the-rena-wreck-documentary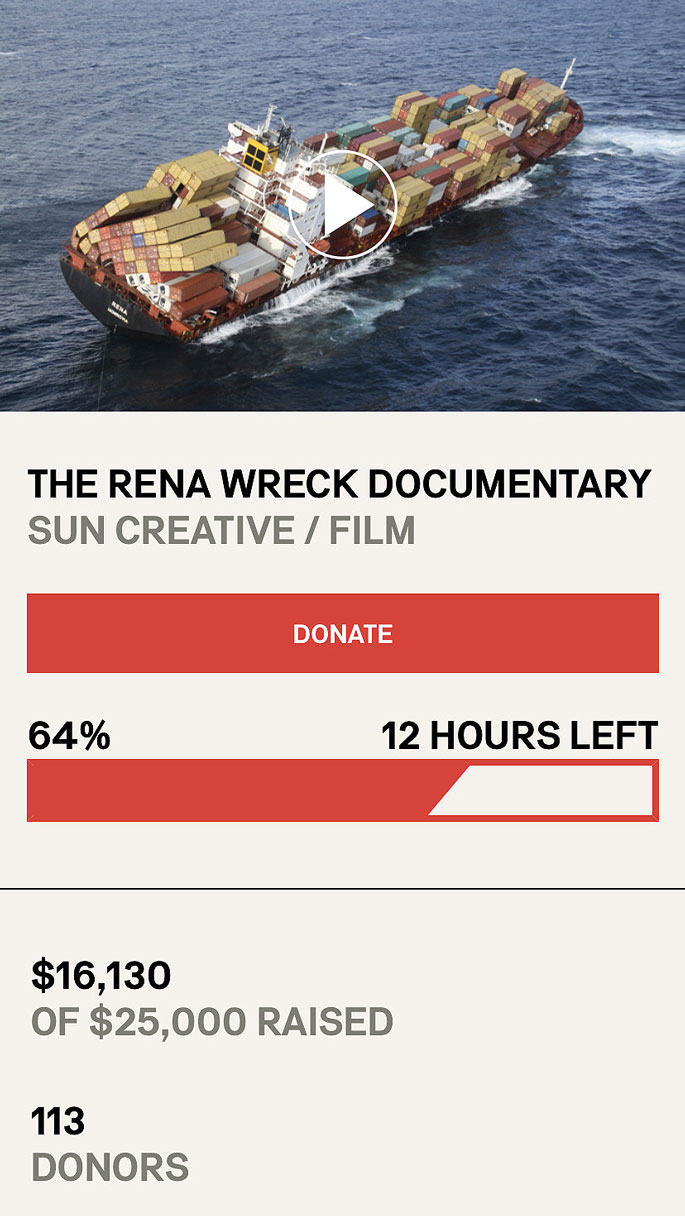 To contact Rosalie or Anton about the documentary email Rosalie@topshelfdesign.com