In October 1994, Tauranga man Murray Denyer was a young, newly qualified lawyer who'd recently landed a plum job.
He'd been posted to New York as a young, New Zealand diplomat working for the Ministry of Foreign Affairs and Trade (MFAT), when New Zealand was serving on the United Nations Security Council.
Murray, fresh off graduating with a BCom and an LLB from Auckland University, found himself witness to a remarkable moment in history.
"I was in the UN General Assembly hall alongside Presidents and Prime Ministers from around the world, when Nelson Mandela gave his first address as the newly elected President of South Africa. What a moment that was. Such an incredible career highlight."
Murray would soon cross the Atlantic to work alongside the Ambassador at the New Zealand Embassy at The Hague in the Netherlands. He was promoting New Zealand wine and lamb, but also fighting hard to remove trade barriers, and retain market access for our dairy, apple, and kiwifruit exporters. In 1995, he was also part of the legal team that challenged France's nuclear testing in the Pacific at the International Court of Justice.
By all accounts, Murray was having the time of his life and so was Lisa, the Australian woman he would eventually marry. Lisa was backpacking through Europe and, just by chance, the couple met at the basement bar in the Australian Embassy – a popular hangout for expat Aussies and Kiwis. She left with Murray's number and the rest, as they say, is history.
"I went to the other side of the world on a diplomatic posting, and I came back to New Zealand with an Australian wife."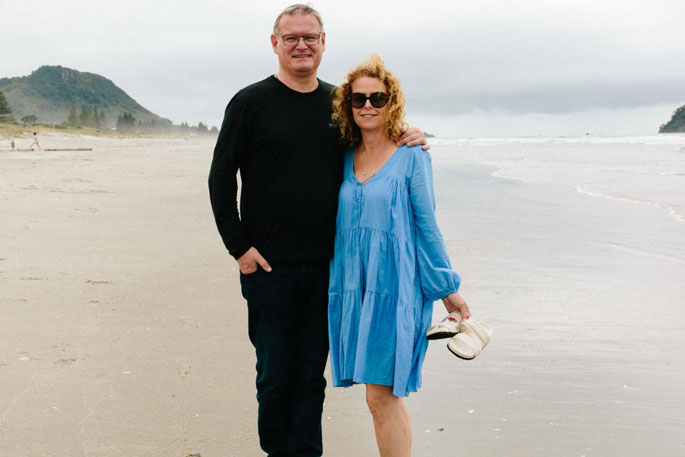 Later, back in New Zealand, Murray took up a role with law firm Minter Ellison Rudd Watts before Zespri, the world's largest marketer of kiwifruit, came knocking at his door. Zespri was looking for a new General Counsel for their global business, and Murray ticked all the boxes.
"Lisa came with me to Mount Maunganui and while I had the job interview, she went for a walk on the beach. And when I came out, she gave me a bit of a poke in the chest and said, 'that better have gone well'. She loved it, so we moved to the Bay of Plenty and that's where we've lived ever since, raising our three kids."
Much has happened since then. Murray left Zespri after six years to become a Partner at the Tauranga law firm Cooney Lees Morgan, he's on the board of Horticulture New Zealand and is a passionate advocate, supporter, and investor in Rockit, a start-up apple exporter that's becoming a global success story.
However, last year, Murray stepped down from his fulltime role. In the winter of 2017, when Murray was 47, he misdiagnosed himself with having a flu that he "just couldn't shake", and suddenly found himself facing his own mortality.
He had a dry, non-productive, nagging cough and was always "running out of energy".
"I would wash the car, and I'd have to come inside and sit down because I was so tired. It didn't make sense."
Murray says "like all Kiwi blokes", he dragged himself off to the GP and thought he probably just needed some antibiotics. Instead, the GP sent him off for a CT scan.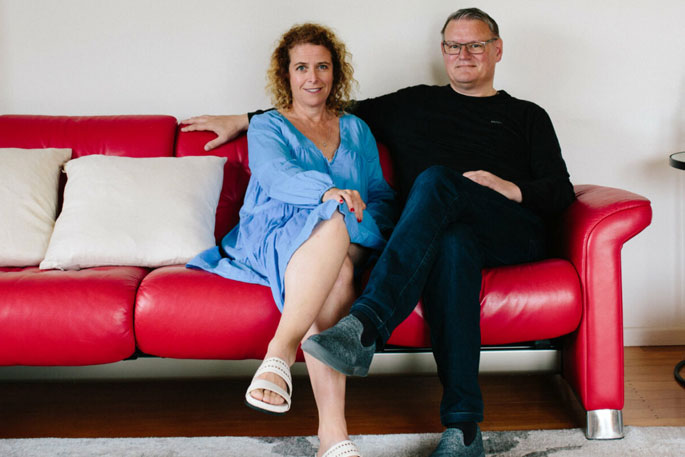 "I was just pulling into my driveway and the doctor rang and told me to come back, and to bring Lisa."
Lisa was tied up with the kids' sport, so Murray decided to go back on his own.
"That was the longest ever drive into town that day."
The doctor told Murray he had a 9cm tumour on his left kidney and his nearby lymph nodes were inflamed.
"He was pretty up front with me. He said 'you've got a rough road ahead' and those were quite challenging words to hear. It was the hardest day of my life."
In the meantime, Lisa was texting Murray, concerned and worried.
"I got home and we went into the bedroom and I told her. That was tough, really tough. We had a bit of time together and then we knew we had to tell the kids."
Murray's children were 14, 11 and 8 at the time. The youngest would turn nine the following day and host a birthday party.
"I told them Dad's got cancer and he's got to have his kidney out. You can't hide the truth from your kids. I told them removal is the only cure, and we've just got to hope the cancer hasn't metastasised anywhere."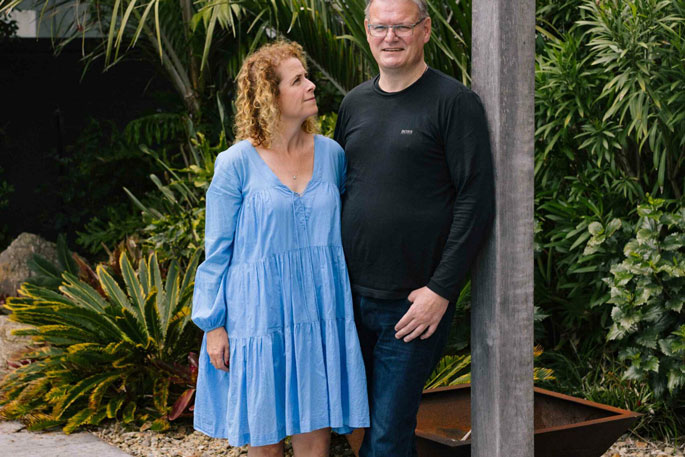 The next week, Murray had a radical nephrectomy. His kidney was removed along with the tumour and the lymph nodes along his aorta. He spent a week in hospital, and on the day he arrived home, the urologist phoned.
"He said, 'I've got some really good news. We've got it all'."
In less than two weeks, Murray had been diagnosed with renal cell carcinoma, undergone a nephrectomy, and was told the surgery had successfully removed all the cancer.
"All of that trauma happened in the space of about 10 days. It was an incredible, emotional rollercoaster."
Over the next 12 months, Murray continued to have six-monthly checkups. His mother, a retired GP, had left him in no doubt that renal cell carcinoma was a challenging cancer, but Murray hoped he had beaten it.
One year after his surgery, Murray had another checkup. He was on a Partner's Retreat with his colleagues when the urologist called with the results.
"He just said, 'I have some bad news. It's back'."
The scan revealed Murray had 16 small tumours in his lungs. The cancer had metastasised.
"That was a very tough call to take. Once this cancer comes back, once it metastasises, you are in deep trouble. I was lucky I was around a group of wonderful colleagues at the time, and I got off the phone and said 'I've got to go'."
Back in Tauranga, Murray and Lisa saw an oncologist who, when asked, estimated that Murray had between two and five years to live. Murray rolled that number around in his head, trying to understand the impact on his family, and how he would truncate the remainder of his life into what might only be a few, short years.
"I looked at the oncologist and I said 'just give me the full list of options, please', and that's when we started talking about immunotherapies."
Immunotherapies are modern drugs that boost your immune system and fight off cancer. In New Zealand, unlike much of the developed world, we don't fund those treatments for kidney cancer, and many other cancers with proven efficacy. Pharmac, our drug-buying agency, is chronically underfunded and says it can only do what it can with the Government funding it receives.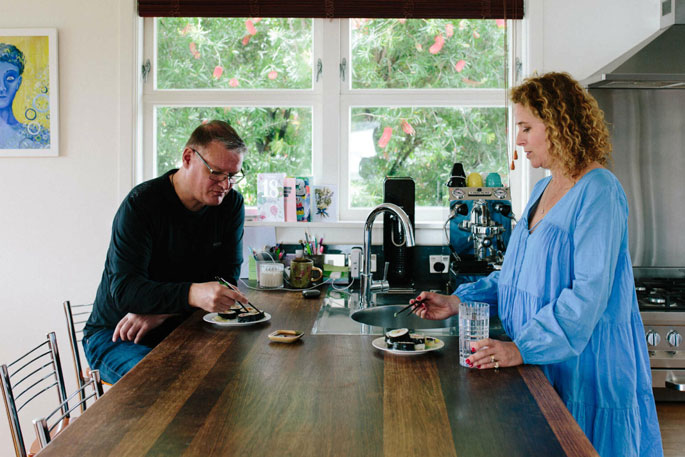 "I am fortunate. I could access the money to pay for my treatment, but should we have to in New Zealand? What if I hadn't been able to? What about people who have this cancer and who can't pay for their own drugs? Their lives are cut short, often by years."
Murray was recommended a combination of two immunotherapies: Keytruda and Yervoy. Over the course of the next year, he would pay $142k for the two drugs.
That initial treatment controlled the cancer but late in 2019, just before the Covid pandemic, the cancer took an aggressive turn. As well as tumours in his lungs, the cancer was now in Murray's pancreas, liver, and pelvic bone.
Murray says cancer treatments often follow "a batting order" and if your cancer stops responding to one drug, there is usually another to replace it. In some cases, cancer patients can live for years with the right treatments.
Murray next went on to another drug called Sunitinib which is the only treatment funded for kidney cancer in New Zealand.
"It's a dinosaur of a drug, it stops the tumour from sourcing a blood supply, but it has brutal side effects."
Murray says he lived "a fairly miserable existence" with mouth ulcers, serious digestive issues, and yellowing skin but it was keeping him alive. Until it wasn't.
Blood tests revealed the drug was starting to impact his remaining kidney and the function of his liver.
"It was making me even more sick. So, this is the predicament you find yourself in with this disease. If you can only take the old drugs the Government funds, those drugs can end up killing you. If you stop taking those drugs, then the cancer will kill you."
Murray was forced to self-fund another treatment called Axitinib. Globally, it's considered a 'standard of care' for advanced kidney cancer, and has been on Pharmac's list of drugs it wants to fund since 2013. Almost nine years later, it's still not funded.
Murray has spent more than $200,000 on self-funded cancer drugs over the space of two years.
Funding Axitinib has pushed Murray's self-funded pharmaceutical spend up over $200k. For the last three years, those medicines have allowed Murray to continue to work in some form or another, and keep paying his taxes.
However, included in the $200k is over $26k that he has paid in GST. The Government doesn't fund the modern medicines to treat renal cell carcinoma, but it clips the ticket on the way through by charging GST on top.
"That stings a bit. I've contributed to our economy, and I've paid a lot of tax throughout my life."
Murray has spoken to The Medicine Gap because he believes the Government must reconsider its approach to modern medicines, and view them as an investment in public health, not a cost.
"If you fund the medicines upfront, you can extend a person's life as a productive, contributing citizen."
"New Zealand has a reputation for doing heroic things with funding. Look at our response to the earthquakes. This country is capable of moving the dial to bring about real change in how we fund and access medicines, but it requires a philosophical change in thinking. Invest in health. Frontload it. Look after your people."
In the short term, Murray says the Government could focus on a couple of 'quick fixes'. He says New Zealanders who are self-funding their own medicines should not have to pay GST as well, and he believes our health system should also pick up the tab to administer those medicines. Currently, patients also have to pay for a nurse or clinic to administer their self-funded medication.
"…but the big issue is that with the exception of a few who can self-fund these drugs, the majority of Kiwis are missing out on life-extending medicines that are publicly funded all over the developed world, and in countries that we compare ourselves to. And that is wrong."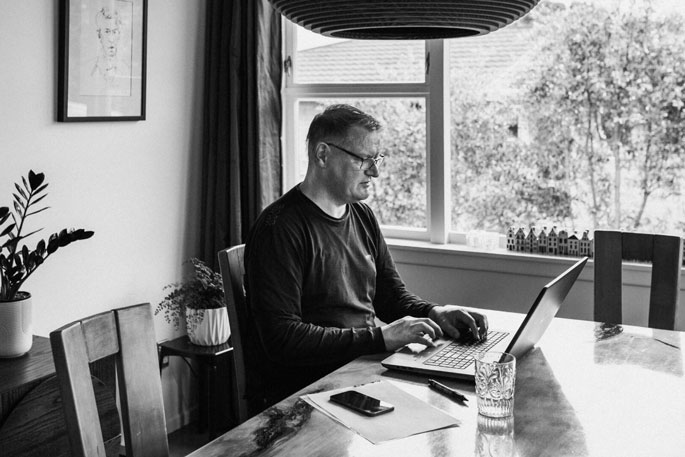 Murray isn't sure what the future holds or how much time he has, but he says cancer has been a great teacher.
"I think we spend a lot of time distracted by work-related dramas. Not anymore. I am focused on Lisa and my kids, the quality of my existence and being present in my life. It took cancer to get me here."
"The law firm I work at, I absolutely love it to death. The last thing I would ever have contemplated was retiring early, but here I am. I am now saying to the partners 'how long do you want to spend with your nose to the grindstone?' and I remind them that they need balance. Don't spend your life solving other people's problems."
Right now, Murray spends time keeping "the voices in the night at bay". If he has a night sweat, or he feels a pain in his side, he worries for a while, but then gets on top of the chatter.
"Sometimes I think 'what the hell did I do to deserve this'? I've tried to be a good person and lead a pretty healthy lifestyle, but you can't look back and you can't focus on self pity."
"This is what you need to remember. More often than not, our time on this planet is limited. Make sure you're proud of the life you're living, and you look after those you love."
This story was reproduced with the kind permission of The Medicine Gap.