National Party leader Christopher Luxon has named Tauranga MP Simon Bridges as the National Party's new Finance and Infrastructure spokesperson.
The pair were set to show a united front at the The Fresh Market in Gate Pa today for the announcement but, unfortunately, Bridges was unable to attend as he was at hospital with his son who had an accident at school.
"I was supposed to be here with my good friend Simon Bridges," says Luxon.
"But I want to tell you what's happened in the last hour, one of his sons has had an accident at school and now he's in hospital. So Simon texted me 20 minutes ago to say that he can't be with us and I've told him, mate, please just stay with your family."
A dozen or so onlookers stopped to listen to Luxon with some applauding after his speech.
Luxon, who was appointed the new leader of the National Party on Tuesday, explains that his reason for holding the stand up at David Stewart's greengrocer was that it was a prime example of the enterprise he wants to see in New Zealand.
"It's a great example of what I am talking about," says Luxon.
"He's a guy that, fundamentally, has been doing this business for over 20 years. He's taken a punt, taken a risk, invested his own money, grown a business, built customers and developed really great staff."
Bridges stepped aside on Tuesday, leaving Luxon to be voted in as the new leader.
However, Luxon says there was no trade-off involved.
"There's been no deals done, there's been nothing like that. It has just been about fundamentally making sure we have got the right person on the right task going forward."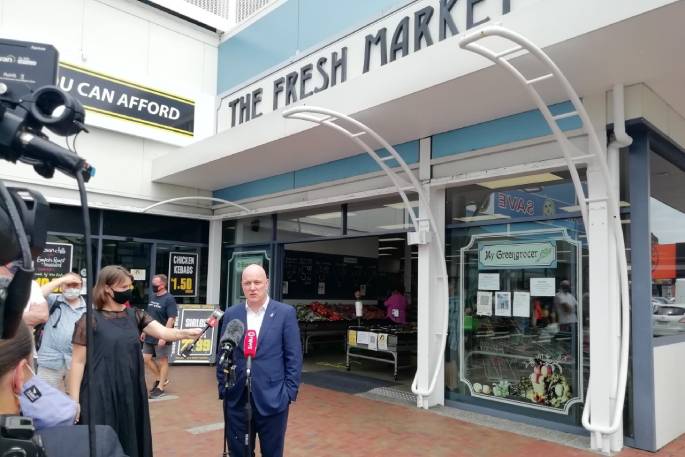 Luxon says he and Bridges are long-time friends and he is backing the Tauranga MP to take it to Labour counterpart Grant Robertson
"Simon has prodigious skills, incredible talent and the intellectual heft needed to excel as National's Finance spokesperson…" Mr Luxon says.
"Simon will play a central and critical role in our leadership team, and he and I will work closely together.
"Simon will be an exceptional Finance and Infrastructure Minister in the next National Government come 2023."
Luxon also mentioned Bay of Plenty MP Todd Muller, saying that there is a place for him, and his predecessor Judith Collins in the National line-up.
He says that any decision for beyond 2023 – when Muller is due to retire – would be up to the Bay of Plenty MP.
"I am going to bring everybody into that caucus," says Luxon.
"We turn the page, it is 100 per cent trust, a new beginning. National stops focusing on itself and it starts focusing on the people of New Zealand and it gets going."
Further portfolio decisions for the National Party are incoming on Monday.