Tauranga City Council has lodged an application for more than $95 million worth of funding toward the delivery of 12,500 new homes in the Te Papa peninsula.
However, Council state the application, part of an overall $185.8 million package including four separate Tauranga projects, is not related to the ongoing survey related to the racecourse reserve in Greerton.
The Infrastructure Acceleration Fund application, named Te Papa urban transformation, is the largest of four IAF requests from Council, including those for $54.9 million toward Tauriko West development, $20 million toward Wairakei/Te Tumu Town Centre development and $15.6 million for development at Parau Farms.
The Te Papa urban transformation application is being sought for potential housing development in Gate Pā, Merivale and Yatton areas identified for potential housing solutions in the Te Papa Spatial Plan.
"These areas provide the greatest opportunity in the short to medium term to support growth given current land ownership and ability to achieve positive change for this community including public realm improvements, greater housing choice and increased accessibility to areas such as the city centre and local amenities," says Tauranga City Council programme director of urban communities Carl Lucca.
The Spatial Plan also lists the Greerton Racecourse Reserve land as a "key project", with possible future uses including "opportunities for other uses such as comprehensively-developed housing".
Council is currently running the Greerton Maarawaewae Study in conjunction with Kāinga Ora, to assess options for the 85ha lot of Crown reserve land, which is currently leased by Tauranga Racing Club and Tauranga Golf Club.
Housing is listed as an option, although has received opposition in recent weeks from the current tenants, local iwi and Tauranga MP Simon Bridges.
However, Council state the IAF application is not related to the racecourse.
"The current Greerton Maarawaewae Study is focused on engaging with mana whenua, existing users and the wider community to identify opportunities that will support wellbeing and liveability as Tauranga continues to grow," says Carl.
"Through this process, the community is being invited to provide ideas to Council on what the best use of this land might be over the next 10 to 50 years."
As well as 12,500 new homes, the Te Papa urban transformation application regards funding needed for transport and water related issues.
"The funding sought as part of the IAF is part of the larger funding package agreed to through Council's Long Term Plan to support the integrated land use transport programme, committed to by TCC, Waka Kotahi and Bay of Plenty Regional Council," says Carl.
"The Spatial Plan focuses on investments within Te Papa peninsula as part of the Western Bay of Plenty sub-region over the next 30 years. The Spatial Plan will result in significant changes to the way people will move around in the future reducing reliance on motor vehicles sub-regionally and locally, and with on-flow benefits for safety and environmental outcomes.
"Moreover, the combined approach is critical to maximise efficiency of the transport system, drawing more people into the city centre to work, live and visit, and increasing modal share opportunities."
Carl states specific opportunities to invest funding through the Te Papa IAF application includes Cameron Road stage two, three-waters related investment including stormwater improvements in the Gate Pā and walking and cycling connections between Merivale and Cameron Road.
"The Central Urban Corridor, from The Tauriko Crossing to Mount Maunganui via Cameron Road, will see the most significant transformation in the sub-region in the next 30 years, with a high frequency public transport system and higher densities – such as apartments, terraced housing, and duplexes - particularly around the hospital and the City Centre.
"At one end will be the employment and retail centre of Tauriko and Tauranga Crossing and a new community at Tauriko West, at the other end a revitalised city centre with a mix of apartment living and city lifestyle, university and office space.
"This will be supported by walking and cycling corridors to enable personal mobility throughout the area."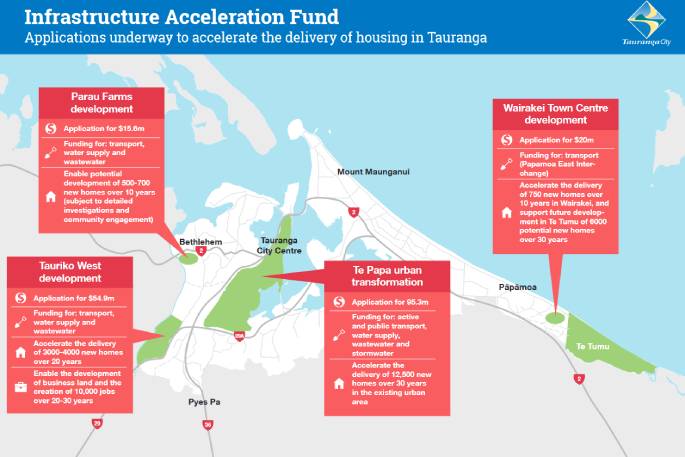 The IAF applications are for Te Papa, Tauriko West, Wairakei/Te Tumu Town Centre and Parau Farms. Photo. Tauranga City Council.
The four applications have been selected to progress to a formal request for proposal process, with detailed funding applications to be lodged with Kāinga Ora by December 17.
"Tauranga is growing quickly and it's essential that we initiate projects that will increase our housing supply, while ensuring that the homes being built align with people's needs and ability to pay," says Tauranga City Council commission chair Anne Tolley.
"All of the proposals we will be submitting are designed to accommodate growth, both within our existing footprint and in new housing areas.
"In light of the Government's recent announcement about facilitating housing intensification in high-growth cities, partnership approaches such as the IAF are imperative to enable councils to provide the supporting infrastructure required by growing inner-city populations."
Anne notes that across the nation, IAF applications exceed available funding, meaning some will not make it through.
"That will essentially make this a contestable funding process," says Anne.
"But it is encouraging that all of our projects have been selected to progress to the next stage."
Application outcomes are expected to be notified in April 2022, with funding negotiations then to begin with successful applicants.
Final funding decisions would then be considered by the Government.