A crisp, choppy morning turned into a sunburnt back, a refreshed mind and the experience of a lifetime for Tauranga local Mel Hamer-Hurst.
Mel and her partner decided to book a tour to see the beauty and incredible wildlife of the Bay of Plenty after recently relocating to the area.
Dolphin Seafaris focuses on encountering marine life such as wild Common Dolphins, Orcas, Humpback and Pilot Whales, little Blue Penguins, New Zealand Fur Seals and much more.
The company is run by ocean lover Cille Fabert, who is passionate about sharing her love for the ocean and wants those that join her to take a little bit of that passion back home.
After a morning of listening to the stories of Tauranga Harbour, including the statue Tangaroa – God of the Sea, Mauao and Whakaari, Mel's cup was already full.
"The staff were really informed and more than happy to answer our questions," she says.
"It was so refreshing to be on a trip where people are actually knowledgeable and passionate about what they're doing.
"We were nearing the end of the day when we saw a pod of Common Dolphins and I was just in awe. We stayed out there for quite a while, just looking and taking pictures."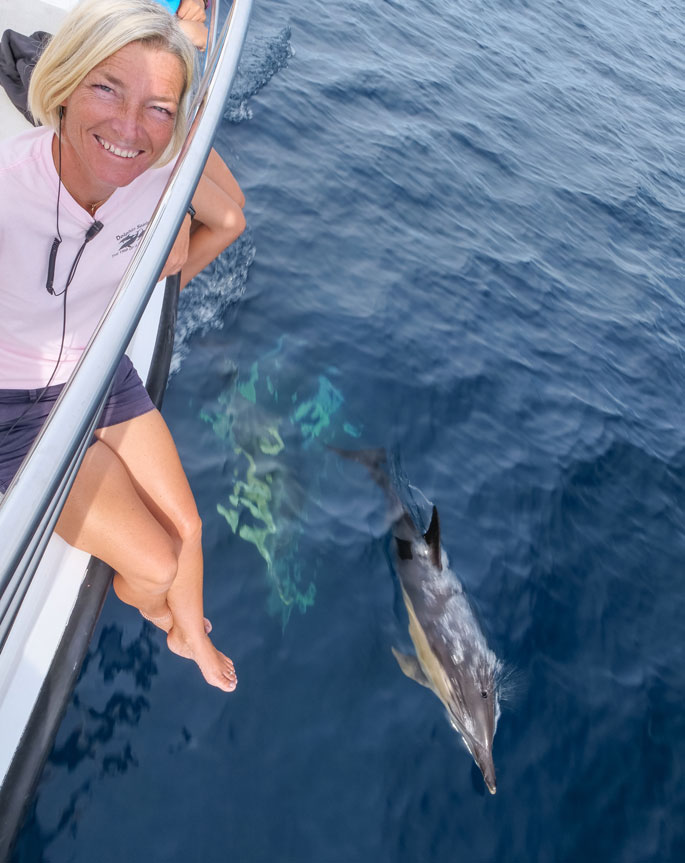 Cille Fabert. Photo: Nathan Pettigrew
Normally, Dolphin Seafaris offer the chance to swim with dolphins, but due to baby dolphins being with the pod, Mel was given a thorough explanation as to why they wouldn't be getting wet that day.
"I couldn't believe I was able to see them," she says. "It was the first time I had seen dolphins in the wild and it is quite breath-taking when you actually get to see them.
"I didn't actually think we were going to see any, and although it was the highlight I would have been happy either way.
"The staff could have stopped at any time realistically but they didn't - they just kept going, which I find a lot of companies don't do these days.
"I'll definitely be going back, especially in these current times. It's really difficult for these businesses.
"If you don't see anything out on the water, Dolphin Seafaris offer you a voucher so you can return, but if that had been the case, I wouldn't have accepted it.
"I would have come back and paid again because it's worth it."